Campaign chair: Onward and upward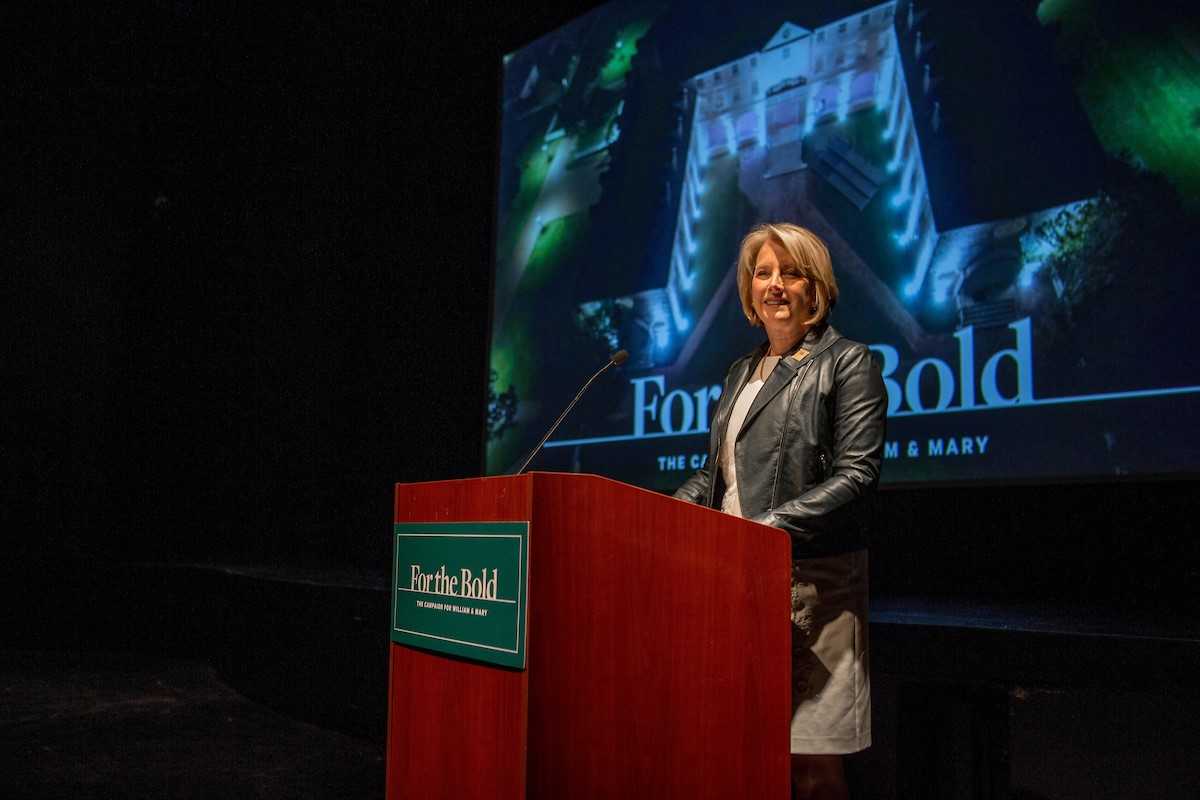 Last Friday, freshman students moved into our residence halls and began their lifelong journey with William & Mary. It's always an exciting time on campus — students are filled with great anticipation as they meet new friends and prepare for their classes. President Katherine Rowe was eager to welcome home all of the new and returning students and pitched in to help unload cars packed with all the necessary essentials to survive the year.
There are now a total of 6,285 undergraduates — who hail from all 50 states and more than 65 foreign countries — and 2,455 graduate students at William & Mary.
This academic year, the university is commemorating the 100th anniversary of coeducation. Opening Convocation marked the beginning of our celebration of William & Mary women, with Congresswoman Stephanie Murphy '00 serving as the keynote speaker. There is a full slate of activities and programs planned throughout the year, including the upcoming William & Mary Women's Weekend (Sept. 21-23, 2018), in which hundreds of alumnae will gather together to reconnect through a diverse array of inspiring events across campus. 
As you have hopefully heard, fiscal year 2018 was an enormous success — thanks to your continued support. We have raised more than $800 million toward our $1 billion goal, remain the No. 1 nationally ranked public university for undergraduate alumni participation, and have greatly strengthened the opportunities for alumni to engage with each other and the university. With two years remaining in our campaign, we still have much work to do to achieve all of our goals, including reaching our $350 million scholarships goal.
It has been remarkable to see the outpouring of enthusiasm from the William & Mary community for our 28th president. Two women in particular, Jane Batten HON '17 and an anonymous W&M Foundation trustee, are so thrilled about President Rowe's arrival that they have made significant gifts in her honor to advance her early priorities — read more about their investments, which create a new Center for Online Learning at the business school and a fund for strategic opportunities, respectively. 
William & Mary is known for its close faculty/student collaborations and interactions — it's a point of pride that distinguishes our university. Nearly 900 faculty members stand ready to start the 2018-19 academic year and prepare students for a world that is rapidly-changing, fields that continue to evolve, and careers that do not yet exist. Our professors are the lifeblood of the university and provide students with transformative experiences that teach them how to navigate an ever-changing landscape – and thrive in it. For that reason, we are are greatly committed to reaching our $200 million teaching excellence goal by 2020. 
A very large portion of our students' total academic experience is underwritten by private support — this can range from new science equipment, top-notch arts programming, study abroad and experiential learning opportunities (which take students out of the classroom and into real-world opportunities). So many of you have answered the call and have invested in areas that are essential to advancing our entire academic enterprise. Thank you!
I look forward to another great year as chair of For the Bold and hope you enjoy reading all of the stories in this edition of the campaign e-newsletter. 

Here are some of the highlights in this edition of the campaign e-newsletter: 
William & Mary's Business School to Launch Center for Online Learning
W&M alumna makes $1.5 million gift in honor of President Katherine Rowe
A Camp Launch first
100th anniversary of coeducation at W&M
William & Mary Women's Weekend preview
Homecoming & Reunion Weekend — Oct. 18-21, 2018
A new way of thinking
A legacy of generosity
Gifts totaling more than $4.7 million honor William & Mary's 27th president
LatinX founder shares why she gives back to W&M
Recent rains impact Chesapeake, marine research
William & Mary students unearth history at the 2018 archaeological field school
Celebrate 100 years of coeducation at William & Mary