LatinX founder shares why she gives back to W&M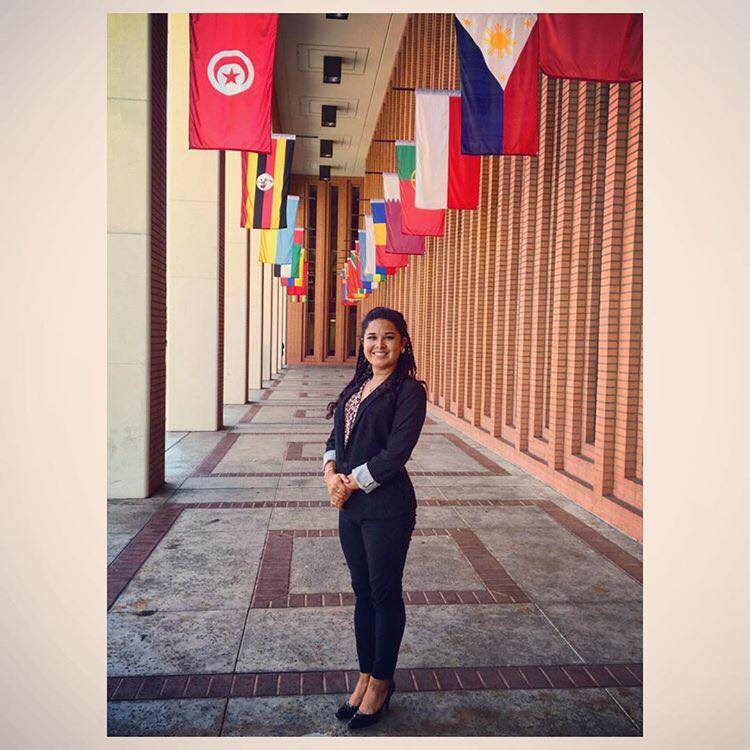 Jessica Chilin-Hernandez '12 recently discussed the impact and importance of alumni participation.

Can you tell me a little about yourself and what you are doing today? 
I am originally from San Salvador, El Salvador. I came to the United States seeking refuge from the post-civil war violence that continued to plague Salvadoran society even after the Peace Accords were signed in 1992. Alongside my family, I settled in Northern Virginia — an area with one of the largest Salvadoran-American communities. At William & Mary, I majored in modern languages and literatures with a focus on French and Francophone studies. I currently serve as assistant director at Georgetown University's Kalmanovitz Initiative for Labor and the Working Poor engaging questions of workers' rights and the future of the labor movement. Prior to joining the Kalmanovitz Initiative, I was a staffer at Georgetown's Alwaleed Bin Talal Center for Muslim-Christian Understanding working to advance relations between the Muslim world and the West and enhance understanding of Muslims in the West. 
Why did you choose William & Mary? 
I choose W&M because of ESCAPE — one of two annual recruitment programs for admitted multicultural students (the other one being Autumn Blast). I remember my first ESCAPE as if it were yesterday. My mother and I arrived around 4 p.m. at William & Mary. Prospective students had already been matched up with their hosts. When I got to Blow Hall I was so late that the Admissions Multicultural Recruitment Team was already packing up. That's where I met Shayma Jannat '10, Crystal Nwokorie '10 and Kristian Obcemane '10. Back then, they were the multicultural recruitment interns (a position I would apply to and be hired for later in my college career). From the very beginning, Shayma, Crystal and Kristian were some of the smartest and friendliest people I had ever met. Since there were no hosts left, I was assigned to Crystal, and then we walked to her dormitory, Jamestown North (now Hardy Hall), where construction had just been completed. My W&M experience began that day. I remember talking to Shayma about immigration, Latin America politics, Islamic studies, international relations and her research in Bangledesh. I also met my best friend, Kobie C. Gordon '12. Little did I know that ESCAPE would be one of thousands of events and hundreds of memories that I would experience at William & Mary. Because of ESCAPE, I could see myself at W&M. 
Can you describe how your relationship with the Tribe has grown from freshman year to today? 
My relationship with my alma mater gets better every year. However, like any relationship, both parties have to put in effort. I try my best to come down to Williamsburg at least once a year, and I also prioritize keeping in touch with my professors over email, phone, and try to see them in person when they come to D.C. to present their research to academic associations. On W&M's side, the William & Mary Alumni Association has been very supportive of the LatinX-focused affinity group. The idea is to formally engage alumni who identify as LatinX, Latino, Latina, Hispanic, Chicano, Latin-American and Afro-LatinX in order to create community among ourselves, the university, and most importantly, with students of Latin-American descent. At the moment, the short-term vision is to partner with the two student groups, Latin American Student Union (LASU) and UndocuTribe, along with the Cuba Media Initiative, the Latin American Studies Program and the Hispanic Studies faculties, among other Latin-American focused campus constituencies, to actively remain in touch with our alma mater. That being said, I have been amazed at the level of institutional support we've received not just from the Alumni Association but also from the administration at large. 
How and why do you to give back to the university? 
First and foremost, I love William & Mary. Giving back to a place I love feels natural. That being said, I don't want LatinX students to feel alone in their experiences anymore. Giving back in the form of mentoring students, participating in career panels, partnering with faculty on community-based learning project, and annual donations can really go a long way in advocating for students of color at William & Mary. Representation is important, and everyone can take part in diversity efforts because collaboration engenders community, and community is essential for students who have been underrepresented at the university since its founding in 1693. 
Why is it so important for alumni to give annually?/What is the single most compelling message about the importance of annual alumni participation?/Why should young alumni remain involved? 
In terms of supporting people of color and diversity efforts, alumni participation and giving annually are both vital so that our diversity programs can continue to survive, thrive and be sustained. Through annual giving, alumni can have a major impact in ensuring that William & Mary retains faculty of color, supports ethnic studies and funds to bring diverse speakers to campus so that students of color may enhance their educational experiences. It is especially important for young alumni to stay involved post graduation. This is because young alumni have the most accurate perception of what William & Mary is like right now, so their understanding of what can be improved is more consistent with reality. Furthermore, young alumni have stronger inter-personal connections with current students, faculty and staff. Their knowledge is vital to our efforts. 
What do you like most about being a class ambassador? 
The best part about being a class ambassador is meeting alumni who went to college with me at the same time. I am very grateful to meet new folks, learn from them and be part of their journeys. I have also had the chance to meet older alumni, some of whom have children now. It's been a tremendous pleasure getting to know them in addition to their families. I also appreciate hearing what it was like to be Latino at W&M when they attended the university. I am very grateful to all LatinX alumni who have given our efforts a chance, and who have invested their time and energy in brainstorming how we move forward.