Gifts totaling more than $4.7 million honor William & Mary's 27th president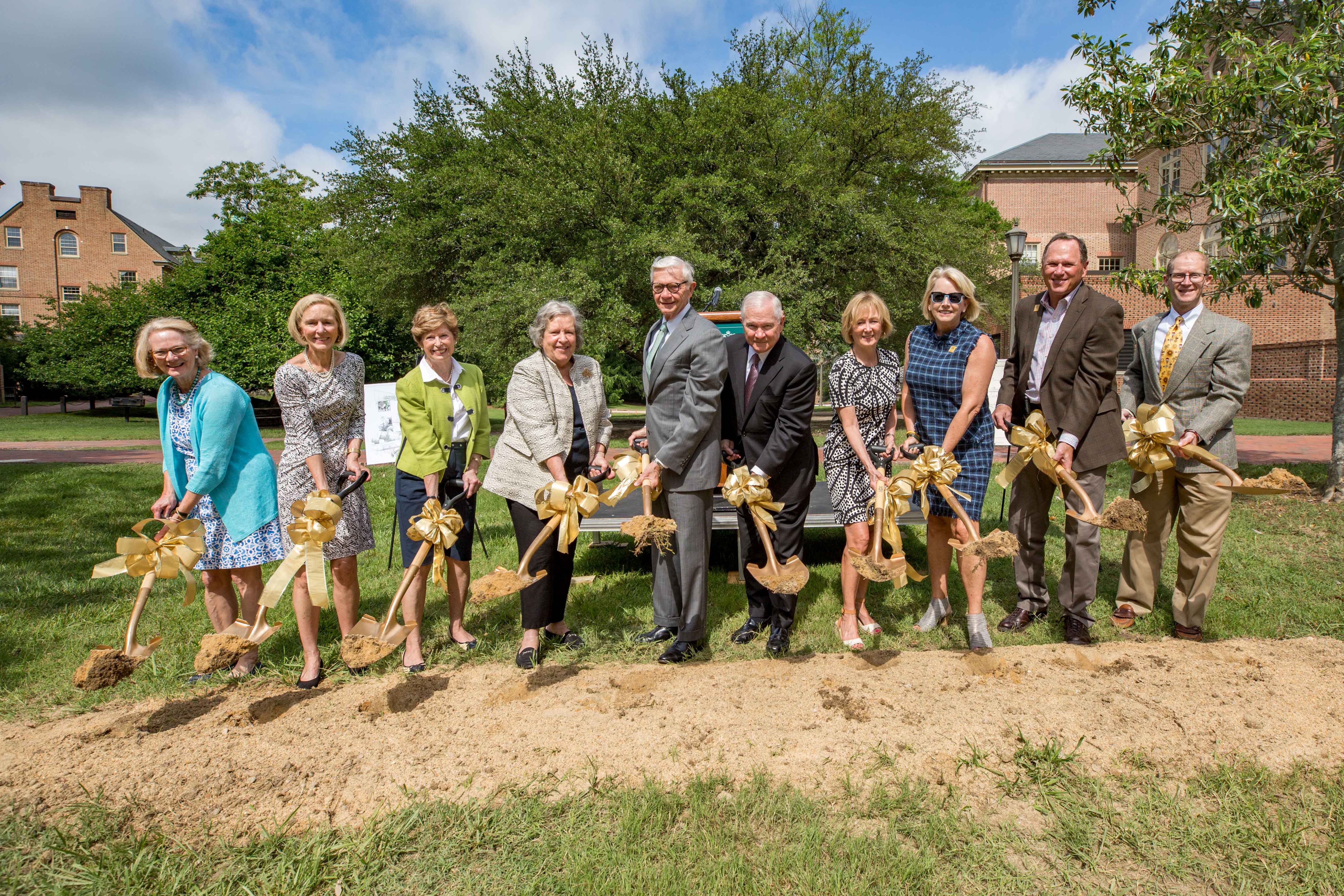 Photo by Skip Rowland '83
President W. Taylor Reveley, III, LL.D. '18, HON '18 leaves a legacy at William & Mary that will have impact well beyond his retirement on June 30. During his tenure, Reveley led with grace and tenacity, transforming the university into a beacon of progress, opportunity and promise for generations of students, alumni, parents and friends who call William & Mary home.
More than 550 members of the William & Mary community have contributed over $4.7 million in honor of Taylor and Helen Reveley. The gifts establish a scholarship endowment for undergraduate students, one for law students, a classroom at William & Mary Law School, and a garden and campus beautification project, all named Reveley.
During a ceremony held yesterday, ground was broken for the garden project. Lead gifts for the garden include $750,000 from the Lettie Pate Evans Foundation and a challenge grant of $350,000 from The Mary Morton Parsons Foundation. The Garden Club of Virginia will create the pathways, beds and plantings that will comprise the Reveley Garden.
"Over the last few years, Becky and I have delighted in our friendship with Taylor and Helen," said William & Mary Chancellor and former Secretary of Defense Robert M. Gates '65, L.H.D. '98. "Among their many lasting fingerprints on William & Mary's campus is enhancing its beauty. This garden is a fitting honor, an enduring legacy allowing future generations to enjoy the natural splendor of William & Mary and remind them of the Reveleys' devotion to the university."
Reveley retires from William & Mary after serving the university for 20 years. His service to William & Mary was split evenly between serving as president and as law dean, holding each position for a decade. Known for his calm and his wit, Reveley connected powerfully with students. Under his guiding hand, William & Mary moved forward on many fronts including building a new financial foundation for the university by galvanizing all parts of the W&M family in the effort. Particular emphasis was placed on increasing productivity and efficiency on campus, introducing a new model for in-state tuition and financial aid through the William & Mary Promise, and growing alumni engagement and Tribe pride around the USA and abroad. As president, Reveley also undertook significant, sustained construction and renovation of campus facilities, spurred major advances in the curriculum, and responded constructively to pressing social issues as they have been felt on the campus, in particular, the need for greater diversity and inclusion.
The Reveley Garden, which will be located between Ewell Hall and Jefferson Hall, will honor both Helen and Taylor Reveley, who for decades have been committed to campus beautification. The one-acre garden, which includes storm water management in the campus watershed, is one of the most ambitious campus beautification projects in the university's history.
"This is overwhelming," Reveley said during the ceremony. "It's literally a dream come true to see that this garden is actually going to happen, and that the beautification project will extend for hundreds of yards. I am enormously grateful to all those who helped make this garden possible."
The design for the garden is inspired by famed landscape architect Charles F. Gillette. In 1926, Gillette designed a garden that would connect the "new" women's campus to the main campus at the time. His vision went unfulfilled due to lack of funding. Helen's admiration of Gillette's work led to renewed interest in creating this beautiful new space on campus. William D. Rieley, landscape architect for the Garden Club of Virginia, adapted the Gillette plan to fit the current space and needs of the university.
The late Lettie Pate Evans, through her foundations, has long been one of William & Mary's most prominent donors. The Lettie Pate Evans Foundation's support includes funding the restoration of the Wren building and the Brafferton, as well as establishing undergraduate scholarships through its sister organization, the Lettie Pate Whitehead Foundation. Years ago, the foundation also contributed to the creation of a wildflower refuge, which will become part of the campus beautification project for which ground was just broken.
The Mary Morton Parsons Foundation, whose challenge grant included another $50,000 for reconstructing the historic landscape of James Monroe's Highland, is also a longtime supporter of William & Mary. In addition to contributing to the restoration of the Wren and the Brafferton, the foundation has funded research equipment at William & Mary's Virginia Institute of Marine Science.
The Reveley Garden will feature a wide array of perennials, scenic brick pathways and new gathering spaces for students. It will be connected to the Crim Dell's woodland park and the Lettie Pate Evans Wildflower Refuge by a 1,500-foot-long greenway. The greenway will be landscaped with native ornamental plants to manage storm water runoff. Management of the runoff will reduce erosion at the east end of the Crim Dell watershed.
"William & Mary is such an important part of our history in the Commonwealth of Virginia and we feel this is a great opportunity to honor two people who have given so much to Virginia," said Jean Gilpin, president of the Garden Club of Virginia. "The service of Helen and Taylor Reveley has been remarkable and we are excited to be a part of this project."
Reveley's effective leadership helped make a William & Mary education attainable for countless academically-gifted students regardless of financial means. His cogent vision led to more than $108 million raised for undergraduate scholarships alone since the start of the For the Bold campaign. In total, nearly $250 million has been secured for scholarships to date.
"Scholarships are our top priority in the For the Bold campaign," Reveley said. "Scholarships are powerful. They do change lives for the better. And not just for students but also for their families and communities. It means a lot to me to have a scholarship for undergraduates and one for law school students in my name."
The Reveley Classroom at the oldest law school in the nation is a 70-seat lecture hall funded by Hunton & Williams, alumni and friends. Reveley was a longtime member and managing partner of Hunton & Williams before becoming dean of the law school in 1998.
Stephen Horvath, J.D. '84, president of the Marshall-Wythe School of Law Foundation, said Reveley's understanding of the modern world of legal practice helped shape the development of curriculum and training of citizen lawyers. Under Reveley's leadership the law school had an increased emphasis on clinics, internships, judicial and public service clerkships, and other real-world experiences that have helped improve the career prospects of law school graduates, Horvath said. 
"Broadening opportunity and access to legal education was very important to Taylor, and his charge to the Law School Foundation, alumni and the broader William & Mary community was to materially increase funding available for scholarships and financial aid," Horvath said. "There is no better way to accept that charge today than to create a substantial scholarship endowment in his name that will generate funds for many years for deserving students … the classroom naming will add Taylor to the pantheon of the truly great leaders recognized in the law school's corridors. It will also connect him daily to the students that he cared so much about."
Sue Hanna Gerdelman '76, For the Bold campaign chair, said the Reveleys' legacy will live on in countless ways for all time coming, including through the majestic Reveley Garden.
"In about two weeks, Taylor's presidency at William & Mary will come to an end," Gerdelman said. "But the next chapter in his life is about to begin. I smile knowing that every time my husband and I will walk past the Reveley Garden and look at all of the magnificent flowers and plants within it, we can reflect on the time we had with Taylor and Helen. And in the years, decades and centuries ahead, future generations will walk by the beautiful, tranquil garden and see the names of two wonderful people who made an enduring impact on the life of our university."