W&M alumna makes $1.5 million gift in honor of President Katherine Rowe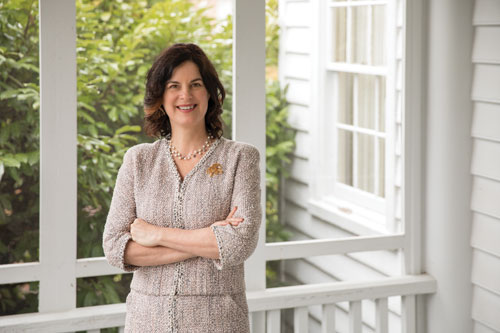 Just days after Katherine A. Rowe was sworn in as William & Mary's 28th president, an alumna stepped forward to make a $1.5 million gift to establish a President's Strategic Investment Fund. The gift was made in honor of Rowe, the first woman to hold the position at the university.
The new Strategic Investment Fund will enable President Rowe to capitalize on emerging opportunities as they arise. The unrestricted resources will allow her to invest in key priorities and to support programs and initiatives that will propel William & Mary forward.
"I am thrilled Katherine is our new president and believe in her vision for William & Mary," said the anonymous alumna, who serves as a trustee on the William & Mary Foundation. "I am strongly encouraged by the direction that she will lead the university and want to empower her with the resources she needs to accomplish great things for my alma mater."
She added, "I have been impressed with the progress that has been made at the university over the last decade under Taylor Reveley's leadership and I look forward to seeing that momentum increase under President Rowe's tenure." 
This is the first gift announced since Rowe took the helm and the first of its kind created for a William & Mary president. Rowe was sworn in on July 2, 2018, in a ceremony held in the Wren Building's Great Hall. Her inauguration will take place in 2019. Rowe comes to William & Mary from Smith College, where she served as provost.
"I am honored and touched by this gift and grateful for the new resources it will infuse into the university," said Rowe. "The Strategic Investment Fund will invigorate our work and ensure that we can be nimble in seizing new opportunities that advance William & Mary's mission. I greatly appreciate this vote of confidence and am especially thankful to this alumna because her gift will benefit the William & Mary family who make this university so unique and special."
William & Mary currently has very few unrestricted funds that provide flexibility to strategically invest in innovation and fuel growth over both the short- and long-term. The university aims to increase the number of unrestricted funds as part of its For the Bold campaign.
The alumna is a loyal donor to William & Mary, giving generously to areas across campus, including scholarships and professorships, the Reveley Garden, the Raymond A. Mason School of Business, as well as to the Alumnae Initiatives Endowment to recognize the 100th anniversary of coeducation at the university. 
She hopes her enthusiastic support of the new president and the creation of the President's Strategic Investment Fund will inspire others to follow suit and make a gift of any size to expand it. To support this fund, please visit our giving site.