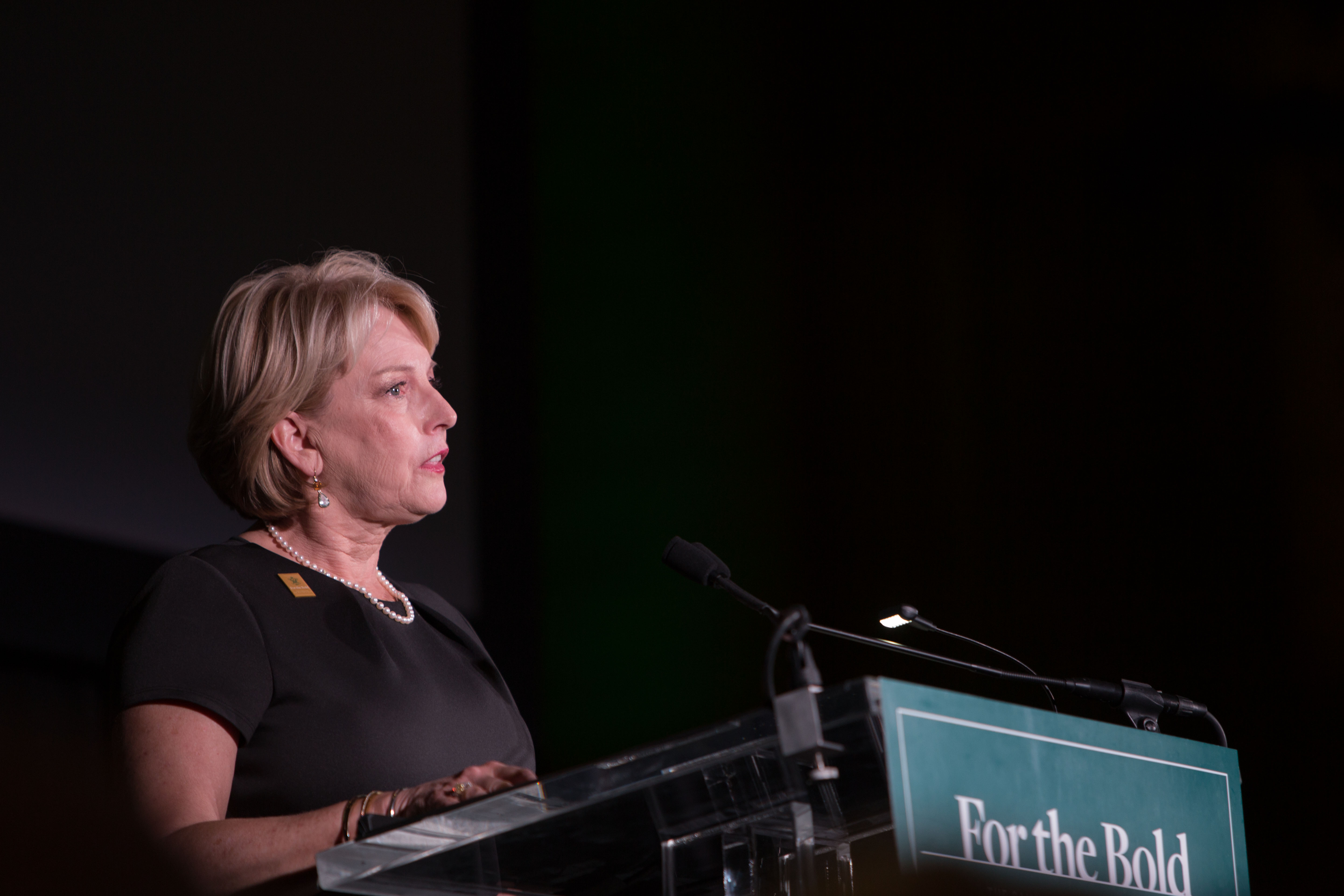 It's hard to believe that summer break is about to come to a close — although the blistering heat in the 'Burg remains — and the new academic year will begin in a little over a week. There's so much to look forward to in our final year of the
For the Bold
campaign and there are countless opportunities to make an impact on the university and all its students, faculty and alumni in the next 10 months.
Included among them are many ways to engage in the life of the university, including attending social gatherings, sporting events, intellectual programs, networking sessions and so much more. Consider coming back to campus for
Homecoming & Reunion Weekend Oct. 17-20
,
Charter Day on Feb. 7
and
Traditions Weekend April 23-26, 2020
. Yule Log celebrations around the world will take place from the end of November through mid-December, and
William & Mary Professionals Week will be Feb. 24-28, 2020
. However you participate, be sure to share your Tribe Pride, donning your favorite green and gold.
In case you missed it, last month we unveiled some pretty big news — William & Mary has raised nearly
$900 million
in our $1 billion For the Bold campaign! I'd like to draw attention to a few specific examples from the past year that highlight how the campaign is making a difference in the lives of so many in our community:
•
McLeod Tyler Wellness Center opens its doors, provides wellness programming for students
•
Shenkman Jewish Center becomes home away from home for Jewish students
•
Tribe Field Hockey Facility construction begins
•
$4 million raised for Alumnae Initiatives Endowment, will fund opportunities for alumnae around the globe
•
Center for Online Learning launches at the Raymond A. Mason School of Business
•
Scholarships Impact Fund sees a nearly two-fold increase in dollars raised
•
1693 Scholars Program grows, increases number of scholarship students
•
Unrestricted funding to the Arts & Sciences Impact fund is supporting visiting speakers, the ASWAD Conference, the iGem Team, and so much more
•
Alumni House expansion and Family Courtyard project moving forward and reopening in summer 2020
•
13,144 donors participate on One Tribe One Day, raising a collective $2.5M for areas across campus and beyond
This is only a partial list of the announcements from the last fiscal year that were made possible by the generosity of all our donors. Thank you for all that you do, and continue to do, to support William & Mary! To read more stories about your gifts at work, visit our
website
.
The power of private support is remarkable. Gifts of all sizes have great impact. In fiscal year 2019, for example, gifts of less than $100 collectively added up to nearly $1.8 million, funding a wide swath of priorities and areas at William & Mary. Since the beginning of the campaign, gifts of this size have totaled about $13 million — talk about making a big difference!
I continue to be amazed at all that we have accomplished together and know that in the coming year we will triumphantly close our campaign! A lot of work remains to reach our $1 billion goal, but I have confidence that we will hit that ambitious milestone, because at William & Mary we seize the moment and rise to every challenge.
In the meantime, please enjoy some of the stories in this edition of the campaign e-newsletter. See them here:
W&M wellness at forefront
A W&M romance for the ages
$1M Mellon Foundation grant funds inclusive research and community engagement at William & Mary
Gift fuels faculty research
A lasting testament: Memorial to African Americans enslaved by William & Mary 
"Bots" for business students
A wedding gift that keeps on giving
Kickoff W&M football season with HWA — Aug. 31, 2019
Presidential reception — Sept. 18, 2019
Homecoming & Reunion Weekend — Oct. 17-20, 2019
Enjoy the rest of your summer!
Go Tribe!