Record-breaking 13,144 donors gave on One Tribe One Day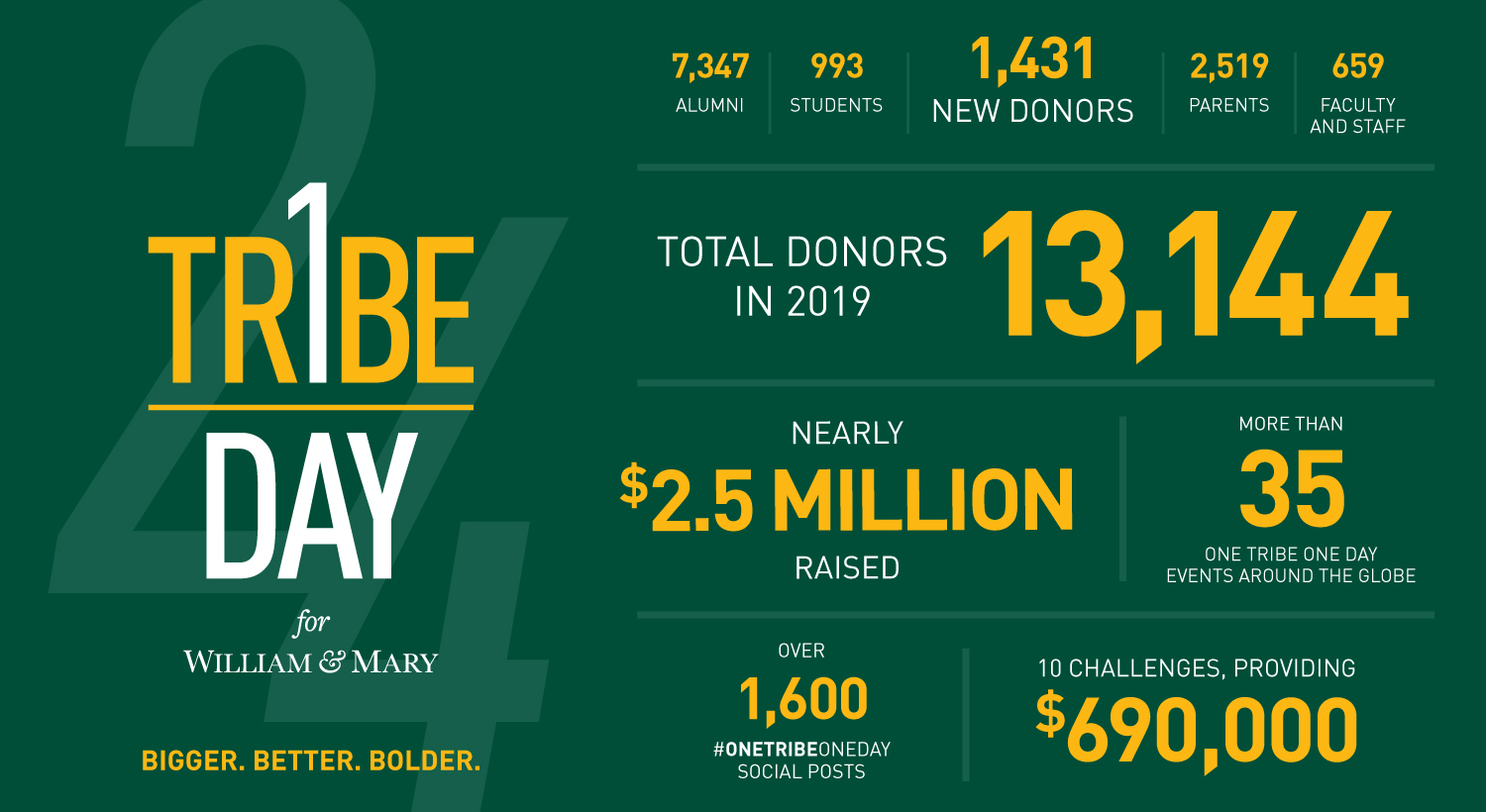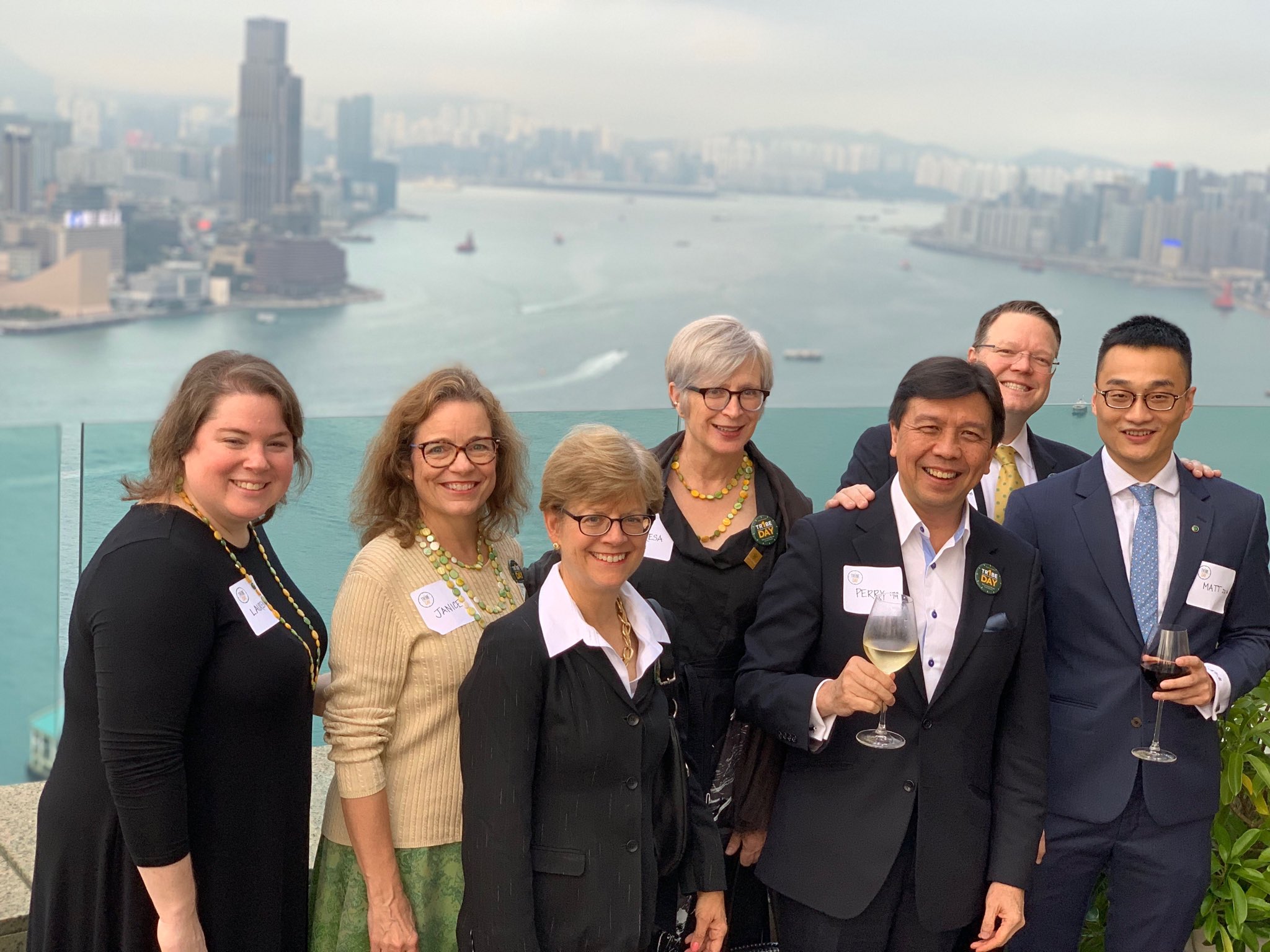 One Tribe One Day 2019 was bigger, better and bolder than ever before, with 13,144 donors giving on a single day. Nearly $2.5 million was raised for areas across the university.

Since its inception as part of the For the Bold campaign, the number of donors participating in One Tribe One Day has grown significantly — there were a total of 1,906 donors in 2014.

"The inspiring sense of community on One Tribe One Day reaffirms William & Mary's longstanding tradition of philanthropy and generosity," said President Katherine Rowe. "The day reminds us that no matter where in the world our alumni, faculty and staff, students, families and friends find themselves, William & Mary will always hold a special place in all of our lives."
Fun
There was no shortage of fun for everyone in the global William & Mary community. Alumni in Tokyo, London, San Francisco and Florida, among other countries and U.S. states, gathered together for more than 35 One Tribe One Day events around the world.
There was also a carnival in the Sunken Garden that included a zipline and mechanical shark and a new attraction this year — the dunk tank. A large crowd watched as several competitors of the One Tribe, One Dunk Tank Challenge fell into the cold water. The person who received the most votes — in the way of gifts — was spared from the dunk tank.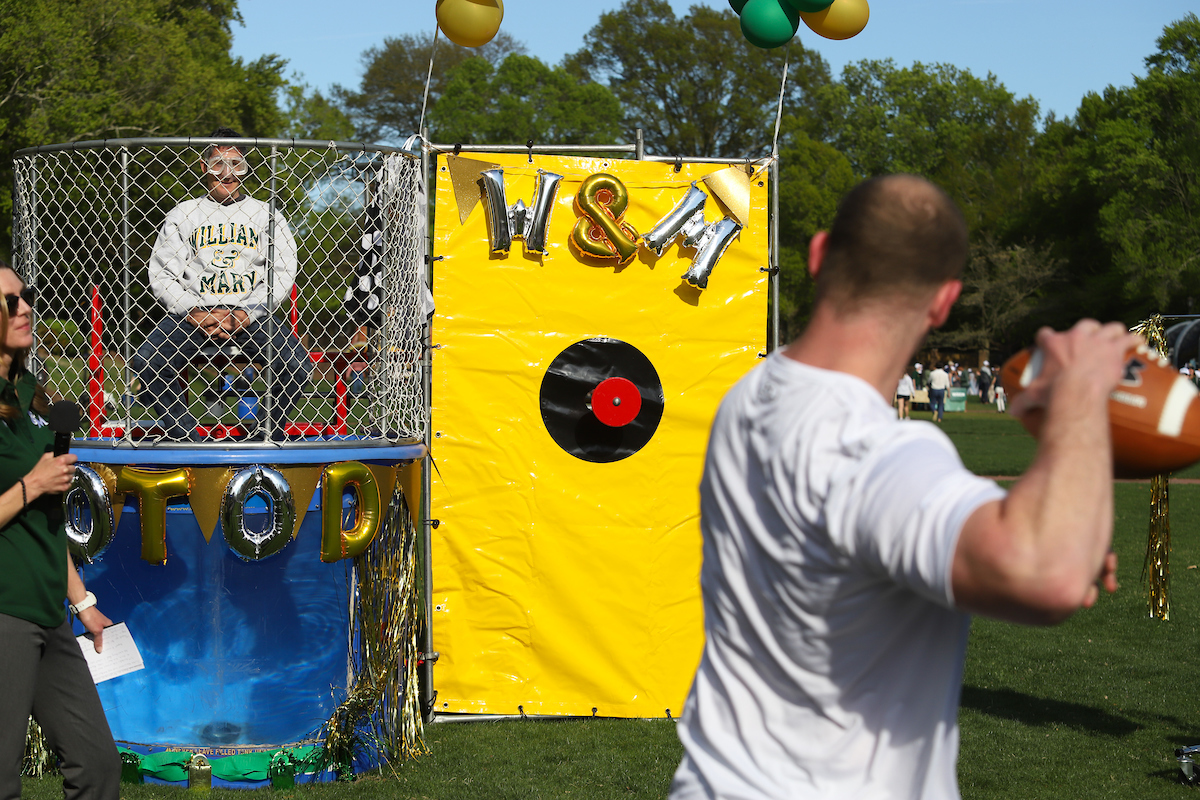 Each competitor, Chancellor Professor of Biology Dan Cristol, Chief Diversity Officer Chon Glover Ed.D. '99, Head Football Coach Mike London and Co-Director of the Global Research Institute Mike Tierney '87, M.A. '88 appealed to the W&M community via email, social media and personal engagement to contribute to their causes and save them from the tank.
In the end, London finished slightly ahead of Tierney with the largest number of gifts, many of which will directly benefit the football program.
Top Prize
There were 10 donor-sponsored challenges on One Tribe One Day, which fueled momentum and provided $690,000 to the university. To earn the funds, certain donor thresholds had to be met throughout the day.
Among the challenges were the Payne Social Media Challenge ($5,000 for over 1,500 social shares), Charter Challenge ($40,000 when the first 1,693 donors gave), Kurland Challenge ($75,000 when the 4,000 donor mark was reached), Southwick-Suchar Challenge ($100,000 when the university topped 8,000 donors), McLeod-Tyler Challenge ($200,000 when the goal of 13,000 donors was met), the Fill the Map Challenge ($20,000 once all U.S. states were represented) and the Gerdelman School & Unit Competition ($50,000, divided among winners).
The Gerdelman competition award was divided among departments or areas in three categories – the most number of donors, the most new donors and the most improved from 2018. This year, Athletics, Arts & Sciences and International Initiatives were the top performers respectively. A $5,000 prize was also given to William & Mary's Virginia Institute of Marine Science for honorable mention. 
Impact
Over the years, One Tribe One Day has impacted a plethora of areas on and off campus, from funding tutors for students, a pipe organ, scholarships, the Global Film Festival, Yule Log celebrations, research, athletics, faculty stipends, study abroad and so much more.
Community and impact were two themes that many, including students, cited as providing incentive to make a gift on this day.
"I gave today because college is really an important investment in yourself. Personally, I gave to the Diversity and Inclusion Fund because these areas are the most important part of the William & Mary experience. I want to make sure we have a welcoming community," said Matthew Packer '19.
Kylie Adams '21 echoed that sentiment, "One Tribe One Day is special because the whole university comes together to celebrate giving — both what we get and give back. It's a great experience for any William & Mary student."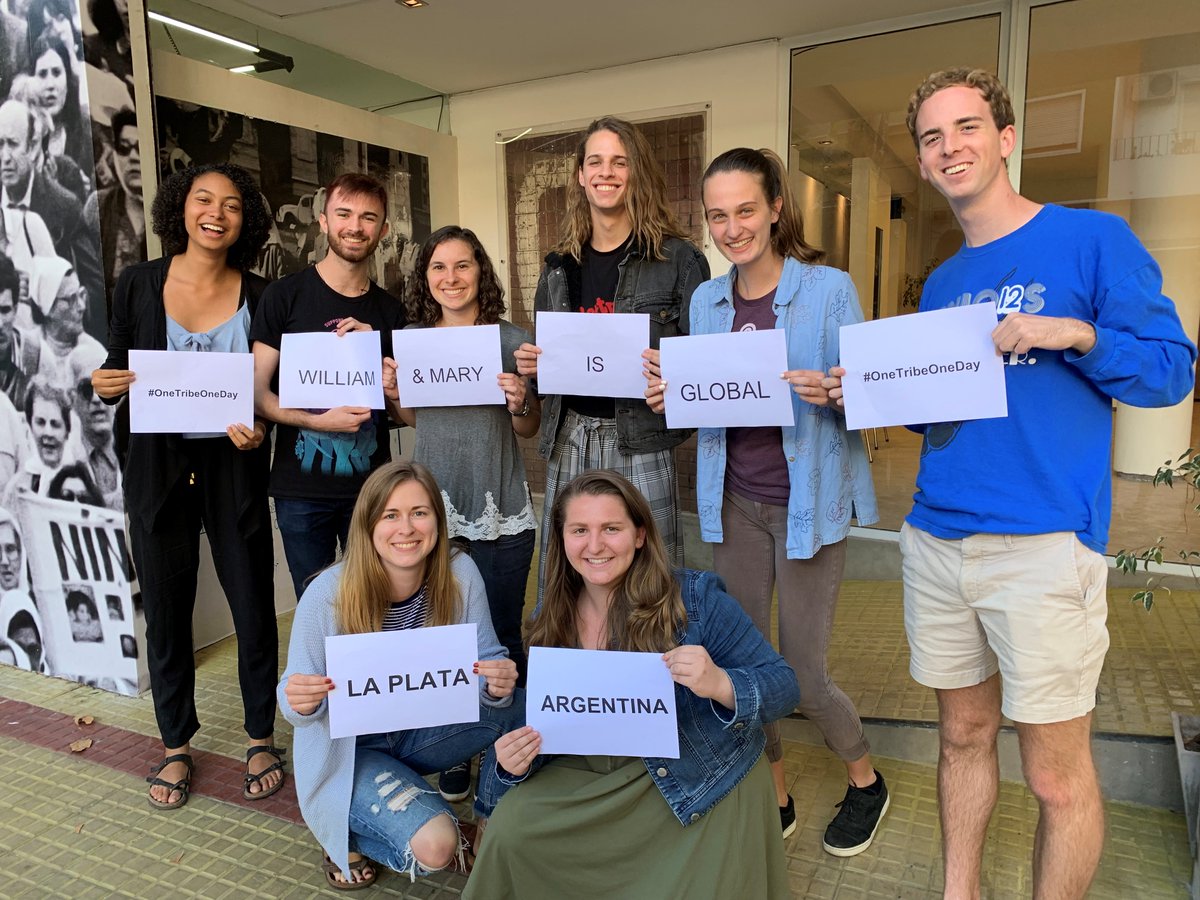 All day long on social media, people posted with the hashtag #OneTribeOneDay, highlighting why they gave to the university and what kind of impact they'd like to make today and in the future. Check out some of the posts here.
"This is what this day is all about — making a difference by giving to and through William & Mary," said Matthew T. Lambert '99, vice president for university advancement. "Since One Tribe One Day first began in 2014, we've witnessed firsthand how our giving day has benefited and directly impacted our entire community. We are able to do things now that enable our students, faculty, and coaches to do their best work."
National Leader
A pride point among many is the fact that William & Mary is a national leader in giving days among all public and private higher education institutions.
Few, if any, other universities have produced results similar to William & Mary's, and this year's level of participation cements the university's position as one of the top in the country.
Donors from all 50 states and 28 countries took part in the effort by making a gift to William & Mary on Tuesday. Gifts of $250 and below accounted for nearly $700,000 of the total raised, underscoring the fact that gifts of all sizes collectively make a big difference.