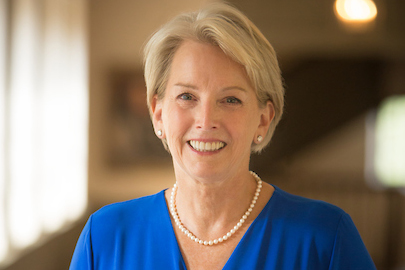 Over the last year I've had the chance to reflect on the importance of family. When I say family, I don't just mean the traditional sense of family. I mean those in our lives who lift us as we climb, who help us overcome hardships and who remain a meaningful part of our journey — no matter where life takes us.
This is exactly what my William & Mary family has done for me from the first day I first stepped foot on campus as a student. And for that, I will always be grateful.
The holiday season is a window of time when we can all pause to reflect and be thankful for those who hold a special place in our hearts and minds. This Thanksgiving, I give thanks for each of you — my Tribe family — for supporting one another and me, lifting the university and allowing it to soar to new heights.
In the next year — the last year of our For the Bold campaign — we have much to do and even more to celebrate. We have raised more than $920 million toward our $1 billion goal. Our alumni are engaging with each other and the university more than ever before — nearly 28,000 people attended 495 William & Mary events in 45 cities around the globe last year.
We are expanding the opportunities for our growing and diverse community of alumni, parents and friends to connect professionally, culturally, socially and intellectually. And as I always proudly boast to my friends who claim another alma mater, William & Mary is the No. 1 public university in the nation for alumni giving (and 14th best among all universities)!
I'm thankful for each of our 103,200 donors who have invested in the Alma Mater of the Nation since the beginning of our campaign!
This has all been made possible because of your enduring generosity; because you made the decision to remain a vital part of the university's life. Our Tribe community is a tight-knit community — we are loyal, we support each other and we are bold. This is evident in the progress that's been made in our campaign and in the impact that you have made on the lives of so many at William & Mary and beyond.
Our university is thriving because of your continued support. Here are just a few headlines that demonstrate this:
This is a small sampling of all of the wonderful stories we've told about the impact you are making on our entire community.
Thank you for your continued support of For the Bold – and for helping us in our sprint to the finish line to triumphantly close our $1 billion campaign!
To my entire William & Mary family — Happy Thanksgiving!