An art collection for the ages: Julian Fore '71 makes significant estate gift of artwork to William & Mary's Muscarelle Museum of Art Foundation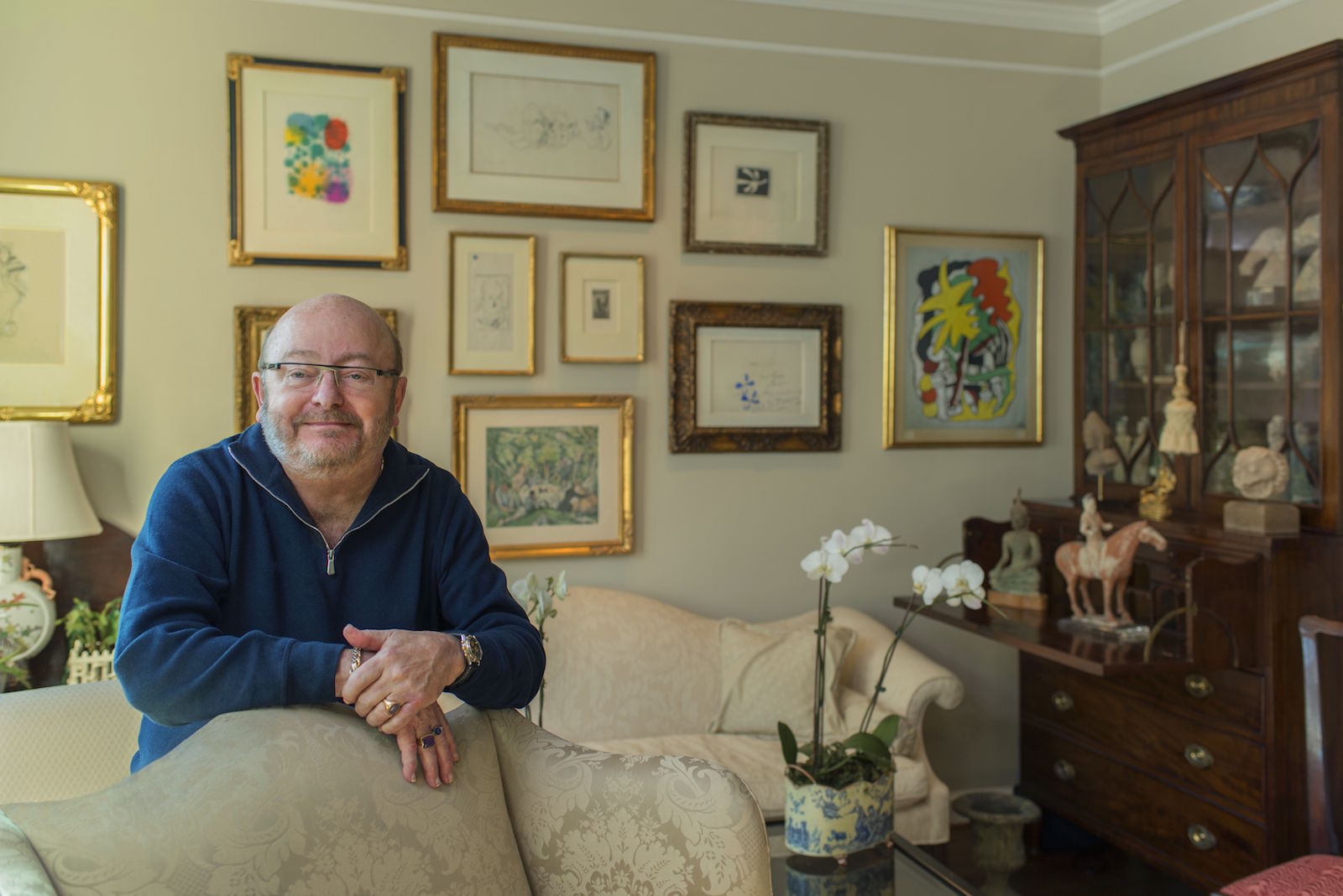 Photo by Mark Mitchell Photography.
Julian Fore '71 has never forgotten the generosity of the donor who funded the scholarship that made it possible for him to spend one year abroad at the University of St Andrews. While there he was exposed to works of art that forever changed his perspective of the world outside of Virginia.
That unforgettable year in Scotland led him to travel to over 100 countries throughout his life, collecting art along the way. Fore is giving a significant portion of his artwork through his estate plans to William & Mary's Muscarelle Museum of Art Foundation, to educate future generations of students about various forms of fine art. His gift is one of the largest gifts of art to the museum.
"I want my art to be displayed where it will mean something," said Fore, "I always believed I was going to give something back to the place that helped me."
Fore's gift, known as the Julian W. Fore Art Collection, includes nearly 60 pieces of Impressionist, Post-Impressionist, Asian and American prints, paintings, drawings and earthenware from artists Paul Cezanne, Andy Warhol, Pablo Picasso, Milton Avery, Pierre Bonnard, David Hockney and Sam Gilliam, among others.
Art that inspires
"Julian has been a part of the museum family for almost two decades," said David Brashear, interim director of the Muscarelle. "He was a member of the museum's Board of Trustees at its inception in 2000 and has been a generous donor and supporter of many museum initiatives through the years. He established an endowment at the museum in 2003, to acquire art for the museum's permanent collection.
"Julian's art will be an important addition to the museum's collection and includes works by artists not previously represented in our holdings.  These valuable pieces will allow us to develop new exhibition angles and explore the world of art through a new lens."
The collection will be showcased in the new and expanded Muscarelle, which will be housed within The Martha Wren Briggs Center for the Visual Arts, a multi-million dollar state-of-the-art facility. Targeted to open in 2022, the center and the museum will be centrally located in the William & Mary Arts Quarter, which will also include a completely renovated Phi Beta Kappa Memorial Hall and a new music building.
"I think I have built a pretty nice collection of things and I want to put the art back into the public trust," Fore said. "I chose to give some of my art to the Muscarelle because I want it to be displayed and used as a tool for teaching and research by students, faculty and visitors in the future."
Fore previously served on the museum's board of directors. He credits former Museum Director Aaron De Groft '88 with moving the Muscarelle forward by significantly expanding the caliber of artwork and exhibitions showcased there during his 13-year tenure.
Opportunity
Fore, who majored in government, grew up in Richmond. His favorite aunt often took him to Williamsburg to visit as a child. Those visits led to his decision to attend William & Mary. The year he spent studying at St Andrews was life changing and significantly shaped his undergraduate experience at the university.
"I was fortunate to have the opportunity to go to St Andrews and be able to visit some of the best museums in the world," Fore said. "I became a museum junkie. It was the first time I had ever been out of the country. It opened my eyes to a lot of things that people don't get to see or feel."  
Fore is the former owner of Fore Consulting, Inc., a real estate consulting business, which operated in the engineering, accounting, research and management services sectors. He also worked for Accenture, formally Arthur Andersen, as a managing director for over a decade. He has been a loyal supporter of William & Mary by serving on several boards including the William & Mary Foundation, the Fund for William & Mary Board of Directors and his Class Reunion Committee.
Fore wants his art collection to make an impact on students in the same way a donor inspired his own life through a generous gift years ago.
"There are some students who don't have the opportunity to see the world broadly," Fore said. "Art is important because it enriches the mind, body and spirit. Everybody can't go to St Andrews or visit London or Paris, but they can experience the joy of the culture, the music and the art as part of their William & Mary education."