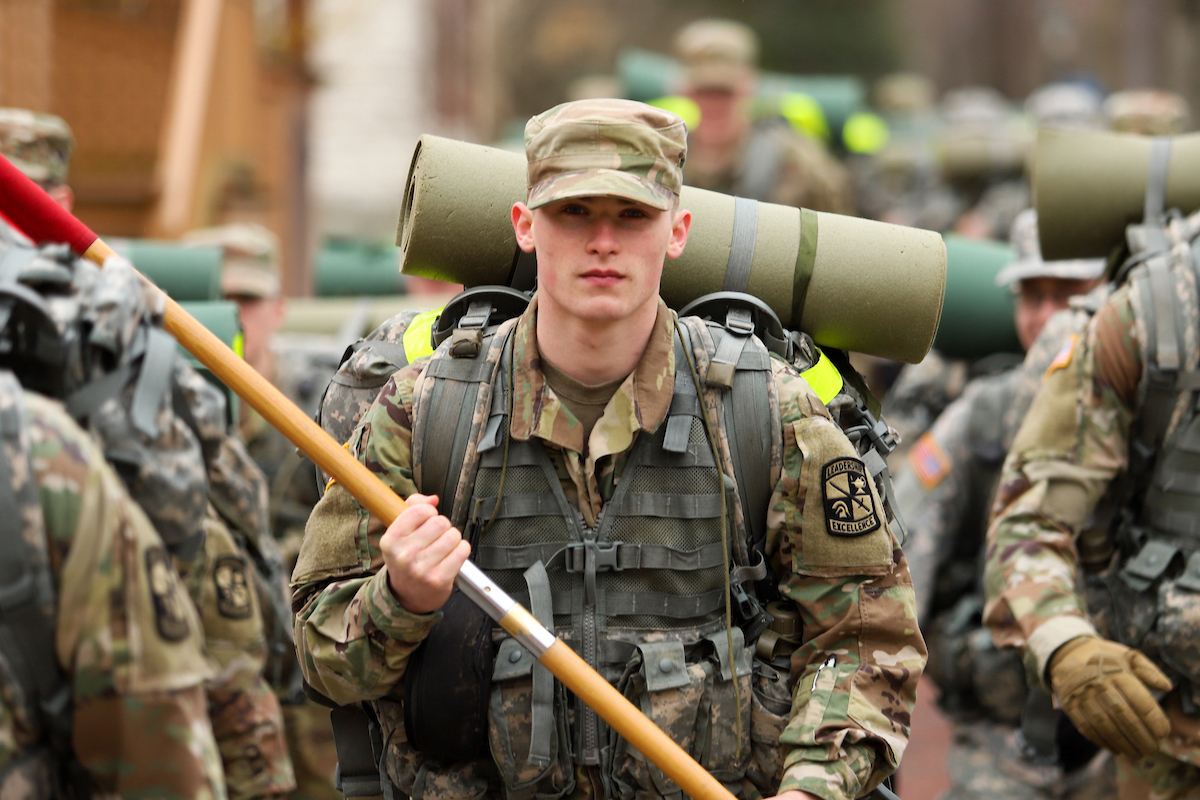 After a botched spinal surgery, Army veteran Hunter Stackhouse '19 spent six months in physical therapy before he could walk correctly. He still walks with a cane.
Stackhouse said the support system provided by the newly opened Office of Student Veteran Engagement helped him get through this difficult time in his life.
"The office has great significance to me," said Stackhouse, a government major. "It has provided me a place to go on campus for support. It represents an institutional endorsement of student veterans at William & Mary."
The new office is up and running as a one-stop shop for the more than 200 veterans and active service members who attend William & Mary.
Funded with an initial lead gift through the Jessie Ball duPont Fund, the office is led by Charlie Foster M.Ed. '17, a Marine Corps veteran who is familiar with the challenges that veterans face as non-traditional students.
"A common complaint that I often hear from veterans is that they don't know where services on campus are located, and faculty and staff don't know how to get in contact with student veterans," Foster said. "This office can rectify that by connecting both parties."
In 2018, U.S. News & World Report ranked W&M as the second-best university for veterans in Virginia, and 16th in the U.S. The office was created to connect veterans to services that they may not know exist and to be a resource to enhance their experience at the university. Like it has for Stackhouse, the office also provides a welcoming place for student veterans to connect and support one another.
Located in the Sadler Center, the office will centralize and expand existing support programs for student veterans that relate to admission, academic success, wellness and career guidance. The office provides veterans assistance with GI bill benefits, selecting courses and employment/internship opportunities.
The new office has three distinct goals: 
 Develop a thorough understanding of the needs and challenges of W&M student veterans.
Centralize programming aimed at student veterans to facilitate academic, career and personal success.
Deepen and broaden relationships with nearby military posts and universities with exemplary student veteran support programs.
The support from the duPont Fund provides essential funding for the director position in the short term. A combination of additional private support and university funding will be needed to sustain the director position, additional personnel and other services.
Enhanced support for student veterans is a priority for President Katherine Rowe and aligns with the university's core values, two of which are belonging and thriving. The university strives for a welcoming and caring community where diverse people and perspectives flourish.
Foster welcomes alumni support. Alumni can get involved by joining the Association of 1775, an affinity group that includes a robust network of W&M alumni who serve or have served in the military and across the U.S. government. To give toward veterans initiatives at William & Mary, support the Student Veteran Engagement Fund.
Learn more about Foster's work and the Office of Student Veteran Engagement here.