Commencement, alumni participation and 100 years of women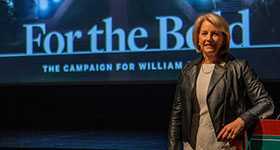 Summer break has just begun, and I can't help but reflect on the past academic year and the caliber of students who walked our historic paths. This was evident when I heard from so many exceptional students who gathered in Zable Stadium over Commencement weekend. 
While I was listening to all of the speakers that weekend, including the remarks from our student speaker, Brian Anyakoha '18, I was in awe. In a video highlighting his stirring speech, Brian said, "Getting that letter in the mail and finding out I got a scholarship to a place like William & Mary was life changing. It felt as though somewhere out there somebody who hadn't even met me, believed in my ability to succeed, thrive and achieve in a place like this." Brian, a neurology major, hopes to become a doctor.
It is powerful to witness firsthand the impact of scholarships. It is also remarkable to see the power of the William & Mary network. 
As our graduates move on to the next chapter of their lives, they now have the opportunity to network and grow professionally through a remarkable program offered by the William & Mary Alumni Association. Our One Tribe. One Network. program has helped countless alumni — of all ages and professional backgrounds — connect and network with one another either online or in-person. Read more about how you can expand your own W&M network in the spring 2018 edition of the alumni magazine.  
Alumnae across the U.S. and around the globe are gearing up to celebrate 100 years of William & Mary women. In the fall, the university will host the inaugural W&M Women's Weekend on Sept. 21-23. It will provide an opportunity to refresh, reconnect and reenergize. It will be a weekend for women to focus on themselves and to be inspired and empowered by other alumnae and featured speakers at the same time. Registration opens in June. 
We have just 40 days to meet our ambitious goal of achieving 34 percent alumni participation this year. We need more than 7,000 alumni donors to solidify our standing as the No. 1 nationally ranked public university for undergraduate alumni participation. To put this into perspective, last year the number of alumni donors grew by more than 4,200 — from 15,099 to 19,273 — between May 20 and June 30. 
If we reach this goal, we will be in the company of Yale, Stanford and Georgetown. As we move up the rankings, the value of a W&M degree appreciates and potential employees take note. Be a part of W&M history, encourage fellow alumni to give back annually and help us move closer to our audacious goal. 
For the Bold is rolling along magnificently and we have much to be grateful for this past fiscal year. With just one month left before President Taylor Reveley enters the elysian fields of retirement — as he likes to say — we are beyond thankful for all that Taylor and Helen have done for William & Mary. Taylor's vision led us to launch For the Bold — he has pushed the boundaries of excellence forward with great enthusiasm and an enormous amount of Tribe Pride. He and Helen are now honorary alumni and will always be an integral part of our family.
Here are some of the highlights in this edition of the campaign e-newsletter:
For the Bold campaign heads to the heartland
Helping law students afford opportunity
Class of 1968 makes William & Mary history
Ready, set, teach: Reducing teacher turnover in Richmond
Patrick Flaherty's commitment to public health lives on
Economics majors to see boost in scholarships support
Class Ambassadors hone their skills at academy
Home sweet home: Alumni House groundbreaking
W&M Weekend in Chicago — June 1-3, 2018
William & Mary Night at Nationals Park — Aug. 7, 2018
W&M Women's Weekend — Sept. 21-23, 2018
'Don't check out': Warner encourages W&M grads to be active citizen
'A remarkable year': 50th anniversary commemoration culminates with Legacy Weekend
Dalton Bennett '10 wins Pulitzer Prize