Class of 1968 makes William & Mary history
The Class of 1968 attended William & Mary during an era when "Hey Jude" from the Beatles topped the charts and the Earth was visible to astronauts from space for the first time. The nation's attention was fixated on the Vietnam War and the civil rights movement. It was a time ripe with pivotal events that are forever etched in history books.
The class recently returned to William & Mary to make history of their own. Fifty-six percent of the class gave back to their alma mater in honor of their 50th Reunion. With the most donors ever participating in their 50th reunion gift, the class's unprecedented effort resulted in raising over $17 million, surpassing their $15 million goal.
The gift supports three projects: the Class of 1968 Scholarship Endowment, the 1693 Scholars Program Fund and the expansion of the Alumni House.
"What we wanted to do was show our commitment to William & Mary and the fact that we set an audacious goal of 50 percent class participation and were able to exceed that is very pleasing to the entire committee and to the entire class," said Bob Trice '68, a reunion committee co-chair. "Achieving a participation rate of 56 percent is really extraordinary."
Reunion Committee Co-Chair Katherine Burge Callaway '68 echoed his sentiment and added that some classmates personally reached out to hundreds of their peers.
"From the beginning, we really emphasized that donations of any amount will make an impact. We said repeatedly if you can only give $20, it will collectively add up. I think they embraced that message and that is what helped account for our excellent class participation rate."
During the dinner William & Mary President Taylor Reveley applauded the class for its record-breaking number of donors and its remarkable gift.
"The For the Bold campaign rolls along majestically and your magnificent gift has made a difference," Reveley said.
He also reminded them of how special alumni are to William & Mary and how that connection is everlasting.
"Fiftieth reunions are joyous occasions," Reveley said. "Not just because of the reunited classmates, but also for alma mater. They make clear that William & Mary lives and breathes across the years and they remind us that people are the heart of the university. People who remain connected to William & Mary across the years — throughout a lifetime — are precious beyond measure to alma mater."
The co-chairs said the class wanted to ensure that scholarships were a top priority for their gift in order to impact future generations of William & Mary students.
"People who don't have the dollars to attend William & Mary need scholarships support," said Bill Tropf '68, a reunion committee co-chair. "One of the themes of our class was to establish a scholarship to try to help meet that need. With the state only giving a small fraction of the operating budget, other sources of income are necessary."
The Class of 1968 Scholarship Endowment will provide financial support for undergraduate students who have been selected as Monroe Scholars.
"When our committee was selecting the different places we wanted to give, there was a feeling that scholarships were very important," said Susan Saulmon Trice '68, a reunion committee co-chair. "Also, with the expansion of the Alumni House underway, we wanted to help with that project as well."
Reunion committee member Rose Gammon Garrett '68 described the Class of 1968 as a strong unit that put forth great effort to ensure a bright future for their alma mater for generations to come.
"I knew we had a cohesive class and I knew we had hardworking people who were promoting the reunion," Garrett said. "Sometimes it takes cheerleaders, sometimes it takes hard workers — I think we had both."
The class gift presentation took place over Traditions Weekend, which honors three distinguished W&M groups: 50th Reunion Class, the Olde Guarde and the Boyle Legacy Society. The weekend included several events to engage and connect alumni with each other and William & Mary.
"As to what I thought was the best event at our 50th Reunion, it was the Friday night Welcome Reception. I got to see and talk with so many classmates, a lot I hadn't seen in years," said Bob Blair '68, a reunion committee co-chair. "It was an occasion I will always remember, and for that I am grateful."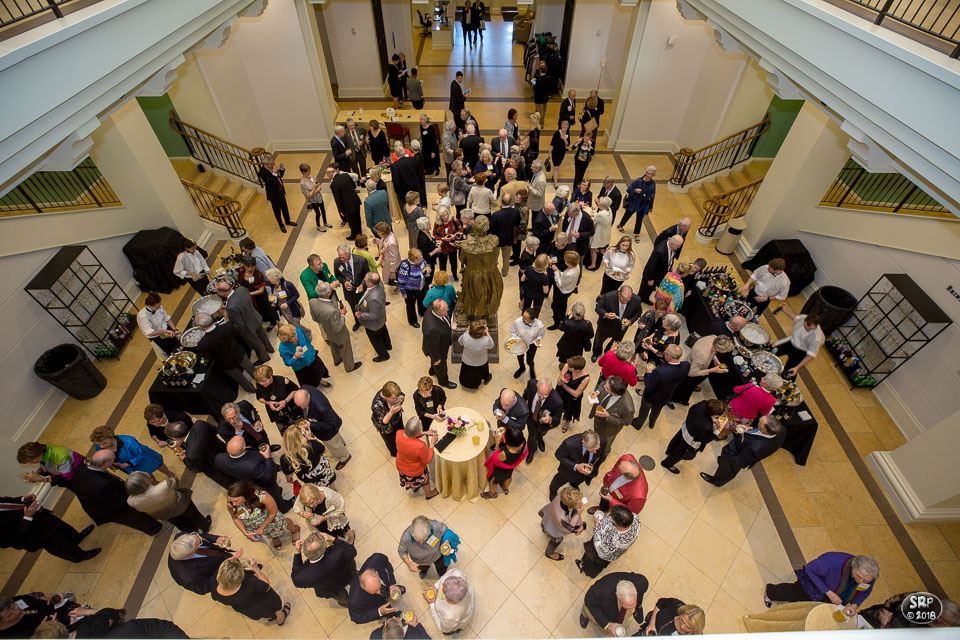 Photo courtesy Skip Rowland '83