Service and Engagement Combine for Spring 2021 Impact Week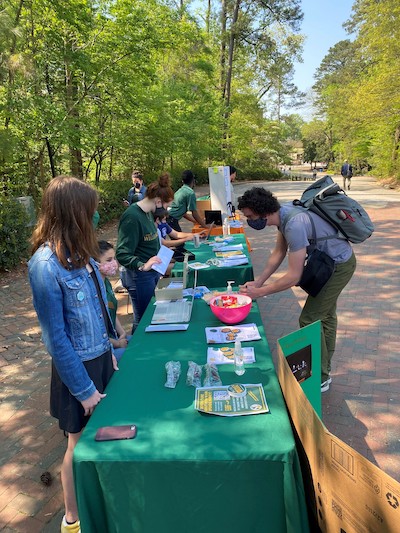 Each semester, three student organizations go head-to-head to raise money for their service projects during Impact Week. Like the name suggests, these service projects are designed to have a positive impact on William & Mary and the Williamsburg community. To receive the $5,000 of prize money given by anonymous donors, the organizations encourage fellow students to vote for their project in the form of a $5 gift to any area of William & Mary. First place receives $2,500 towards their project, second place receives $1,500 and third place receives $1,000.
In this spring's Impact Week, from April 19-23, the three organizations that competed were Kappa Sigma, supporting the Williamsburg House of Mercy; InterVarsity Christian Fellowship, supporting 3e Restoration; and Greater City, also supporting 3e Restoration.
The winner was Kappa Sigma with 34% percent of the vote. InterVarsity Christian Fellowship came in second with 33% and Greater City came in third with 32%.
"Our commitment to the House of Mercy has become a staple for the fraternity over the years. We are proud to help support them," says Daniel Driscoll '22, a member of Kappa Sigma. 
The House of Mercy serves those who are hungry or homeless and alleviates copay burdens for participating members through donations and volunteer service from the Williamsburg community. The nonprofit provides yearlong support to over 3,500 in-need families in Williamsburg and its surrounding areas.
"The House of Mercy has seen a significant influx of patrons due to the pandemic. Many people who are in and out of jobs come through their shelter. All of our granted Impact Week fund will go toward restocking their food pantry shelves with nonperishable goods," says Driscoll.
3e Restoration seeks to break the cycle of homelessness and social displacement through hospitality and systematic change. InterVarsity will support 3e by educating on the issue of homelessness in Williamsburg and by purchasing essential hygiene products and household items for the socially displaced. Greater City also will support 3e but in a slightly different way — by purchasing canned food, cooking supplies and hygiene products for the residents of the Pineapple Inn.
"Our project comes in two parts: food security-cooking supplies, grocery delivery and canned goods; and Blessing Bags — welcome bags with things like hygiene products, laundry money, and homemade cards. Unfortunately, the pandemic is hitting Williamsburg residents hard. We've heard from residents that it's been disheartening not to receive their student visits, let alone in-person church services," says Lucas Arnett '22, a member of Greater City.
These kinds of opportunities to serve the community and widespread student participation helped to place W&M in Princeton Review's rankings as the best public university in the nation for making an impact through community engagement.
The organization behind Impact Week is Students for University Advancement. SUA's goal is to build a culture of philanthropy on campus and facilitate community engagement, and it puts on events such as Tag Day, Impact Week and the One Tribe One Day carnival.
"SUA's role in Impact Week is as a facilitator and an uplifter. There are a multitude of student organizations that have these big ideas that could be realized given some philanthropic guidance and a generous donation. SUA helps these organizations connect with the students on campus who are willing and eager to support their philanthropic projects and in turn the Williamsburg community," says Jordan Strong '22, SUA chair.