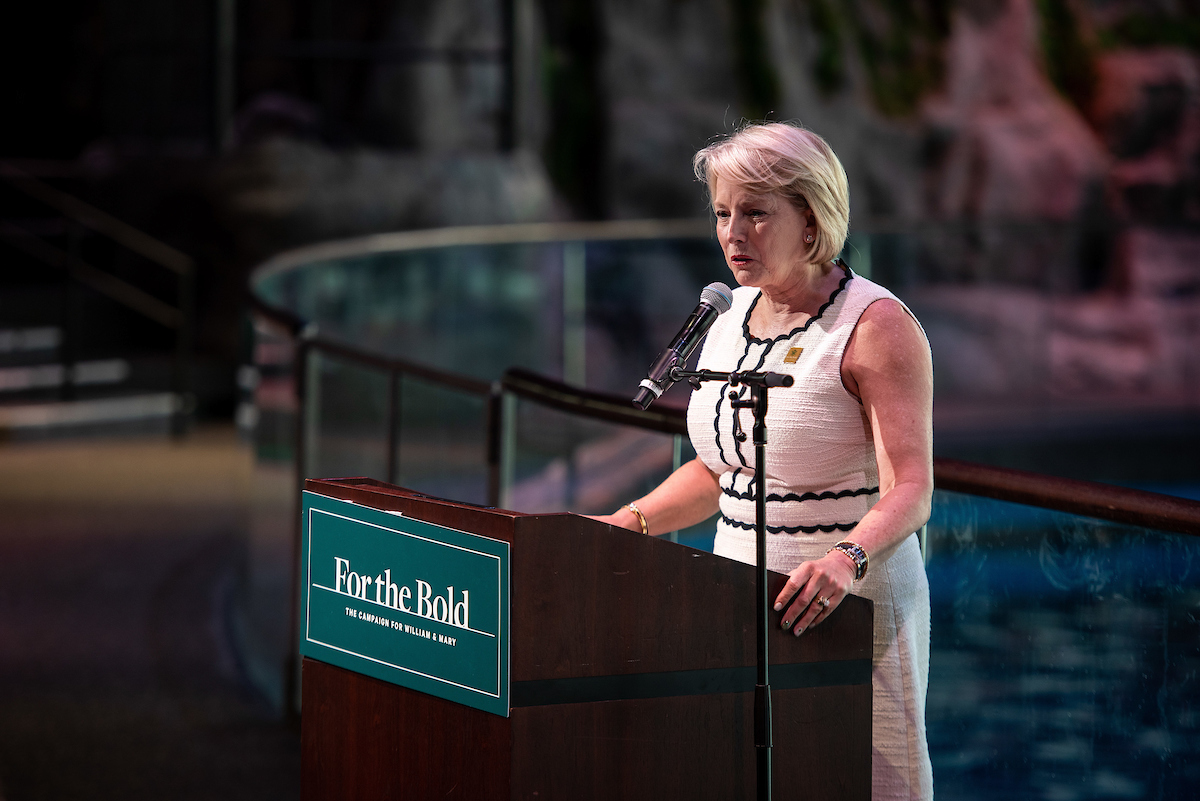 Create a life you can be proud of. I live by this mantra every single day. 
For me, this means carving out time creating new memories with my growing family, volunteering and giving back to William & Mary — the place that shaped who I am today. 
A few weeks ago more than 2,000 undergraduate and professional students participated in a very moving Commencement ceremony. There were moments of laughter, reflection, celebration as well as tears of joy — particularly from the proud parents in the audience. Students left campus that day ready to start their next chapter in life. 
As I sat on the stage taking it all in, I thought to myself that no matter the path or journey these students take, William & Mary will always be a part of who they are; a place that will shape who they aspire to be. 
Months, years and decades will pass and they can look back at their time fondly and remember the bold moments that happened at William & Mary.
Many of those moments were possible because of your generosity. From scholarships, experiential learning opportunities and study abroad to research and support for faculty and coaches, your investment is a reason why so many great young minds are prepared to go out into the world and make a difference. Thank you!
It's been a remarkable academic year with President Katherine Rowe at the helm. It's also been a time of transition and we are eager to see what the future holds for William & Mary, particularly as our president begins strategic planning in August. As we look toward our future, I am proud to stand by your side, as a fellow donor to the university, as we shape a vibrant future by investing in the areas and the people that make the Alma Mater of the Nation a thriving institution of higher learning.   
I find it hard to believe that we have one year left in our For the Bold campaign and less than one month remaining this fiscal year to ensure that we remain the No. 1 nationally ranked public university for alumni participation. The next few weeks will determine whether William & Mary continues its upward trajectory in the rankings and will help us collectively make a big impact on the university. This is why it is important for everyone to make an annual gift, no matter the size, and to spread the word within your networks that every single person will be the difference between a good year and an extraordinary one. 
I hope you enjoy this edition of the campaign e-newsletter — check out the highlights below. Thank you for everything you do for William & Mary.
William & Mary celebrates For the Bold in London 
William & Mary celebrates For the Bold in South Hampton Roads
W&M Class of 1969 raises over $20.7M
Save the date! W&M at Nationals Park — July 26, 2019
Forum on the Future of Representative Democracy — July 30-August 1, 2019
Homecoming & Reunion Weekend — October 17-20, 2019
A Continued Promise: Generous $1 million gift from 1693 Scholars Program founders Jim Murray J.D. '74, LL.D. '00 and Bruce Murray will expand program's reach
Far-reaching impact: Private support of the A&S Annual Fund turns ideas into action at William & Mary
The Lehmans honor mentors through student scholarship
Shenkman Jewish Center is a home away from home for students on campus
Fast Forward: Students learn quickly in weeklong "sprints"

Sincerely, 

Sue Hanna Gerdelman '76

Chair, For the Bold