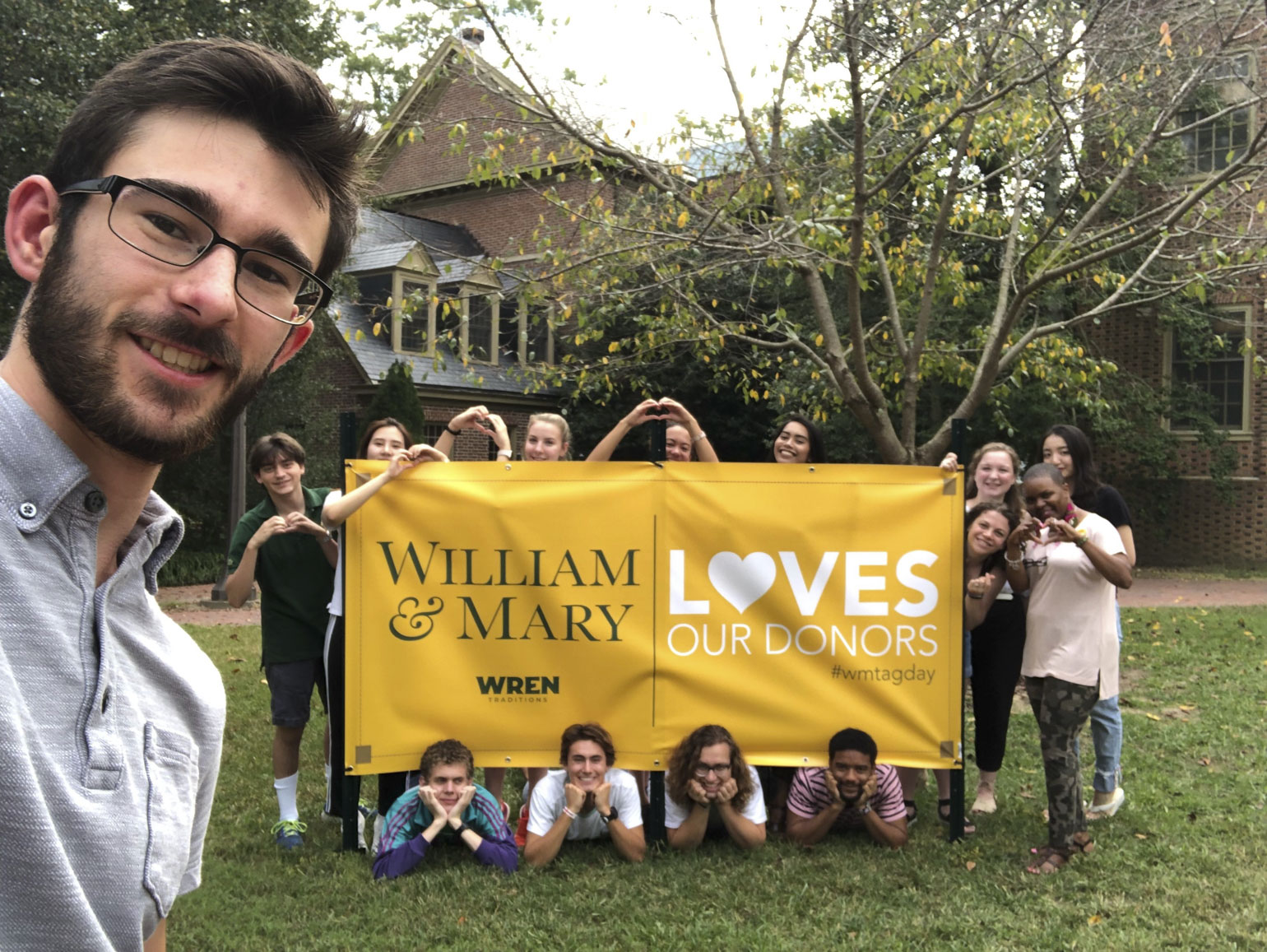 William & Mary students are buzzing about the yellow tags that have popped up this month for Tag Day. During Homecoming & Reunion Weekend those special yellow tags will remain displayed throughout campus, showing students, alumni, parents, faculty, staff and friends the way private donors cover and support our alma mater.
Over the last six years, the goal of Tag Day has always been to demonstrate the impressive reach of private support, and as it has grown it has done that, but it also has a secondary effect. Tag Day unites the past, present and future students of the university. The day reminds us all of the alumni network and the chosen family we collectively invest in.
Through Tag Day, we thank all of the past students, both for the influence they had on the campus during their time in Williamsburg, and also for their continued impact as alumni. Current students are reminded of the incredible Tribe standing behind them pushing them forward, supporting their experience, calling them to succeed.
These simple tags link students together, regardless of graduation year, in a shared love of William & Mary. During Tag Day the future members of the William & Mary family see this dedication. Students who visit campus during Tag Day cannot make it through their tour without feeling the abundance of support that exists for the Tribe. Tag Day professes, those who come here, belong here, we support our family, welcome home.
Every member of our Tribe family has been touched by private support. From the equipment we use and the rooms we sit in, to the endowed professor standing at the front of the room and the scholarship recipient to our left, it is impossible to separate the William & Mary experience from the generosity of the Tribe network. This year marks the sixth Tag Day celebration and we are inviting alumni to join in on the campus adventure. As you celebrate Homecoming & Reunion Weekend and make the annual journey back to alma mater, keep an eye out for the tags decorating the campus. They won't be hard to find. Check your favorite hot spots, our campus hidden treasures or some of the newest facilities. Snap a picture and share where you found your William & Mary experience. (Alternatively, where you found your home)