July 2016 Message from the Campaign Chair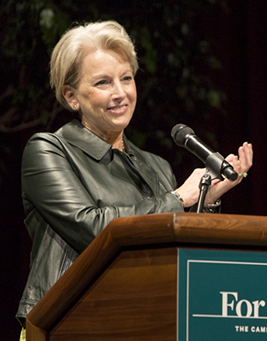 While most students are enjoying their summer break, William & Mary's campus is quietly humming in the late July heat. Tourists, prospective students, parents and local residents primarily fill campus sidewalks and stroll by bronze statues of founding fathers, the iconic Wren Building and other historic landmarks all while contemplating the university's storied past and promising future. Behind the scenes, staff are busy preparing for the new school year and the university's For the Bold campaign continues to move full speed ahead after another record-breaking year of fundraising.
This time last July, we were busy preparing for the public launch of William & Mary's most ambitious fundraising campaign. One year later, we couldn't be more thrilled to announce that the university raised an unprecedented $143.1 million in fiscal year (FY) 2016. This brings the total amount raised since the start of the campaign to nearly $578 million, which represents almost 60 percent of the $1 billion total that the university plans to raise by 2020.
We owe all of this great good fortune to our loyal donors — alumni, students, parents, faculty, staff and friends — who believe in our bold vision; whose constant support strengthens William & Mary's foundation and provides much-needed fuel for the university to increase the quantity of scholarships and professorships, maintain its 12-to-1 student-to-faculty ratio and advance collaborative research for generations to come.
Gifts of all sizes have contributed greatly to the success of the campaign and the impact has been far-reaching. In fact, gifts below $250 totaled $2.4 million in FY16, helping W&M fund its most pressing needs. And most recently, a $250,000 gift from Jeff Gardner M.B.A. '97 allowed the Raymond A. Mason School of Business to bolster teaching excellence and research in its top-notch executive MBA program. To read about the impact of other generous gifts, please click here.
In order to create a diverse community where great minds meet and ensure that the best and brightest students can access a high-caliber W&M education, the university has made scholarships the top priority of the campaign. In FY16 alone, more than 5,300 donors contributed to this critical area — the most donors giving to scholarships in a single year — and helped raise a collective $68 million. For more highlights, watch this moving video of students thanking scholarships donors for helping them turn their hope of attending W&M into a reality.
William & Mary also made big strides in reaching one of our most audacious goals of the campaign — attaining 40 percent undergraduate alumni participation by 2020. The university saw its participation jump from from 27.1 percent in FY15 to 28.7 percent in FY16. This increase raises the value of a William & Mary degree, helps fund priority areas across campus and puts us in the No. 1 spot among nationally ranked public universities in undergraduate alumni participation.
People ask quite frequently why alumni participation matters. Dave Croall '77, the new chair of the Annual Giving Board of Directors, is a great person to answer that question. Dave provides his vision of how the university can increase alumni participation to levels never seen before and why it matters to the entire William & Mary community. Dave is also a class ambassador, which means he is personally committed to helping W&M achieve its ambitious goals.
Equally important to the success of the campaign is robust alumni engagement. A recent Alumni Association trip to China — where nearly 500 W&M alumni reside — showcases the powerful effect of strengthening alumni relationships with one another and alma mater. This blog post highlights all of the exciting engagement events that took place across China last month.
Also, don't forget to mark your calendar for William & Mary Weekend in New York City, which will take place May 18-21, 2017. The Weekend will provide a unique opportunity for the Tribe community to connect, discover and celebrate in the Big Apple.
As we have seen in the official campaign video, website and other materials, the overarching theme of For the Bold is leadership. And I am very proud to announce that a $1 million gift from Nancy Briggs Petters '81 and Mike Petters MBA '93 is funding a transformative program currently taking place on campus that can help create and prepare the next generation of STEM (science, technology, engineering and math) leaders.
Through the Camp Launch program, the School of Education's Center for Gifted Education continues to transform young lives with great minds who are facing many socio-economic burdens. This program offers middle-school students in Virginia with experiential learning and mentorship opportunities with the Center's graduate-level counselors, local educators and other professional staff who all share a passion for making an impact. As a mother and W&M alumna, I continue to be touched by the generosity of donors such as Nancy and Mike, who help inspire younger students to become future STEM leaders by making this program possible.
Speaking of STEM, the new wing of the Integrated Science Center is opening in August, yet it still lacks the necessary science equipment for students and faculty to conduct innovative research. You can play a role in helping to fund 40 pieces of critical research equipment by supporting the Cabell Challenge. If you're interested in bolstering research efforts and helping generations of science majors at W&M, please find more information here.
Off-campus, a lot of exciting activity is taking place in cities around the U.S., particularly in New York. Two distinguished alumni are lending their time and talent as campaign co-chairs in the New York City metro area. David Kelley '81, a high-profile attorney, and Devin Murphy '82, principal and chief financial officer at a prominent real estate asset management firm, were roommates at William & Mary in 1980 and decades later have maintained a strong relationship with one another and alma mater. Read more here about how their paths have intersected over the years and what they have to say about campaign efforts in the area.
Finally, it is always wonderful to get updates from campus about some of the extraordinary accomplishments of students and faculty. Check out some of the highlights in the e-newsletter:
Thanks again to all 42,609 W&M donors who gave in FY16 — I hope everyone enjoys the rest of their summer!
Sincerely,
Sue Hanna Gerdelman '76
Campaign Chair