William & Mary alumni lead For the Bold Campaign in New York
There is a winding road that connects William & Mary alums David Kelley '81 and Devin Murphy '82. Both grew up in New York and left home to attend William & Mary — their paths crossing as roommates in Lodge 1 the fall of 1980.
After graduation, Kelley and Murphy eventually returned to New York to lead different careers — Kelley as a distinguished attorney who has litigated high-profile cases on issues critical to national security, and Murphy as an investment banker and commercial real estate professional.
That winding road is linking them again. This time, as co-chairs of William & Mary's For the Bold campaign in the New York City metro area.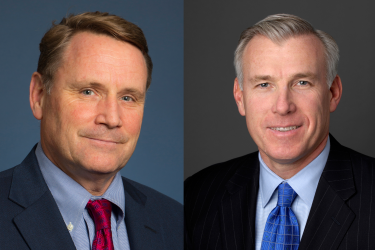 Devin Murphy '82 and David Kelley '81
"The campaign is ambitious, but it's appropriately ambitious," Murphy said. "I think educational institutions are criticized for not being as financially disciplined as many other types of industries. William & Mary is the exception to the rule and is exceptionally financially disciplined. We do more with less. The investments being made are necessary, and the return that the institution will get is higher than any institution in the United States will get."
Expanding the campaign out regionally is a natural step, given the reach of William & Mary with nearly 100,000 alumni across the country and world. Of those alumni, almost 6,000 live and/or work in the NYC metro area — a rapidly growing pool of professionals that will have a significant impact on the footprint of the campaign.
"I think a lot of people don't appreciate what a large number of alumni William & Mary has, and a higher percentage than most people think are located in New York," Kelley said. "There is a lot of firepower among these folks. This campaign will do a better job of creating opportunities for alumni to network, and strengthen relationships to ensure William & Mary has a strong footprint in the New York City metro region."
Kelley and Murphy are proud to help lead a campaign that has put scholarships at the top of the priority list in order to make a William & Mary education within reach for extraordinary students across the nation.
"Across the board, the cost of college is getting higher and higher, and the campaign gives us the ability to offer the best and brightest students scholarships that allow them to attend William & Mary without the mitigating impact of economic factors," Murphy said.
A friendship over time
At times, years passed without Murphy and Kelley communicating. Still, they have been able to maintain the friendship that was formed as roommates in Lodge 1 when Murphy was a junior and Kelley was completing his senior year. It's a friendship they both say will make collaborating on the campaign easier.
"We both grew up in the New York metropolitan area and we both came back to New York for work," Murphy said. "That general proximity makes it easier to maintain friendships. We also have a lot of common interests that have allowed our friendship to be sustained."
Their friendship has lasted, despite the divergent paths their lives have taken.
Kelley, currently an attorney with the Wall Street law firm Cahill Gordon, Reindel LLP, made headlines in the past as a top prosecutor in some of the most highly-publicized cases in the country, including the U.S. Justice Department's probe of 9/11 attacks, John Walker Lindh, the 2000 millennium terrorist attack plots, the 1993 World Trade Center bombing and the Martha Stewart insider trading case. Kelley served as the U.S Attorney for the Southern District of New York in 2005, succeeding FBI Director and William & Mary alumnus James Comey '82, LL.D '08, who held that position at that time.
But Kelley is modest — he barely acknowledges his resume.
"I like solving problems," Kelley said. "I like fixing things for people. I like the challenge of diving into a big problem that has a complex set of facts and triaging those facts, providing what needs to be done and resolving problems. I look at myself as a problem solver as much as a lawyer."
In the commercial real estate industry for more than 30 years, Murphy is a principal and chief financial officer at Phillips Edison & Company, which is a real estate asset management firm with over $7 billion in assets under management. Murphy was formerly the managing director and vice chairman of Morgan Stanley, working his way up from an associate position.
"This industry is highly entrepreneurial and that is what attracted me to the industry," Murphy said. "I realized that its much more difficult for an individual to have an impact in bigger organizations versus smaller ones. When I started the real estate industry was made up of smaller companies, therefore I was able to make more of an impact sooner in my career."
W&M is home
Both Murphy and Kelley noted that their education at William & Mary helped launch them into their careers. Murphy said that the university taught him that being smart is not enough to succeed and that hard work must be coupled with brainpower. He says his fondest memory at William & Mary was meeting his wife, Jennie.
For Kelley, undergraduate life at William & Mary was not about recalling one particular event like an epic party, a record-breaking football game or a specific memory in the majestic Sunken Garden. It was moments like those, molded into one fond memory of alma mater that have stayed etched in his mind.
"Every time I drive into CW (Colonial Williamsburg) I feel like I'm recapturing the sense of warmth and comfort of when I was a student at William & Mary," Kelley said. "I think of it as a very nurturing environment and that has stayed with me. It's not one experience, it's the whole experience."
William & Mary graduates leave alma mater and become innovators and trailblazers nationally and internationally in all fields including business, science, law and education. In nearly every corner of the world, you can find a William & Mary graduate. Because of that vast network of alumni, Kelley said the campaign must continue to expand.
"We are not a little college in Virginia," Kelley said. "We're a national university, and I think that is reflected in the diversification of our alumni across the country. We can't just look to Virginia; we have to look to New York, Chicago, California and beyond."
This campaign stretches past Williamsburg to positively impact the entire William & Mary community and secures our position in the very top tier of universities for now and evermore.