Message from the Parent & Family Council Chairs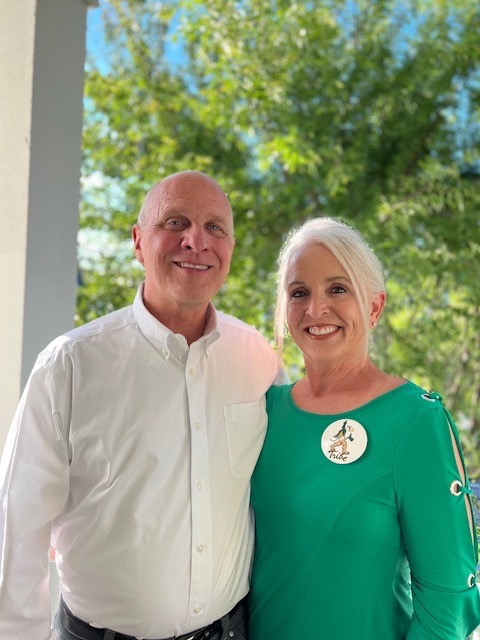 Dear William & Mary Families,
Welcome to William & Mary! As chairs of the Parent & Family Council (PFC), we're happy to be together with you in this vibrant, diverse and remarkable community. Together, we'll achieve the goal of raising $1.25 million for the Parents Fund this year! We're parents of two W&M students and appreciate how essential private funding is to underwrite the university's highest priorities to benefit students in and out of the classroom.
We have come to understand that the Tribe is an affectionate moniker for a closely-knit community and a network with wide reach. The Tribe is composed of not only students, but also alumni, faculty, staff, donors, parents and families. You'll notice W&M car stickers are everywhere and someone at your vacation destination has a W&M shirt on, the wife of the owner of your favorite restaurant is a W&M Law School alumna, your neighbors walked across the Crim Dell bridge before they married, and you'll see that W&M diploma on the office wall during a meeting. We've taken note of all of this and more. We've made immediate connections with many people as a result of our W&M affiliation.
In the lovely small city of Williamsburg, W&M is an extraordinary historic university that attracts great minds. The Tribe is something that we all want to be a part of and, good thing, families are drawn in and embraced. We encourage everyone to find a personally meaningful way to become involved. There are infinite possibilities, including simply being a smiling face on campus, treating a roommate to a family dinner, hosting an international student friend for Thanksgiving, volunteering at a campus event, welcoming new parents with an email, acting as a W&M ambassador in your home town, and having a student shadow you at work.
Another way to become involved is to participate in the Parent & Family Council, where parents act as the development and advisory board to the Division of Student Affairs. This is how we've decided to connect. W&M is not our alma mater, but we had the sense very early on that having W&M students was going to be a very special experience. Parents and families are critical partners in student success. We are reminded of this by university leadership, staff and students in heartfelt and ongoing ways. Working closely with the Division of Student Affairs and Vice President Ginger Ambler and others is a pleasure. If you're interested in learning more about joining the Parent & Family Council, please complete the PFC interest form or reach out to the Parent & Family Giving Team.
Behind outstanding W&M students are wonderful parents and families! Please find ways to share your time, talents and generosity as a part of the Tribe at this renowned 329-year-old institution. While we cheer on our students to make a difference, forge new relationships and network, let's do the same. We hope you'll find many reasons to be on campus and in Williamsburg.
Go Tribe!
Meredith McCollum P '22, P '25 and Michael McCollum P '22, P '25
Parent & Family Council Chairs