One Tribe. One Day. Unlimited Impact.
William & Mary breaks annual giving day record with $3M raised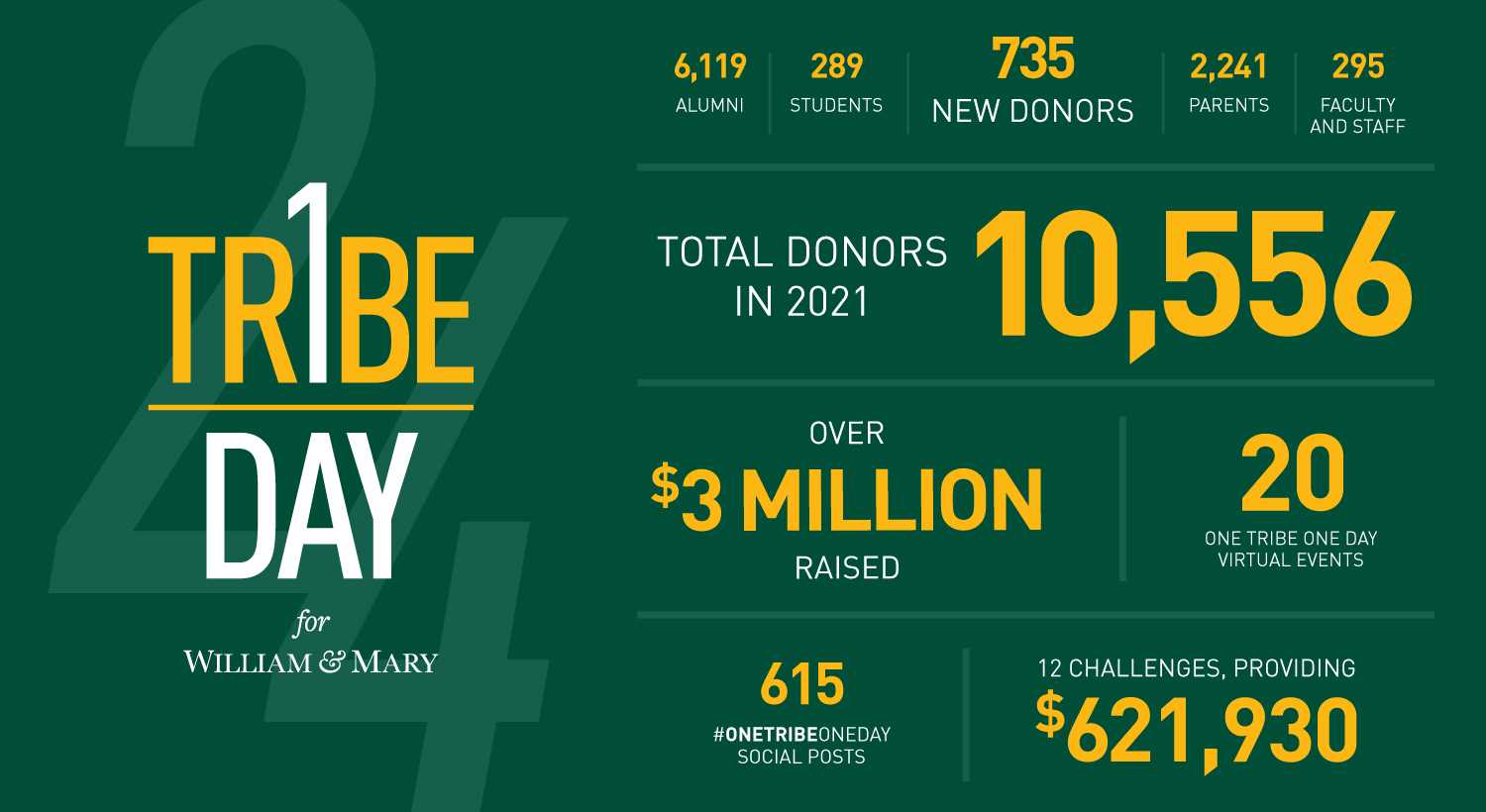 On Tuesday, the entire William & Mary community joined together once again for a historic and successful One Tribe One Day (OTOD). A total of 10,556 students, alumni, parents, faculty, staff and friends collectively gave over $3 million to more than 700 areas across the university — underscoring the remarkable generosity in the midst of a pandemic. This year, William & Mary broke the record for the most dollars raised on OTOD.
Gifts received on this annual day of giving benefited a broad range of initiatives that will have a direct impact on William & Mary's educational experience and future. Since its inception eight years ago, OTOD has inspired more than 41,700 donors to give a total of $16.4 million to William & Mary.
"I am grateful for the thousands of donors who lent a hand to support our entire community," said President Katherine Rowe. "On One Tribe One Day, we see how small acts of generosity compound to create huge benefits. Together, we can all make a tremendous difference."
Incredible Impact
Through the years, OTOD has impacted a plethora of programs, people and places, from scholarships, diversity, equity and inclusion, athletics, research as well as unrestricted resources to support top priorities and pressing needs.
"This day is all about giving back and paying it forward," said Sue Hanna Gerdelman '76, P '07, P '13 who, along with late husband John Gerdelman '75, L.H.D. '19, P '07, P '13, has funded the school and unit challenge for the past six years. "It is always thrilling to witness the unwavering spirit and dedication of this entire community on One Tribe One Day."
Donors from all 50 states and 23 countries took part in the effort. Gifts of $100 and below accounted for nearly $260,000 of the total raised, underscoring the fact that gifts of all sizes collectively make a big difference.
"The success of One Tribe One Day reaffirms our community's commitment to work together for a better today and tomorrow. Private support makes the difference in William & Mary's ability to provide flexible and dependable funds to meet daily needs as well as strategic long-term opportunities," said Matthew T. Lambert '99, vice president for university advancement. "Every single gift benefits a student in some way."
For Khalil Russell '21, a scholarship recipient who is a member of the senior class gift committee and annual giving board, the day is much more personal.
"In looking back at my decision to attend W&M, I never could have guessed I would be finishing my time here during a pandemic and how incredibly important the generosity and commitment from the entire W&M community would be," said Khalil. "I am also enormously grateful to everyone who has contributed on One Tribe One Day. Private support makes such a difference for students like me."
Challenges Met, Funds Unlocked
There were 12 donor-sponsored university-wide challenges on OTOD, which fueled momentum and provided $621,930 to the university. To earn the funds, certain donor thresholds had to be achieved throughout the day.
Among the milestone challenges that were each successfully met were the Charter Challenge sponsored by Kevin Phillips '84 and Mary Ruth Phillips '85, the Green & Gold Challenge sponsored by an anonymous donor, the Kurland Challenge sponsored by Leanne Kurland '75, P '05 and Alex Kurland HON '19, P '05 and the McLeod-Tyler Challenge sponsored by J. Goodenow "Goody" Tyler III HON '11 and Mariel McLeod '15, in honor of the late H. Elizabeth "Bee" McLeod '83, M.B.A. '91.
The Gerdelman School & Unit Challenge was awarded in four categories. This year, $15,000 was presented to Athletics for the most donors, Arts and Sciences for the most new donors and Highland for the most improved. A $5,000 prize was also given to VIMS for honorable mention for taking an innovative or unique approach to the day.
Two texting challenges, sponsored by Andrea Rinaldi Wassmer '94 and Michael Wassmer and Vice Rector Will Payne '01, were unlocked when donors made gifts in response to text messages from W&M. A challenge sponsored by the Parent & Family Council unlocked $100,000 for the Parents Fund when 2,021 parents provided gifts to support the most urgent needs of students ranging from tutoring services to health and wellness programs. Several schools and units also had donor sponsored challenges throughout the day.
Community Engagement
The day was filled with opportunities for the W&M community to connect with schools, programs, students, faculty, coaches and others across the university to share updates, hear ideas and facilitate networking.
Nearly 500 people participated in 20 virtual events throughout the day. Inspiring Teaching & Learning (Even in a Pandemic!), W&M China Initiative - Views Across the University and Porch Beers with Global Research Institute Director Mike Tierney '87, M.A. '88, P '15 were all highly attended. Other events covered topics ranging from W&M's social justice work to yoga and cocktail making.
Although on campus activities were limited due to the pandemic, Students for University Advancement passed out One Tribe One Day swag and helped the W&M community make gifts and register for virtual events. Students also enjoyed a special treat from local favorite Sno-To-Go which provided free flavored ice.
OTOD brings the entire university community together, no matter where they are in the world, to celebrate and support their passion for William & Mary. The day underscores how every person in the W&M community is a critical piece of the puzzle that will shape an incredible future for W&M. We are so grateful for the tremendous support, added Gerdelman.