Powerful Lessons in Global Development
How much foreign direct investment are China and Russia putting into low- and middle-income countries? How much is China spending on an industrial port project in Sri Lanka? How much of China's foreign aid supports their own strategic economic development? These are just some of the many questions students are helping to answer in William & Mary's AidData program.
As a research lab of the university's Global Research Institute, AidData facilitates innovative research projects that bring students and faculty together to solve global problems. The program gives students direct exposure to current, high-level international policies and issues. So when Georgiana Reece '22 was looking to explore her interests in economics and Russia, a professor was quick to suggest she apply to AidData.
"As an economics major studying the Russian language, AidData offered the perfect opportunity to improve my language skills in an economic research setting," said Reece who is from Durham, New Hampshire. "I learned Chinese and studied abroad in China during high school. Through working at AidData, I am excited to get direct access to post-communist development research and the global impact of Russia and China as their economies become more open."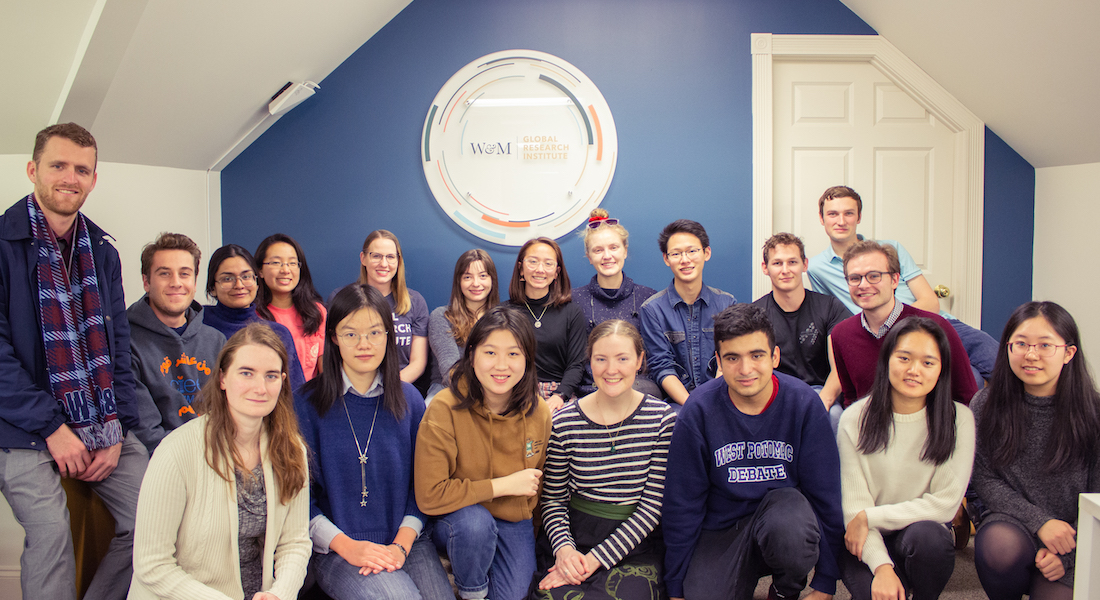 In January, Reece joined more than 80 students who are hired by AidData each semester to research the flow of international development financing around the world. AidData uses innovative research methods to track, monitor and evaluate worldwide development projects.
Part of what makes AidData's work unique is its use of an open-source methodology that was initially developed by Austin Strange '12 while he was a student at William & Mary. The TUFF (Tracking Underreported Financial Flows) methodology provides a systematic way of tracking aid and other forms of state financing from emerging donors such as China. Other AidData staff and students later extended this approach to track development assistance from Saudi Arabia and Qatar, countries that do not publish comprehensive or detailed information about their overseas activities.
"Learning how to do this type of research is pretty intense with a steep learning curve," said Reece of the rigorous, four-week training. "I'm excited to be exposed to this experience which will certainly help me pursue other opportunities in international finance and development after I graduate."
The spending tracked can range from China's donation of trash cans in Africa to billion-dollar Chinese loans to build power plants in Pakistan. AidData's findings are used to help governments, organizations and policymakers make better-informed decisions. Elite media like The New York Times and The Economist regularly cite the AidData research. 
"We use publicly available resources for data collection which makes our methodology transparent and replicable to others," said AidData Junior Program Manager Katherine Walsh '18. "The sources we use could be the International Monetary Fund, the World Bank or local media sources, embassy and trade mission websites, as well as databases recipient country governments maintain."
An international relations major, Walsh started as an intern with AidData during her freshman year. She later became a research assistant and spent five semesters working with AidData as a student.
"I was interested in Spanish and Hispanic Studies and I initially applied to AidData because of the opportunity to use my foreign language skills for research," said Walsh. After graduation, Walsh continued at AidData as a part-time resource until she joined the staff as a junior program manager in June 2019. In her current role, she helps to organize the data collection, manage student research assistants, and ensure high-quality data.
"AidData offers a unique, hands-on learning experience that can't be taught in classes," said Walsh who is from Poquoson, Virginia. "Working here, you gain an intimate knowledge of global development projects that few people in the world have. It's really interesting work."
Like Walsh, Lincoln Zaleski '20 has worked for AidData since his freshman year. An international relations major with a minor in Arabic, Zaleski has used the skills he's learned to explore two of his own independent research projects.
 "I want to work for the government, either in policy creation or policy implementation," said Zaleski who is from Boston. "It's been great to watch AidData grow in the time I've worked here. As the methodology continues to be improved and standardized, the research possibilities will only continue to expand."
As AidData grows, even more students will be able to explore their interests and gain valuable experience.
"The skills learned at AidData are transferable to a wide range of professional interests. So many organizations now are interested in China and its global impact," said Walsh. "Many companies are also interested in the research and foreign language skills the students learn, skills that not only aid in their professional development but may ultimately impact the course of global public policy."   
For mathematics and economics major Wenyang (Martin) Pan '20, working with AidData for the last two years has not only built his confidence in his computer and research skills, it has given him greater insight into his culture.
"China is my home country, but I didn't know much about the larger role China played in the world," said Pan who is from Guangdong. "I was curious to learn how China is financing other countries. There is not a big focus on this inside China."
Pan is one of 18 Chinese international students who is using his Mandarin language skills to conduct research. Ultimately, Pan hopes this experience will benefit him in pursuing a master's degree in data science.
"I've learned how to manage a team and facilitate research training," said Pan. "I look forward to continuing to engage in other opportunities at AidData that will help me shape what I will do in the future."
Stay up to date on AidData's research about China, along with other research topics, updates and events and subscribe to AidData's newsletter.
Learn more about the Global Research Institute's research, events, and opportunities and sign up for the GRI newsletter.