Wenye Qiu '21 started learning English as a 6-year-old growing up in Beijing, China, and during high school, she enrolled in an international program that required her to speak English. Still, as a nonnative speaker, she sometimes struggles to find the right words to express what she wants to say in writing assignments.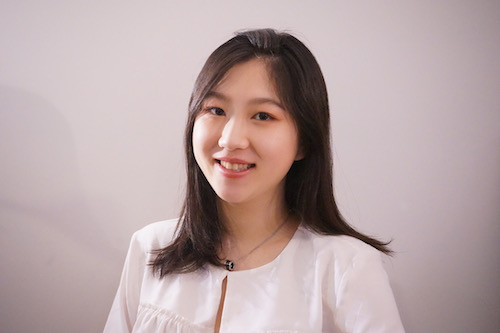 That's when she turns to Alex Johnson '22.  As a peer consultant at William & Mary's Writing Resources Center (WRC), Johnson works with Qiu to translate her thoughts into prose and hone her communication skills. The two have developed a rapport during weekly online meetings this semester. Recently, their efforts have focused on Qiu's essays for graduate school applications.
"Alex can always get my point very accurately," says Qiu, an applied math and business analytics major. "She knows how to make my essays stronger, and she encourages me to be more confident in expressing ideas."
In more typical times, their 50-minute sessions would take place in the WRC's workspace at Swem Library. But because of the pandemic, all the sessions are online. Johnson, who is double majoring in English and linguistics, is one of 32 undergraduate consultants who work at the center. Students are chosen to become consultants through a competitive application process. After undergoing training during a two-credit class, they are hired to work four to six hours per week.
"We've offered online appointments for years, but the bulk of our appointments have been face to face," says WRC Interim Director Lori Jacobson. "In the past, students could choose to meet in person or online. We saw a sharp drop-off in requests for appointments last spring, after we shifted to completely online consultations, but I'm happy to say the numbers are back up."
During the fall semester, the consultants held 556 appointments with 261 individual students. In addition to those sessions, by the end of October, consultants had presented writing workshops and information about the Writing Resources Center to about 125 other students in individual classes and programs, including the Sharpe Community Scholars, W&M Scholars Undergraduate Research Experience (WMSURE), the Reves Center for International Studies and the RBC Promise Scholars. Private funds from the Hunter Smith Family Foundation have helped cover some of the costs for promoting the center to freshmen in COLL 100 and 150 courses.
The WRC, established in 1987, also has a couple of sister programs: the Graduate Writing Resources Center, housed in the Arts & Sciences Graduate Studies & Research department, and the History Writing Resources Center in James Blair Hall. Jacobson says they all share training and software.
At a time when social interactions are limited because of the COVID-19 pandemic, the one-on-one writing sessions provide a valuable human connection, says Johnson, who presented that insight at the Southeastern Writing Center Association's virtual conference in October along with two other William & Mary consultants, Sydney Hamrick '21 and Chelsea Scott '21.
"We're able to maintain close personal relationships with people we live with or family members, but we've lost a lot of casual relationships — like the person you see at the coffee shop, or the maintenance person you walk by in the hall," Johnson says. "Through the writing center, you get a chance to interact in a way that is not formulaic, but is more spontaneous. In a lot of cases, you're meeting new people, and there's less opportunity to do that now."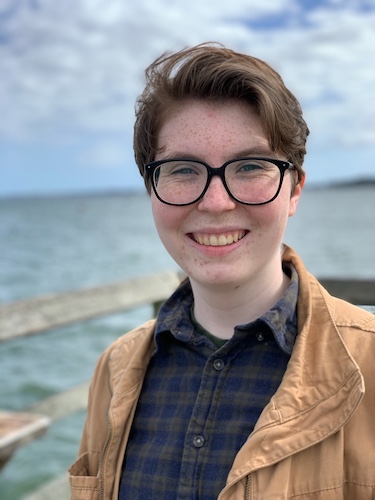 A junior from Northern Virginia, Johnson applied to work at the WRC during her freshman year and enrolled in the training program that spring. She returned as a consultant for her sophomore year, and this year she's both a consultant and one of the student administrators who helps run the center. Her sessions with Qiu and other students usually focus on an assignment or project.
"We spend time talking about what we're looking to accomplish," she says. "Then we read through the piece and talk about it both as full paragraphs and sentence by sentence — is this the word we want to use? Is this the correct grammar? Some of Wenye's application essays had really restrictive word counts, so we talked about what is necessary and what can be cut."
While it's her job to help Qiu develop as a writer and communicator, Johnson is also building her own knowledge base through their discussions about data science and analytics.
"Because we've worked together over a long period, I can draw on Wenye's previous essays, when she had explained the concepts," she says. "I think that's one of the values of the writing center. It's meant to be collaborative. It's not like one person is the expert. Both people are working together to improve the writing. I might have 'native speaker' knowledge, but Wenye has the knowledge of the topic and it comes together to be more useful and understandable through the combined knowledge of both of us."
Not all of the consultants are English majors. They represent multiple disciplines, which brings a range of experiences to the writing center, Jacobson says.
Max Minogue '21, who has worked at the WRC since fall 2017 and leads the center's online team, is majoring in Hispanic studies and global studies. Like Johnson, he enjoys the interaction with students during the consulting sessions, whether he's connecting with another student on campus or someone spending the semester in Northern Virginia or studying remotely in China.
"Even if I'm tired from the day, once the appointment starts and I get to talk with students, I'm interested in the diverse topics and perspectives," he says. "We have a lot of history papers, and I've also read about neuroscience, physics and math."
Minogue says he's been able to improve his own writing by working with other students.
"Before starting with the writing center, I was not the best at revising my own work. I've gotten much better at that," he says. "I've also learned a lot of interpersonal skills while working with my peers in a professional environment. "
This semester, the WRC formed an Asynchronous Team that piloted a video feedback option allowing students to share their work with a consultant, who offers comments in a short screen-capture video.
"We created this option to make our sessions more accessible to off-campus and international students, particularly those in different time zones," Jacobson says. "We'll make the video feedback option more broadly available in the spring semester." 
A senior from Highland Park, Illinois, Minogue hopes to teach English in Brazil after he graduates in May, global health conditions permitting. Wherever his career path takes him, he's sure to find the WRC experience useful.
"I take the professional development of these consultants very seriously," Jacobson says. "They build skills they can take out into the world."
Melissa Daniels '08 would agree. Now a 12th-grade English teacher and Writing Center co-sponsor at Deep Run High School in Henrico County, Virginia, she worked at William & Mary's Writing Resources Center for four semesters as a student.
"During my time in the WRC, I developed not only concrete knowledge about writing, but also soft skills such as listening and question-asking," Daniels says. "These have been invaluable in the classroom and in our own high school's Writing Center. The writing process serves as a helpful metaphor for me. We all need space to brainstorm and draft ideas and freedom to revise those ideas, or even start over."