MSBA program case competition tests students' ability to solve real-world business challenges
With today's businesses seemingly inundated with data, many struggle with how to put this proliferation of information to the highest and best use.
"Data by itself can have limited value. Businesses need skilled analysts who know how to turn that data into better decisions and business strategies," says Aaron Koehl, faculty director of W&M's residential master of science in business analytics (MSBA) program. "We train our students to apply cutting-edge technology to real business problems and then communicate the findings in a persuasive way."
This hands-on approach is at the core of William & Mary's new Data Feast competition. Created as part of the intensive capstone course for the Raymond A. Mason School of Business' rigorous MSBA online and residential programs, the competition underscores the program's ability to prepare fluent and innovative thinkers in the field.
"Data Feast sits at the intersection of business, data science and technology," says Koehl. "The competition tests our students' ability to float between computing technology and asking the right questions to deliver business insight to address an ambiguous problem."
The Data Feast competition was developed in collaboration with the Mason School's Boehly Center for Excellence in Finance and Eldridge, a holding company whose co-founder, chairman and chief executive officer, Todd L. Boehly '96, together with his wife, Katie '95, funded the creation of The Boehly Center in 2014. Data Feast gives teams of students (this year, two teams from the online MSBA program and two teams from the residential MSBA program competed) a general business problem to solve using a real dataset and feedback from senior business leaders. Unlike business analytics case competitions at other universities, students are judged on two distinctive proficiencies.
"The goal of the competition is to create a real-world experience to practice technical skills while also honing business acumen," says Joseph Wilck, faculty director of the MSBA online program. "We are unique in this 'double pitch' approach. Teams are judged not only on their actual findings and technical summaries, but on their presentation skills and business sense."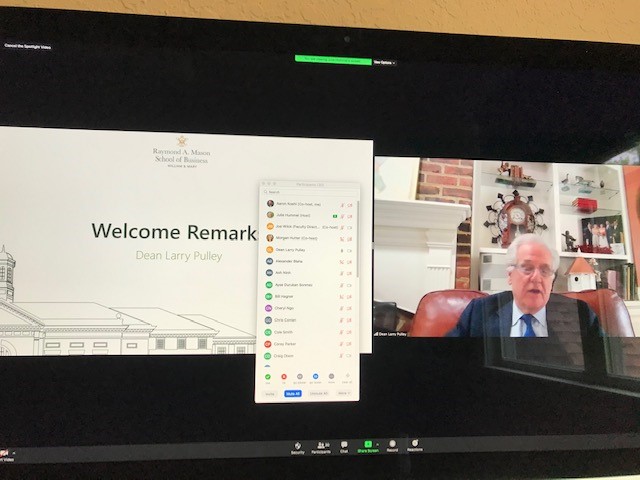 Originally slated to occur in Alan B. Miller Hall on May 12, the inaugural event was moved online due to COVID-19 restrictions. Several weeks prior to the competition, each four-person team was given real data from The St. James, the premier sports, wellness and entertainment complex in Northern Virginia, and an Eldridge business. Students used the venue and event data provided, along with outside research and statistical modeling, to analyze The St. James' member and guest preferences, levels of engagement and spending habits to identify areas of focus to drive decision making.
"This project demonstrated just how powerful the tools we have learned throughout the MSBA program are, and showed me how impactful they could be in any business setting in the future," says Kevin Schweiss MSBA '20, whose team from the residential MSBA program won the business acumen challenge. "It was an awesome feeling to cap off my college experience with being recognized for all the hard work we had done throughout the capstone."
During the competition, team members tuned in from around the globe to share a 20-minute pre-recorded presentation and then participate in a live Q&A with a panel of six judges, which included W&M faculty and directors from Eldridge and The St. James. The student findings gave The St. James new perspectives and recommendations for actionable opportunities to build the business.
"We are very much looking forward to leveraging the insights from the thoughtful presentations. Because we are a very young company, the findings and insights will have a real impact on our business," says The St. James co-founder Kendrick Ashton '98. "We are grateful for the students' high-quality work and look forward to taking a deeper dive into the results."
Ashton, along with his fellow The St. James co-founder Craig Dixon '97, J.D. '00, was excited about the opportunity to partner with their mutual alma mater. "William & Mary is a very special place with a long history of producing leaders and trailblazers in many fields of endeavor. These students certainly lived up to that standard, and we look forward to the future growth of this event."
The MSBA students who participated had a similarly positive experience.
"It was exciting to create marketing recommendations for the business based on a variety of models, which were strengthened by research on the influence of gender on sports participation," says Cheryl Ngo MSBA'20, whose team from the online MSBA program won the technical challenge. "The time my team spent collaborating on the project has been a valuable exercise in creativity as well as coding and communication skills, and I am honored that we won."
The two winning teams each received a $1,000 prize made possible by Eldridge and The St. James. With this year's first annual competition such a resounding success, the event likely will continue to grow.
"Following the success of the Women's Stock Pitch and Leadership Summit, the Boehly Center sought to create another opportunity for students to develop their business, analytical and technological skills against real-world scenarios," says Todd Boehly. "We appreciate the curiosity, thoughtfulness and time that these students have brought to the Data Feast competition, and look forward to the future of this event."
Since the Mason School launched the residential and online MSBA in 2015 and 2018, respectively, the programs have continued to grow and incorporate integrative opportunities.
"This competition is right down the center of the plate of where I think we are leading all other business schools – we put our faculty, program teams and alumni around the table to figure out what it takes for our students to be truly career ready, and then we connect them to world-class opportunities," says Mason School Dean Larry Pulley '74. "The St. James is an incredible example of what happens when William & Mary alumni partner together to bring a vision to life."