AidData wins Hewlett Foundation grant to build research partnerships in Africa
Despite much talk about the need for deep and equitable partnerships between organizations in the Global North and Global South, extensive technical collaboration between such organizations is rare.  
With the support of the William & Flora Hewlett Foundation, AidData is working to overcome this challenge by investing in several new research partnerships with leading organizations on the African continent. The ultimate aim is for data and evidence to be incorporated into the public-sector decision-making across sectors and at multiple levels of government—starting in Ghana.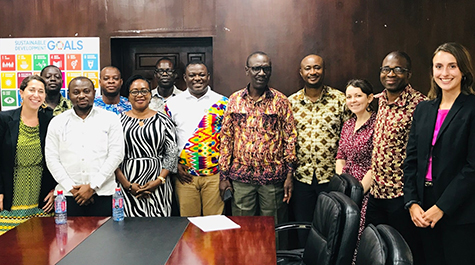 A new $600,000 grant from the Hewlett Foundation will help AidData "bolster its engagement with policy makers, influencers, and researchers in Africa."
What will AidData bring to these partnerships? Expertise in using satellite imagery to measure a variety of development outcomes (e.g., economic activity, conflict, crop yields) over geographic space and time; new approaches leveraging machine learning (ML) in order to generate causal and predictive results from big data sources, including satellites; and new studies on social diffusion and social networks in low- and middle-income country contexts.
"The potential development applications and opportunities associated with satellite data, ML, and social networks are best harnessed when they are deployed with partners in low- and middle-income countries," said Ariel BenYishay, AidData's Chief Economist and head of the Research and Evaluation Unit, who will be leading the new initiative.
There are four planned activity streams: combining satellite imagery and within-household impacts that may not be directly visible from space; evaluating how governments can extend their reach via social networks; giving statisticians in Africa access to satellites and artificial intelligence (AI); and leveraging and strengthening existing policymaking and researcher networks to build the skills necessary to make good use of social network analysis, geospatial analysis, and artificial intelligence.
The team is starting in Ghana, where AidData has worked before, and where it is already building strong relationships with two partner institutions. One of these organizations—Ghana Statistical Service (GSS) —is helping to shape decisions from inside government. The other—Ghana Center for Democratic Development (CDD-Ghana)—is a think tank influencing government policy from the outside.
With CDD-Ghana, AidData will develop new ways of measuring development outcomes within households, such as women's empowerment and girls' schooling experiences. CDD-Ghana and AidData will also work together to evaluate how government institutions can more effectively disseminate information—about things like health and safety precautions and farming techniques—to the people who they are trying to reach. AidData will help GSS assess its readiness to integrate ML and satellite imagery into its ongoing efforts to measure poverty over geographic space and time.
"AidData, CDD Ghana, and GSS each have a remarkable track record of pioneering cutting-edge ways to use data to inform decision-making," said Norma Altshuler, Program Officer, Global Development and Population, with the Hewlett Foundation. "Their partnerships have tremendous potential to help Ghana's government deliver more effective programs. Part of the reason why is how they will work together. They'll focus on opportunities that truly advance each partner's goals, and they've invested in aligning on nuts and bolts like clear communications and equitable distributions of authorship and budgets. At the Hewlett Foundation, we've learned how important it is to get partnerships right, and we're excited to support and learn from their partnership experience."
Rather than re-inventing the wheel, AidData will seek to strengthen existing African policymaking and researcher networks.
"Organizations with a strong on-the-ground presence have higher levels of credibility with the governing authorities and they're better positioned to work through local agents and channels of influence," said BenYishay. "As a research lab based in the Global North, our aim is to reinforce and add long-term value to the work of local policy research partners."
This new grant builds upon an earlier, 18-month award from the Hewlett Foundation that allowed AidData to identify and evaluate partnership opportunities with more than 225 organizations in 17 sub-Saharan African countries.
"There are many organizations—inside and outside of government—in Africa that are already doing outstanding work to bring granular data and rigorous evidence to bear on the design, implementation and evaluation of policies and programs," said BenYishay. "We've decided to focus our partnerships on joint collection and analysis of data that can help national and local leaders on the continent solve a specific set of policy and programmatic challenges."
"The current practice areas and research priorities of CDD-Ghana and GSS align well with our own, and the local ecosystem for evidence-informed policymaking in Ghana makes it a particularly promising setting for new partnerships," said Jessica Wells, Senior Program Manager at AidData. "We'll be working on some topics that are already deeply integrated into CDD-Ghana's work and some newer areas that are more aspirational and experimental."
Further down the road, AidData hopes to engage with a broader set of organizations on the continent.
The recent 18-month grant from the Hewlett Foundation allowed AidData to establish some guiding principles and criteria for assessing partnership opportunities.
"We've learned that is difficult to achieve and capitalize on early wins and sustain progress when organizations do not have closely aligned or complementary interests, goals, and activities. It's also important that partner organizations establish a clearly defined division of labor that is based on their respective strengths and incentives," said BenYishay.
The new award is separate from a three-year, $1.5 million award the Foundation made in 2020 to support AidData's three-year strategic plan, Vision 2023.
"For more than 12 years, the Hewlett Foundation has been a steadfast partner that has helped our organization expand its global reach and impact," said AidData's Executive Director Brad Parks. "Its latest investment in Vision 2023 is a vote of confidence in our research lab as a whole. Its support will allow us to innovate and pilot ahead-of-the-market ideas, recruit and retain top talent, and get our data and analysis into the hands of decision-makers."