Erika Fabian's first memory is of violent banging on the door of her family's apartment in Budapest, Hungary, at 4 a.m. Nazi soldiers yelled through a loudspeaker for everyone in the building to come downstairs. Fabian, her mother and her sister stayed silent and didn't move.
The knocking continued. Then, slowly, it stopped.
Four years old at the time, Fabian escaped that morning because a neighbor told the soldiers her family had already left. It, like the many close escapes in the years to follow, was a mix of luck and intuition — all of which taught her how to adapt and survive.
But Fabian's life is about more than survival. After living through the Holocaust and multiple revolutions in Hungary, she would become a writer, director, dancer, actress, playwright and world-traveling photographer. Despite the circumstances she faced in her youth, she has always thrived.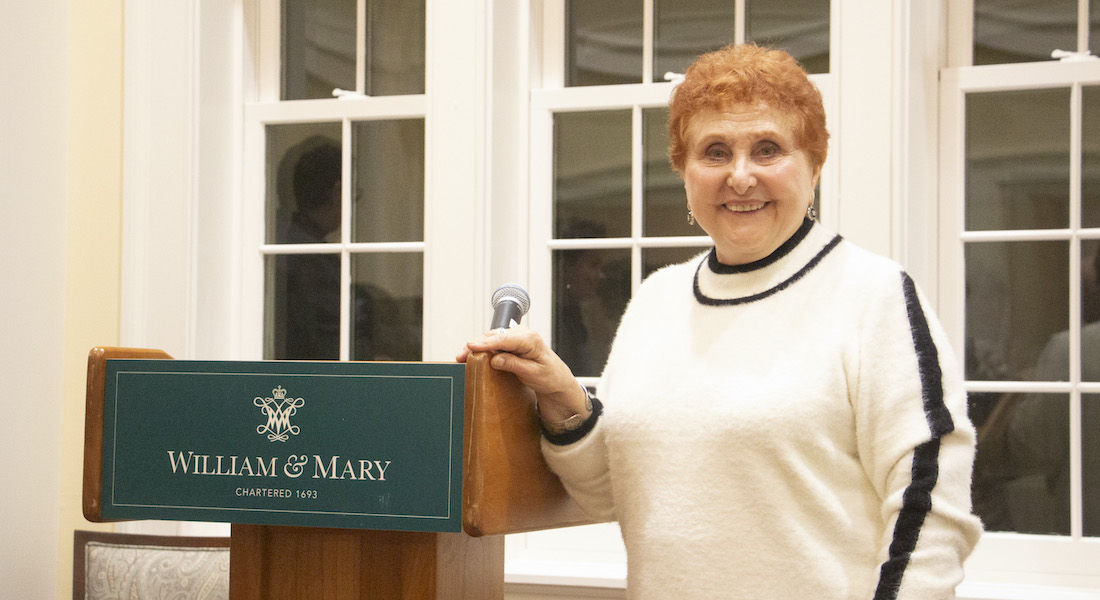 Fabian visited William & Mary for a series of talks earlier in February, made possible by donors who have contributed to the Arts & Sciences Annual Fund, Department of English, Reves Center and Judaic Studies Program. In addition, Professor of English Henry Hart arranged, coordinated and hosted her while she visited. Fabian focused on her experience surviving the Holocaust in a lecture at the Shenkman Jewish Center, which was established because of the generosity of Mark Shenkman HON '15, P '03 and Rosalind Shenkman P '03.
At the lecture, an audience of nearly 150 sat or stood in the full atrium as Fabian narrated her early life — from her multiple attempted escapes from Hungary to finally arriving in the United States, where her globetrotting career would begin.
Fabian focused on how she made a life without what might seem like the necessary ingredients. And having written almost two dozen books, worked for National Geographic as a photographer and traveled the world from Prague to Peru, she certainly made a life for herself.
"It wasn't always easy, but I always had a fabulous time doing what I did," she says.
William & Mary Hillel Director Rabbi Gershon Litt, who introduced Fabian at the Shenkman Jewish Center, says her visit came at an important time as anti-Semitism rises worldwide. This generation may be the last that can hear directly from Holocaust survivors, and her story of resilience, he thinks, encourages students to approach the world with a greater sense of hope.
"We live in a really great, accepting, diverse community with people who really care about the people around them," he says. "The support for her visit is a sign from everyone on campus that we're with you, we're here, we're a William & Mary family."
For describing events so solemn, Fabian remained surprisingly calm while relating her early experiences in Hungary. As members of the crowd gasped, she continued without stopping.
But telling those memories is painful, Fabian admits. Her father was taken by the Nazis when she was 3 or 4 years old, and she never saw him again. She spent much of her childhood hiding or on the run. She's been shot at by border guards, separated from her mother and sister in a detention center and hidden with family in the basement of an apartment building as bombs shook the streets above.
Fabian, her mother and her sister survived the war, but then came Soviet occupation and the advent of communism. Hungary's subsequent revolution and counter-revolution further shook the country, before she and her family were able to emigrate to the United States.
There, she learned English, went to college, and began a career in theater — despite her mother's pleading that she become a doctor, or at least marry one. Fabian would later branch out into writing, photography, dancing and directing while traveling with her husband around the world.
"I always said yes, and then went ahead and did exactly what I wanted to do," she says, encouraging students to pursue careers that make them happy as well.
The humanity of her story, says Rabbi Litt, increases its impact. For people who may have only learned about the Holocaust in a textbook, hearing directly from a survivor is different, he says — particularly one who speaks with such strength and energy.
"Everyone's heard the slogan 'Never forget,' but it takes action to make that happen," he says. "What's something that I hear from this story, and how does it change me? That's how you remember the Holocaust."
For David Chernys '22, president of William & Mary Hillel, who helped organize Fabian's talk at the Shenkman Jewish Center, her visit will encourage that kind of change. Even having heard Holocaust survivors speak in person before, Chernys says he was impressed both by the event's attendance and by Fabian's ability to bring something so seemingly distant into the present.
Everyone there, he says, left with a better appreciation for what survivors endured and a clear picture of resilience in the face of those hardships.
"Her story didn't end after the Holocaust ended," says Mr. Chernys. "It really shows not only what something like that can take but also what something like that can give you."