Bold stories from the 2019 Scholarships Luncheon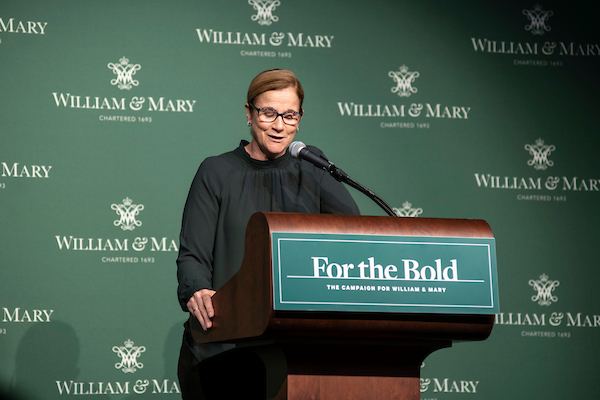 Photo by Capture Photography
Home was never a place Rachel Becker '19 wanted to be. Her childhood was marked by traumatic events that could have significantly changed the course of her life for the worse, if she had let them. The story of her life as a young girl, she said, was one she rarely shared with anyone.
It wasn't until her sophomore year at William & Mary, when she heard two fellow students talk about a similar experience in their own lives, that she felt empowered to tell them her own.
"I had never heard someone share their story before," Becker said. "I was so used to pretending that everything was OK. For me, this was my bold moment at William & Mary. This was the moment that I knew I could be myself, and that meant sharing my story."
Becker spoke to an audience of more than 400 at this year's Scholarships Luncheon during Homecoming & Reunion Weekend. She joined several other students and alumni who shared their powerful stories of how scholarships made their bold moments possible.
Special guest Jill Ellis '88, L.H.D. '16, two-time World Cup winner, told the audience how her scholarship to W&M changed the trajectory of her life.
"I believe that a William & Mary degree represents a key that opens a doorway to opportunity," Ellis said. "As immigrants to this country my parents struggled to weigh the financial possibilities of higher education, but the day I called my mom to tell her I received a scholarship, she burst into tears. It changed our lives."
Scholarships are the top priority of the For the Bold campaign. Since the start of the campaign, more than 20,000 donors have collectively contributed $281 million in scholarships.
President Katherine A. Rowe shared examples of W&M students who have inspired her as they have used the opportunities afforded them to make a difference at the university and in their communities.
"Scholarship support enables William & Mary to recruit the brightest minds from around the world," Rowe said. "Empowered by the philanthropy of those who came before, pioneering students are propelling our university forward with creativity and enthusiasm. The bold moments you are hearing about today are made possible by the generosity of the people in this room."
Nathan Knight '20, a business analytics major and center on William & Mary's men's basketball team, experienced his bold moment during the pre-draft process for the 2019 NBA Draft this past spring. Knight spent several weeks traveling around the country competing with other players in front of NBA representatives, but ultimately decided to attend William & Mary instead of entering the NBA.
"I found myself deeply conflicted and uncertain as I considered which path was the right one for me," Knight said. "The moment I made the commitment to myself to return to finish my studies, I recognized the opportunities a degree from William & Mary would offer me in the future. The connections I have built and the lifelong benefits I will reap from my time here are what brought me back."
Khalil Russell '21, a 1693 Scholar and biology major, said his bold moment occurred during his senior year in high school when he found himself with having to choosing between a full-ride 1693 scholarship at William & Mary, and attendance at Harvard or Yale.
"Obviously, I chose the best of the three schools, but for a while the choice was not easy to live with. Everyone has defining moments. At William & Mary, between the engaging and passionate professors, the undergraduate research opportunities and the endless possibilities to study abroad, students are afforded the opportunity to make real and lasting impacts on the world. Scholarships give students the resources to make those dreams achievable."
During the luncheon, this video told the story of another student, Ferdinand "Poe" Makabata '20, who has been able to pursue his passions due to the generosity of our donors. Makabata, a U.S. Air Force Veteran and a finance major, spoke about his dream of starting a wealth management business for military servicemembers.
Ellis closed the event with a challenge to the audience. 
"It is rare in life and in my profession that we get to guarantee results, but with this unique campaign, For the Bold, we can guarantee perhaps the greatest of all outcomes — opportunity. In essence, that is what William & Mary was to each of us, an opportunity to cultivate and unwrap the potential we held. Now it's our charge to help give that gift to future generations."
Make a difference in the lives of students today by giving to the Scholarships Impact Fund.