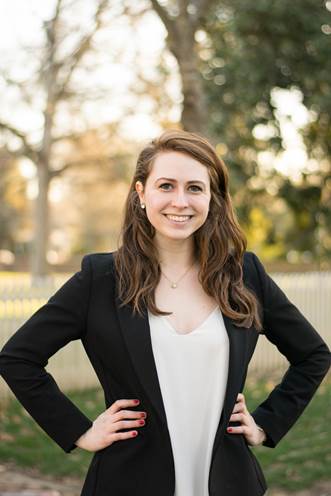 Making lemonade from lemons. This proverbial phrase certainly applies to Rachel Becker '19. Against the odds, the William & Mary senior has turned a challenging childhood into a compassionate mission to help others. Now, thanks in part to a Parents Fund scholarship, she is well on her way to pursuing her dream to support child and family rights.
"Advocacy has been a big part of my life from an early age," said Becker. "I'm not sure where I would be without others advocating for me and teaching me how to advocate for myself."
As a child, her father's parental rights were severed because of substance addiction, abuse and neglect. During extensive court proceedings, Becker had a guardian ad litem through CASA (court appointed special advocate) support. Her mother later remarried, but things were still rocky at home until she graduated from high school.  
"School became my sanctuary; it offered me structure and support," said Becker, who grew up in Chesapeake, Virginia. When it was time to apply for colleges, she was set on going as far away from home as possible — until she visited William & Mary.
"As soon as I stepped on campus, I felt immediately at home. I didn't want to leave," said Becker. "When I got accepted, I was so excited that I cried. I knew William & Mary was where I was meant to be."
Soon her instincts were confirmed. At philanthropy day during sorority recruitment of Becker's freshman year, she heard two Kappa Alpha Theta members talk about their personal experiences with CASA and how Theta gave them a home.
"I had never told anyone about my experience, and yet here were two women who were brave enough to share their story with complete strangers," said Becker. "I spent so much time trying to look like everyone else and pretend everything was OK. I hadn't thought about the CASA organization for 10 years."
During her time at William & Mary, Becker committed herself to learning as much as she could about children's rights. She knew firsthand that one person can make a difference in a child's life.
She joined Kappa Alpha Theta and became the service and philanthropy director. As she learned to embrace her own story, she poured her energy into raising money through the sorority to support the local CASA program. She organized four fundraising events and spearheaded a letter writing campaign to ultimately raise more than $30,000, far above what the sorority donated in previous years.
"William & Mary has taught me how to tell and be proud of my story after so many years of being ashamed of it," said Becker.
A government major, she has many extracurricular responsibilities on campus, including serving as a president's aide, chief of staff of Student Assembly, a conduct and honor advisor, an orientation aide, and as a student representative to the Board of Visitors and on the Leadership Advisory Council.
"I want to give back to the William & Mary community in any way I can because the university has given me so much," said Becker. "I've learned so many little things here that no one took the time to teach me before, like how to cook and how to manage my time. I feel that I have a safety net here more than I've ever had."
Her hard work and dedication certainly paid off. She spent last summer in Washington, D.C., as part of William & Mary's D.C. Summer Institute, an accelerated academic program that includes site visits, lectures and networking with experts and alumni. Becker also interned on the Child Welfare policy team at Children's Defense Fund — an opportunity that was only possible for her through the support of a Parents Fund scholarship.
"Thanks to the parents who give to the Parents Fund, I was able to spend my summer as an advocate, just like those who advocated for me," said Becker. "It is such an amazing feeling to know that complete strangers are willing to step up and support me. It speaks volumes as to who William & Mary is. The Parents Fund support says, 'we trust you, go do what you can do.' In so many ways it reminds me that William & Mary is my home."
During Convocation this year, Board of Visitors member Karen Kennedy Schultz '75 introduced Becker to Virginia Senator Monty Mason '89 who is a strong advocate for child and family rights. After hearing about Becker's summer experience, Mason offered her an internship on the spot. In the spring semester of 2019, Becker has an internship lined up with the Virginia General Assembly.
"It's like the stars have aligned," said Becker. "One internship has led to another and none of it would have happened without the Parents Fund scholarship. The opportunities I've had to meet different people and continue to learn have been life-changing."
Each year, the Parents Fund supports scholarship and student life initiatives while providing funding for the most urgent student needs. Becker's mentor, William & Mary public policy professor Andrew D. Stelljes Ph.D.'07, nominated her for the scholarship award. He was particularly impressed by her ability to make good from a challenging start.
"I meet with many students who have an intense commitment to public good. Rachel is an example of one student experience, but every student experience is different, and every student brings a unique drive and compassion to William & Mary," said Stelljes, who serves as the assistant vice president for Student Engagement and Leadership. "Sometimes all it takes is reasonable monetary support to give them an experience that can pave the way to a remarkable future."
After graduation, Becker wants to move to Richmond, Virginia, to continue to advocate for children. She also plans to attend law school and become a family law attorney.
"My dream is to help kids. I love that it is parents and families who made it possible for me to work on legislation to build healthier families," said Becker. "William & Mary invested in me, and the families at William & Mary are my family. I am inexpressibly grateful for this opportunity, which truly demonstrates how William & Mary supports its students in making a difference."