Building knowledge through innovation: A new vision for William & Mary libraries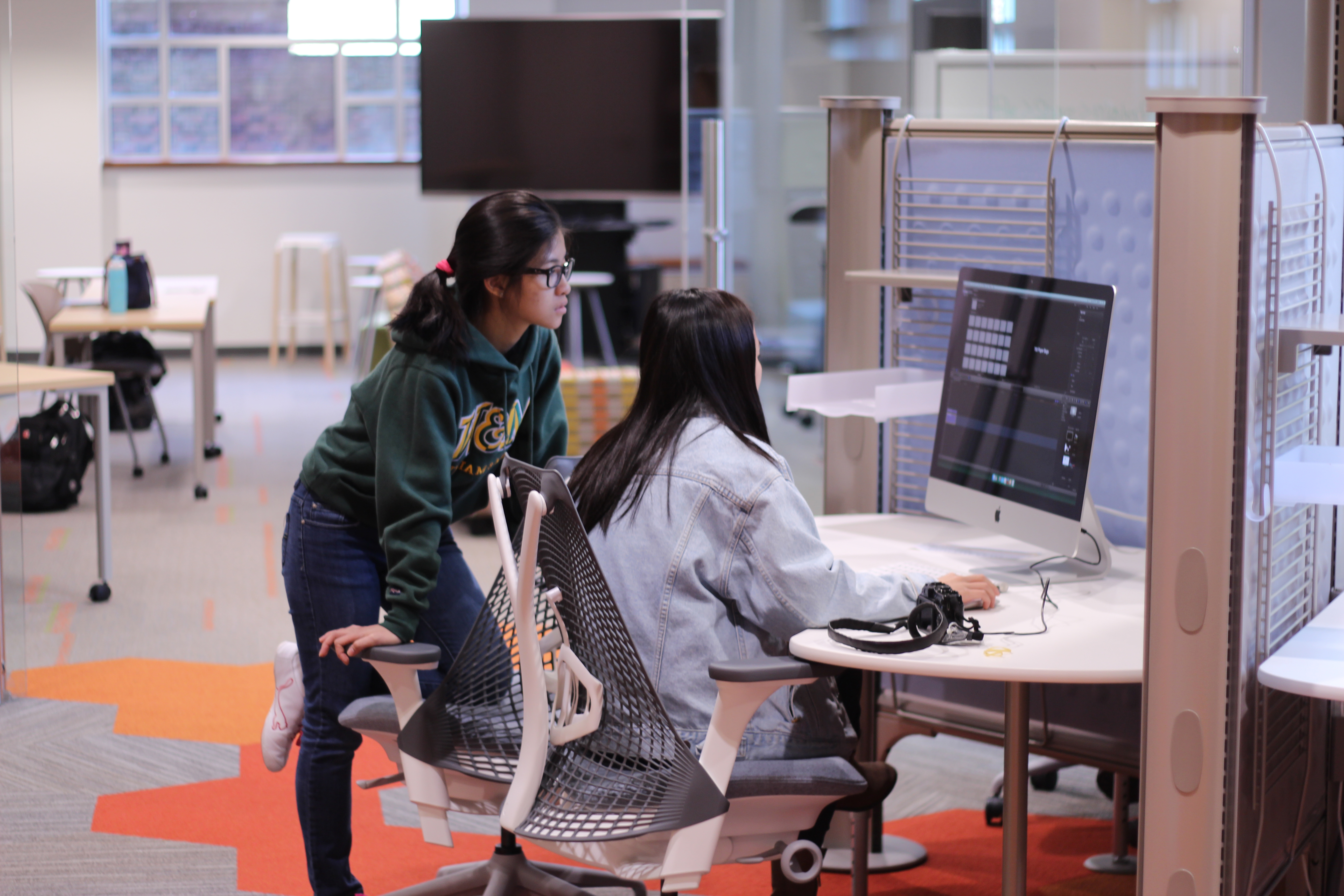 Photo courtesy of Earl Gregg Swem Library
As technology continues to change the world at ever-increasing rates, some of the university's most innovative transitions are happening in the William & Mary Libraries. Cherished for decades as a cornerstone of our thriving university community, the library's unwavering focus on linking people with ideas continues to evolve in dynamic, forward-looking ways.
"One of the most interesting things people do in a library is create," said Carrie Cooper, dean of university libraries. "Our goal is to remove the barriers for success and give our students the tools and resources they need to develop 21st-century skills."
Not surprisingly, that vision for success increasingly includes incorporating different types of spaces for technology and other innovative ways to approach learning. Although much of today's work is now digital, that doesn't mean people want to sit in a room by themselves to get it done.
"The future of the library is about building a community around this digital work to give people comfortable and productive places to grow and learn together," said Cooper. "These forward-looking spaces are where people and technology come together to facilitate aspiring digital storytellers, creative thinkers and strategic communicators in making personal discoveries and building lifelong experiences."
This focus on cutting-edge resources hasn't gone unnoticed. In August, Princeton Review ranked William & Mary's libraries as No. 6 in their list of best college libraries. As one can imagine, the ability to remain on the leading edge relies on private support. In fiscal year 2019, the university secured more than $3.5 million from more than 1,230 donors who generously contributed to support William & Mary Libraries. The total raised since the start of the campaign is more than $20 million.
"Private support makes all the difference in allowing us to be innovative. Of course, big gifts are wonderful, yet it is amazing how many smaller gifts can add up to a big impact," said Cooper. "These gifts provide the critical resources for new initiatives like our plan to build a high-tech Digital Scholarship Center."
Slated to be located on Swem's main floor, the Digital Scholarship Center would be a designated place to bring together state-of-the-art technology and tools with trained experts to help students learn and practice new and emerging skills. Designed to facilitate interdisciplinary research, collaboration and creation, this center will position our students for the future and provide a supportive community as students enhance their computer programming, graphic information system (GIS) and data science skills. Regardless of major, digital competencies will give our students the advantage in the workplace of tomorrow. 
"Here, an ambitious activist can map water resources in Africa, an aspiring songwriter can create an e-book of her music or a future entrepreneur can build an interactive website for his business," said Cooper. "It's not hard to imagine the important role the library will to play as we continue to reimagine and prepare for the scholarship that will lead to transformative opportunities and discoveries for the entire William & Mary community."
For the Bold campaign support has already helped facilitate many new innovative spaces and programs within the William & Mary libraries. With one year left in the campaign, there is a tremendous opportunity to realize the full vision of these current and planned initiatives with the help of private support.
INNOVATIVE SPACES
This fall, the Studio for Teaching & Learning Innovation opened in Swem Library as a university resource to facilitate faculty collaboration and improve teaching and learning experiences for students across campus. This new hub for faculty engagement will reach across traditional boundaries and leverage new technologies to encourage faculty to incorporate diverse modes of teaching into their courses. "For the first time, faculty will have one go-to place for expertise and training on the best tools and resources to generate innovative teaching practices, enhance course development and craft creative research projects and class assignments," said Rowan Lockwood, professor and chair of the geology department. Although initially funded by the state, the studio will rely on private giving for programmatic support.
Several years ago, private funding enabled the Charles W. Reeder Media Center, named for the founder of Swem Library's Audiovisual department, to be renovated and reopened within Swem as the centerpiece for developing 21st-century skills in a broad range of multimedia competencies. Reeder's daughter, Sharon Reeder McCarthy '69, established an endowment that supports the ongoing operations of the Media Center. Last semester alone, more than a thousand students, faculty and staff booked the Center's on-site media labs, recording studios, workstations, collaboration booths and production rooms, and the Center's more than 600 cameras, microphones, audio mixers and other high-quality equipment offered on loan were checked out more than 7,500 times. With additional funding, the Media Center can continue to expand access to new technologies and training opportunities.
Located on the library's main floor, the Swem Makerspace recently expanded its footprint to give students, staff and faculty almost double the space to explore using a range of tools and state-of-the-art equipment including a variety of 3D printers, 3D scanners, vinyl cutters, stitching machines and a pin-back button making machine. Student projects using the equipment range from incorporating 3D scanned images into an innovative class presentation to 3D printing a broken skateboard gear. Future support can help ensure this dynamic space continues to offer students access to the latest creative opportunities.     
MORE TO COME
Soon, a dynamic outdoor space will be added to the library's wealth of learning-centered gathering options for meeting, studying and programming. Designed to serve as a community plaza to connect the forthcoming Arts Quarter and Integrated Science Center IV with Swem's Mary Munford Plaza, this outdoor patio will be a flexible, open-air space capable of fitting up to 100 people for both larger receptions, concerts and classes as well as cozier gatherings like book talks and poetry readings.
The Digital Scholarship Center will meet the growing need across campus for access to workshop, research and scholarship support for experiential learning while exposing students to new intersections for technology and the liberal arts.
"This space will be a hotbed of collaborative learning and research that builds on current strengths at William & Mary by providing a home for digital tools and, most importantly, support for using these tools," said Robert Rose, director of William & Mary's Center for Geospatial Analysis.
The co-lab space would likely include individual work areas and group workstations as well as informal spaces for conversations and dedicated areas to display and visualize projects. Trained staff would be on hand to assist with specialized hardware and software for both independent study and classwork.
While planning has begun for these important and vibrant spaces, private support is needed to make them possible.