Giving Tuesday: Your gift helps others give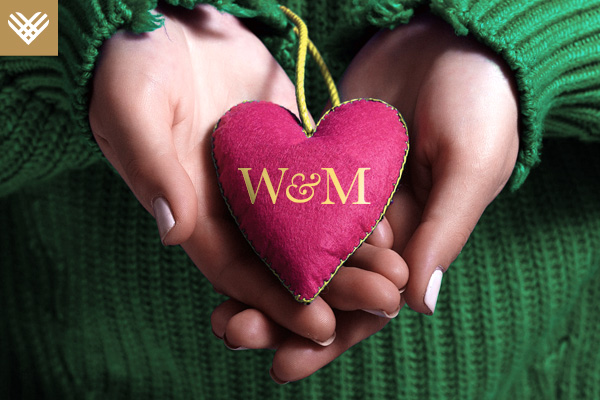 Scholarship recipient Hababo Jima '20 plans to pay forward the kindness that has been bestowed on her by others.
"Your generosity has inspired me to help others and give back to the community," Jima said. "I hope one day I will be able to help students achieve their goals just as you have helped me."
Jima echoed a sentiment expressed by many William & Mary students — that the generosity of William & Mary donors inspires them to pay it forward for other students in the future.
Days like Giving Tuesday, which is Dec. 3 this year, remind us of the amazing power of philanthropy, and how even small gifts can make a huge difference, not only in the lives of the recipients but also in the many lives that person goes on to touch.
Giving Tuesday is a global initiative to give back to the communities and organizations that have significant meaning to you. Celebrating its eighth year, Giving Tuesday is a worldwide effort to promote philanthropy.
Your gift to William & Mary on Giving Tuesday — and every day — helps us impact the lives of extraordinary students like Jima who will go on to make a difference in the world. Your gift can help fund a scholarship or go toward any area at the university of your choice including schools, units, student organizations and sports teams.
The largest Giving Tuesday contribution in 2018 was a generous $10,000 gift to the Global Research Institute Fund, which helps student-faculty teams incubate, pilot, scale, and sustain ideas that have an impact in the world. Investments to the GRI Fund help students learn valuable technical skills, receive mentorship from innovators and practitioners through the world, and participate in transformational experiences that connect learning to action. Last year students embedded with local organizations to solve problems in more than 10 countries, pitched and received start-up funds for novel research ideas, met with government and nonprofit leaders, and received customized training in evaluation and a variety of programming languages.
William & Mary celebrated a stellar Giving Tuesday in 2018, raising over 22 percent more in giving on the day compared with 2017. 
Since the day's inception, nearly $17,000 in gifts have been made to the Scholarships Impact Fund, enough to fund an annual need-based scholarship. Scholarships are the number one priority of the For the Bold campaign, with more than $281 million in scholarships raised since the start of the campaign.
Most of the gifts given toward the fund on Giving Tuesday range from $50 to $250, but small gifts add up to big impact. In FY19, gifts of less than $100 in the For the Bold campaign collectively added up to nearly $1.8 million. Since the start of the campaign, these gifts have totaled approximately $13 million and gifts of less than $25 have contributed nearly $2 million.
Past Giving Tuesday gifts have helped to create the Gates Library Fund, which enables Earl Gregg Swem Library acquire and maintain materials related to national security, defense and international relations. Another one was given to the Stanley Women in Business Programs Endowment to expand support for students at the Raymond A. Mason School of Business.
Wherever you choose to give this Dec. 3, your investment will help William & Mary students pay it forward in their communities and around the world.
Join us this Giving Tuesday. Let's give back together. To make a gift, please visit giving.wm.edu.