New Wren plaques to honor African-American, women students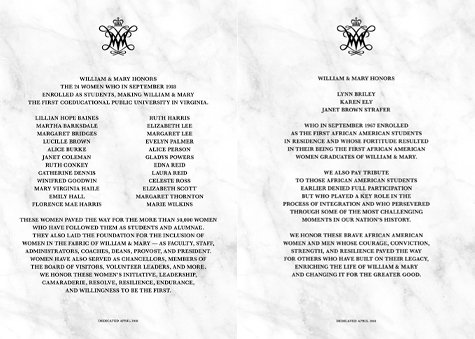 The Wren Building will soon bear two new plaques honoring William & Mary's first women and African-American residential students. The plaques will be unveiled during a public ceremony at noon on April 19. Attendees are asked to register in advance.
One of the tablets will include the names of W&M's first three African-American residential students who are being honored throughout the 2017-18 academic year with special events and programs as part of a 50thanniversary commemoration of their arrival on campus. The other plaque will include the names of the first 24 women to enroll at W&M as students in 1918. Starting next fall, the university will mark the 100th anniversary of that occasion with a yearlong celebration.
"To have plaques honoring the first residential African-American students and the first women in such a historical building on campus is a significant gesture toward the inclusion part of diversity and inclusion and hopefully will continue in other tangible ways," said Jacqui McLendon, emerita professor of English and chair of the 50th commemoration committee.
For more on this story visit W&M News.