Inspiring, Empowering and Leading at William & Mary Women's Weekend
William & Mary women are strong, welcoming, smart, passionate, kind, unstoppable — and these are only a few of the many ways speakers and participants described this remarkable community during William & Mary Women's Weekend, Sept. 21-23, 2018. 
Nearly 500 alumnae, parents, family, staff, students and friends gathered on campus for the Weekend, a signature event in the yearlong commemoration of 100 years of coeducation at William & Mary. They hailed from 27 states and three countries, spanned the generations from the Class of 1948 to 2022, and represented a variety of professional fields. Through three days of panel discussions, keynote speakers, performances and activities, they shared how they inspire, empower and lead in their industries, families and communities.
"We wanted this Weekend to showcase the wide variety of experiences of William & Mary women — we all have stories to share," said Val Cushman, director of alumnae initiatives. "We have so much to learn from each other, and the collective power of women can accomplish amazing things."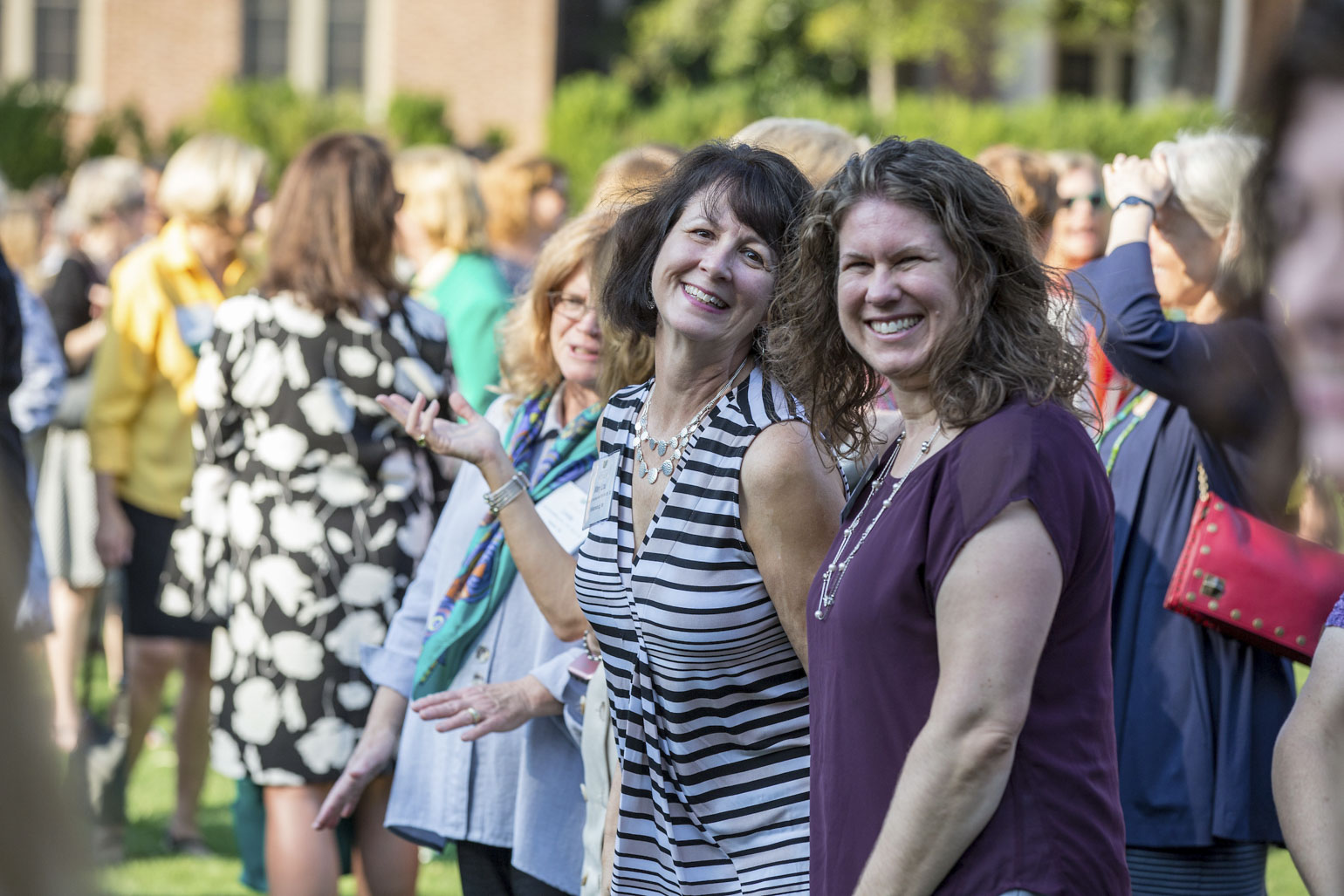 Storytelling at its Finest
Friday night's opening performance by Anna Deavere Smith, "Snapshots: Portraits of a World in Transition," set the tone for a weekend of building community by sharing honestly and listening compassionately.
"Anna Deavere Smith is an artist who I have learned so much from over the years. It's incredibly fitting today, here, that our celebration will be launched by an artist whose work began in Richmond and who has artfully, creatively, openly, seriously and passionately reflected back what she hears," said President Katherine A. Rowe.
Smith is a National Humanities Medal-winning actor, playwright and author who currently appears in the ABC shows "Black-ish" and "For the People." In her solo performance, Smith portrayed people she has interviewed from all over the country from all walks of life — from a frustrated young doctor during Hurricane Katrina, to a Latina mother in Detroit, to her own aunt. The stories she shared in each character's own voice were both funny and heartbreaking, and they provided perspectives on the commonalities we share and the differences we face as Americans today.
The weekend also marked the premiere of the "Her Story" short film, the first in a series of videos highlighting William & Mary women. The film was narrated by Glenn Close '74, D.A. '89 and shows how the story of W&M alumnae has grown and changed from the first 24 women admitted in 1918 to the 55,000 living alumnae today.
Adding to Friday's night's celebration was an exciting surprise announcement: a gift of $2.65 million by the Society of 1918, William & Mary's giving society by and for women, to benefit alumnae. The gift will support the Alumnae Initiatives Endowment, which will enrich programming like the Weekend and other regional opportunities for women of all ages and backgrounds across the global W&M community.
The Society has a new goal of 1,918 members and $4 million to fully fund the endowment. Women continue to join the Society every day, and there are currently 358 members — which include not only alumnae but also parents and family members of alumnae, faculty, staff and friends of the university.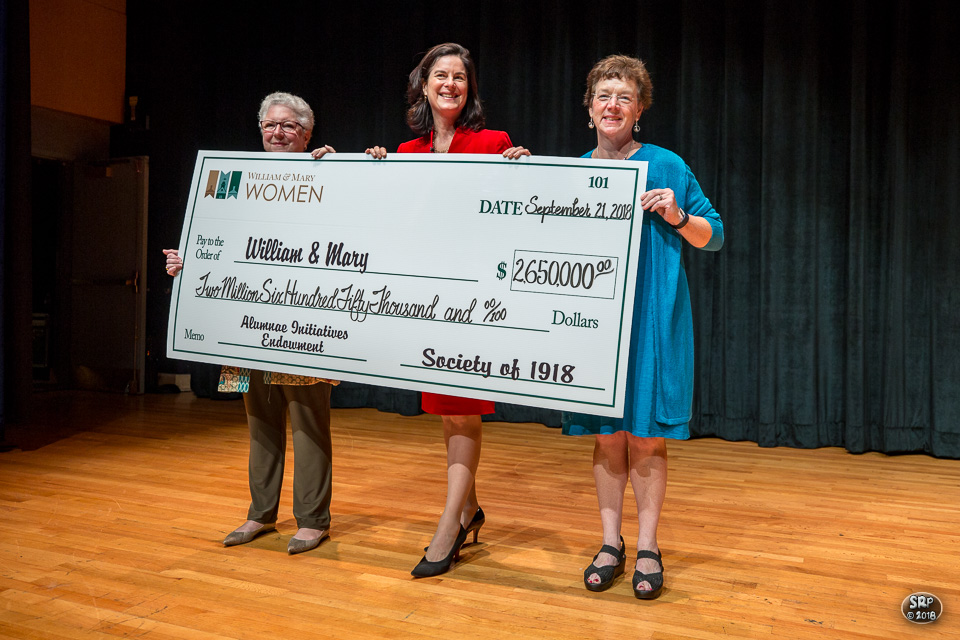 Many Voices, Shared Experiences
Panel discussions throughout the weekend covered topics as diverse as "How Women Physicians are Changing Health Care," "Powering Possibilities in the Nonprofit Sector" and "Women Who Count: Research at the Forefront of Interdisciplinary Quantitative Science." Speakers and moderators included alumnae, parents of alumnae, industry leaders and W&M faculty and staff. 
"We are often the only women in the room, so being here with all these women is startling and refreshing," said Laura Mooney Markley '07, M.Acc. '08 during her panel, "Rule-Breakers, Job-Makers, Risk-Takers — Women Entrepreneurs and Innovators."
Many panelists and speakers shared their nontraditional paths to success, like author Michelle Gable '96 who majored in accounting at William & Mary and had a successful career in finance before becoming a bestselling author. Gable credited W&M with helping hone her creative writing skills and instill an appreciation for history – a major component of her books.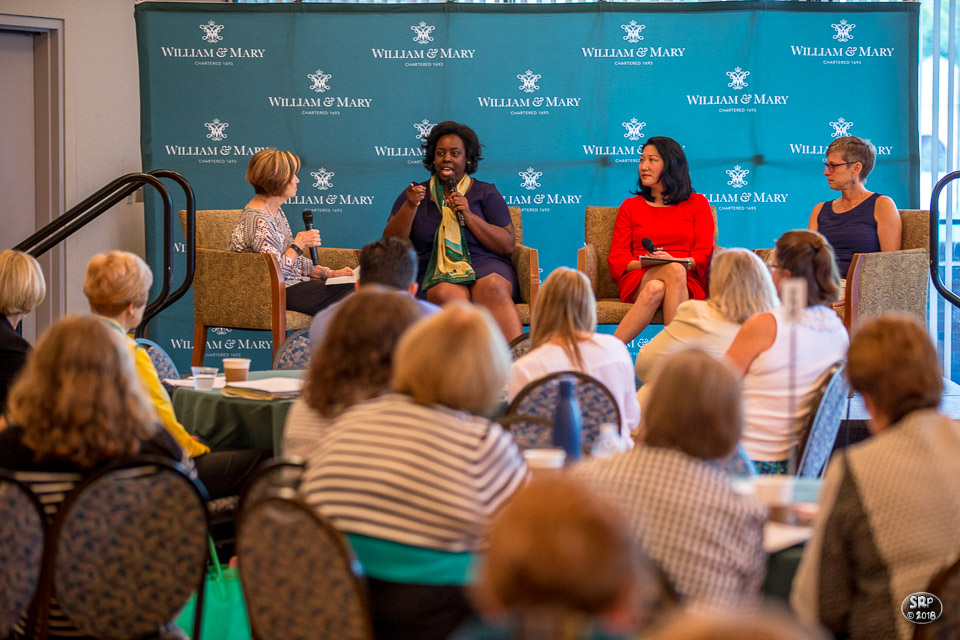 Other common themes included resilience in the face of failure, supporting other women and overcoming bias. Many speakers talked about the challenges they faced as a woman in a male-dominated field, from Pocket Sun '13 in venture capital to Jen Chaney '94 in television writing.
Ruth Jones Nichols '96, in her panel on "Amplifying Marginalized Voices," shared a quote from Marcia Hill that inspires her: "Speak your mind even if your voice shakes." She echoed a sentiment expressed by many over the weekend for women to speak out for what they need, even in the face of adversity.
"I'm inspired by all these women have accomplished," said Monica Baroody '85. "They've done so many cool things but they are still working on more! Just knowing what's possible is exciting."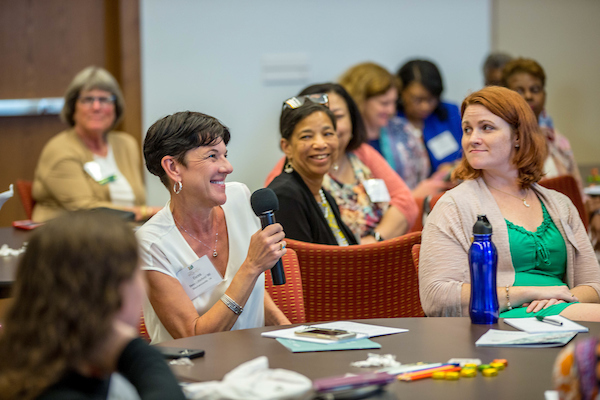 The Keys to Success
Three keynote speakers on Saturday provided insight into their fascinating careers and the lessons they learned from both failure and success.
Ellen Stofan '83, D.Sc. '16, P '10, P '14, the first female director of the Smithsonian's Air and Space Museum, emphasized diversity in the STEM fields by telling the stories of trailblazers in the field.
"The stories of women who defy are there, we just need to find them," said Stofan. "Telling the stories of women who defy preconceptions and expectations is a fundamental importance to the museum's mission of inspiring the next generation of innovators and explorers. Every female first is a beacon to young women around the world that there is a place for them in that industry."
Kathy Carter '91 discussed bouncing back from failure in her keynote "Why Chumbawamba's 'Tubthumping' Should Be the Soundtrack for Your Life." The lyric from that song, "I get knocked down, I get back up again," describes her experience running for president of Major League Soccer. She faced significant setbacks including bias, lack of support and negative campaigning used against her, and yet she does not let these struggles define her.
"Never doubt that a small group of thoughtful, committed, citizens can change the world. Indeed, it is the only thing that ever has," she said, quoting renowned anthropologist Margaret Mead.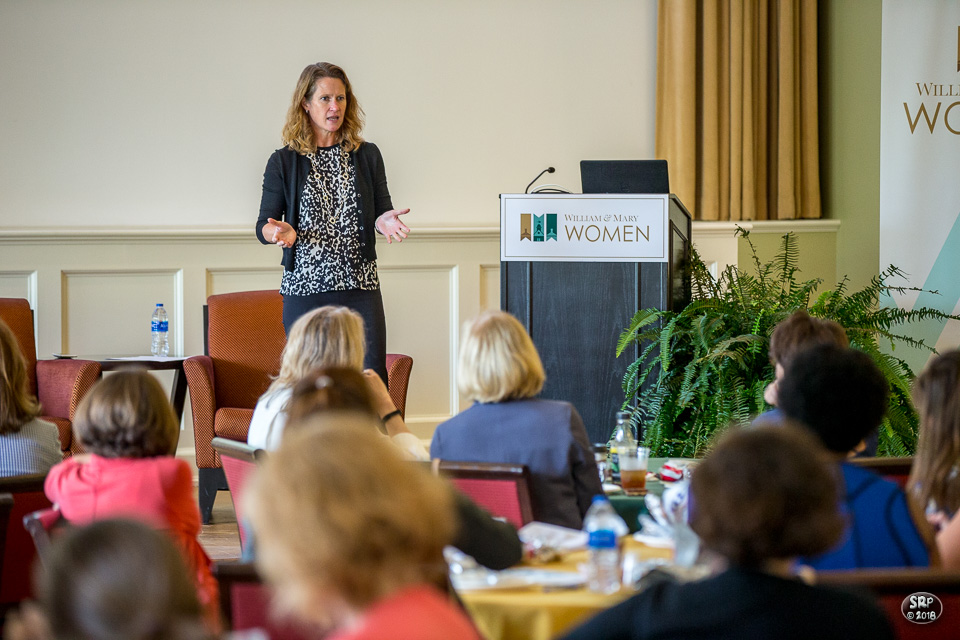 Clorisa Phillips '77 also spoke of overcoming setbacks as she recounted her experience leading and then closing Virginia Intermont College. Though it was a challenging time, it was just one small part of her long and successful career in higher education.
"So many perceive the word 'challenge' to have a negative connotation, but it's really just another word for 'opportunity,'" she said.
It's not easy to share personal stories with a room full of people, but Phillips was glad she did.
"Attending and participating in the Women's Weekend was exhilarating! What a historic moment to celebrate 100 years of coeducation and to commemorate the arrival of President Rowe. It truly was a privilege to spend the weekend with her and with so many amazing W&M alumnae," she said.
Short Talks on Big Ideas
A highlight of the weekend were Sunday morning's Mary Talks, short TED-style presentations from fellow William & Mary women. For 15 minutes apiece, 18 women shared words of wisdom from their life experiences.
Topics were wide-ranging and presented in a variety of styles. For example, Justice Elizabeth Hoens '76 shared her steps for getting through a life crisis based on her experiences as a New Jersey Supreme Court Justice and the mother of a severely autistic child. Jamia M.T. Crockett '00 encouraged attendees to practice compassionate curiosity, optimistic bravery, and loving yourself. Melanie Karyn Morgan '84, J.D. '87 spoke about breaking the cycle of domestic violence, and Charlene Victoria Smith '05 discussed women in Shakespearean theater.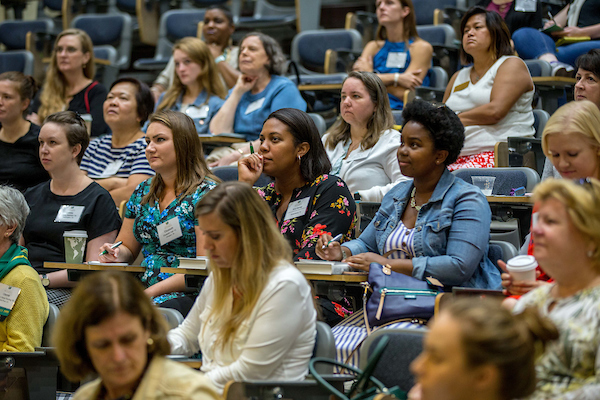 "The speakers are fierce! I was overwhelmed by their bravery to honestly, authentically talk about failure. They all came out the other side stronger than before," said Ashley Pinney '08.
While Beth Comstock '82 was not able to attend, she generously donated a copy of her new book, "Imagine It Forward: Courage, Creativity, and the Power of Change," for every attendee. She also provided a video message to share with weekend attendees.
"Give yourself permission to take risks!" she encouraged her fellow alumnae. "There's an imagination gap because we want to be perfect, so we close ourselves off to possibilities."
Professor Emerita Jayne W. Barnard, chair of the commemoration of 100 years of coeducation, also provided an overview of the decision to admit women to William & Mary in 1918. She showed how president Lyon Gardiner Tyler's decision to admit women not only kept the university afloat during World War I but began a legacy of coeducation at the university — a legacy that led us here, to the Women's Weekend.
"You can feel the thread of connection through 100 years of women here," said Katy Corcoran '08. "I was moved to tears by what we can accomplish, what we're willing to do to lift each other up. I wasn't expecting the power of women getting together. It feels like we have known each other all our lives."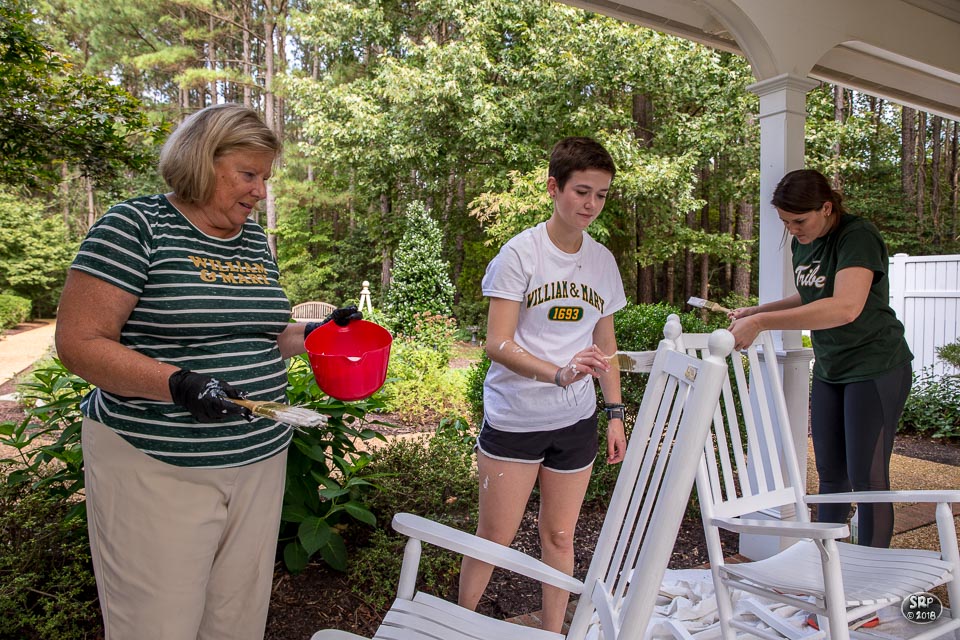 Mix and Mingle
A focus of the Weekend was wellness in all its forms — emotional, environmental, financial, intellectual, professional, physical, social and spiritual. In addition to speakers who touched on each of these topics, activities each day created opportunities for women to grow in these areas.
Campus Recreation provided group fitness classes and mindfulness sessions, as well as stretch breaks and five-minute yoga exercises between other activities. Alumnae also participated in a bike tour around the Williamsburg Winery and a day of service helping local nonprofits serve the Williamsburg community.
Attendees also had an opportunity to interact with students. Undergraduate and graduate students presented poster sessions on their research during Friday night's reception. A capella groups performed between speakers and students led some of the stretch breaks.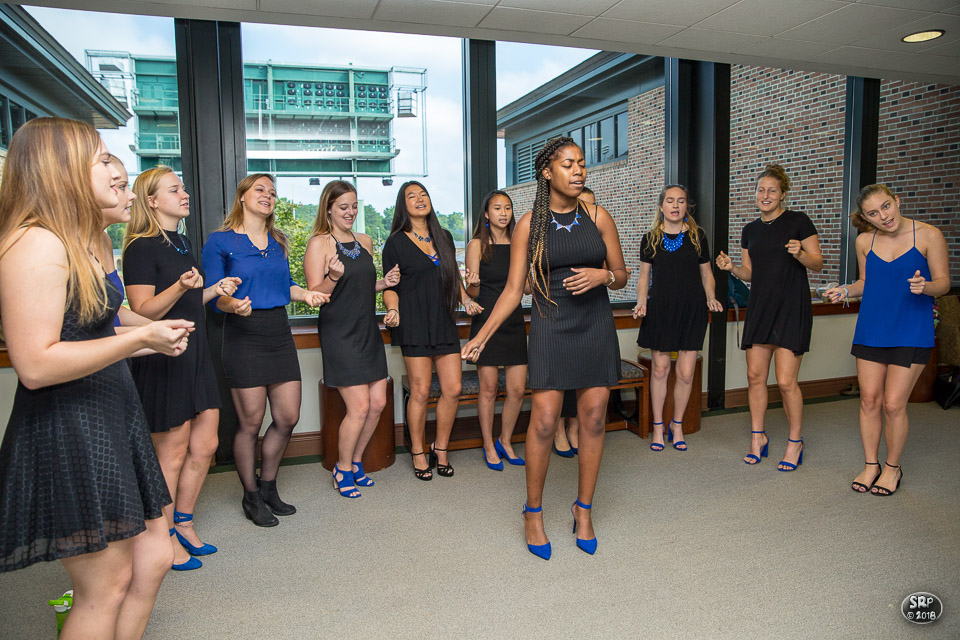 Throughout the weekend, women reunited with friends and made new connections.
"Everyone was so open and welcoming. You could sit down with any group — all ages, from all industries, from all over the country — and be welcomed. It's such a supportive, open community," said Betsy Dougert '08.
Throughout the weekend, alumnae wrote the names of inspirational women on ribbons and weaved them into an art installation in the Sadler Center. 
"The beauty of all these ribbons together is representative of the goal of the 100th commemoration and the Women's Weekend," said Virginia McLaughlin '71, chancellor professor and dean emerita of the School of Education, and a member of the advisory committee. "We are strong individually and even stronger together."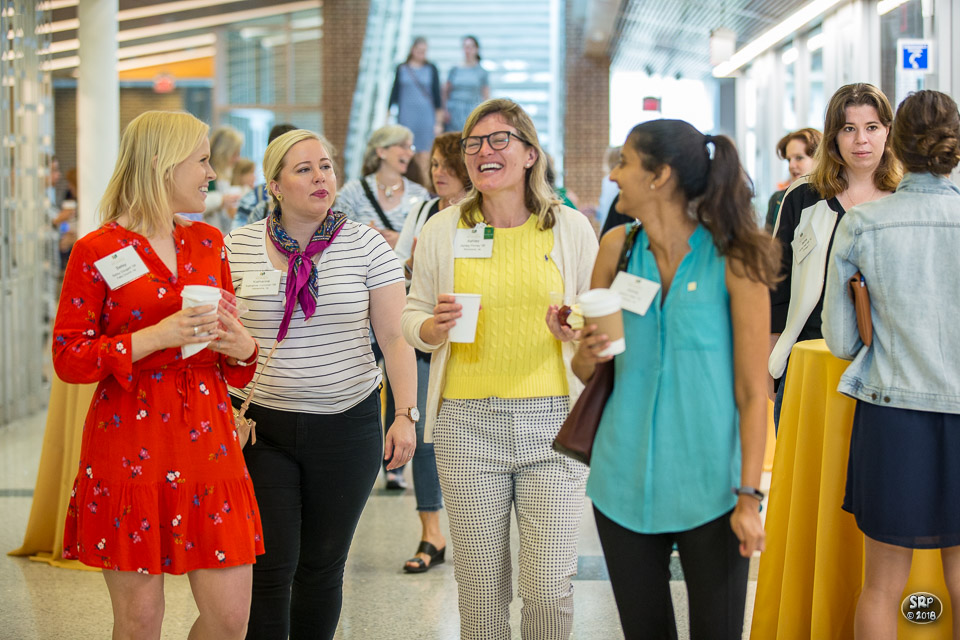 Photos courtesy of Skip Rowland '83. See all the photos from William & Mary Women's Weekend.