William & Mary breaks all One Tribe One Day records with 12,770 donors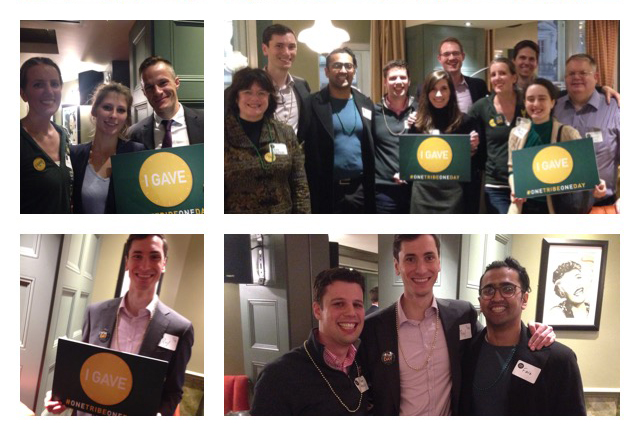 William & Mary celebrated the fifth annual One Tribe One Day on April 10 and surpassed all previous records made on the university's single biggest day of giving. An impressive 12,770 donors made a gift last Tuesday, marking a nearly 570 percent increase in the number of donors who gave compared to its first giving day in 2014 when 1,906 individuals gave back.
Since its inception as part of the For the Bold campaign, more than 25,000 donors have participated in One Tribe One Day.
Once again, William & Mary's family came together in a big way. Nearly $2.5 million was raised, thanks to the generous support of alumni, parents, students, faculty, staff and friends. With a day full of fun festivities from the Sunken Garden to Beijing, Los Angeles and beyond, an enormous level of Tribe Pride could be felt in almost every corner of the globe.
Areas on and off campus were greatly impacted by One Tribe One Day. The Scholarships Impact Fund saw a 25 percent increase in donors this year compared to 2017, Student Affairs a 17 percent increase in donors and a 15 percent increase in the number of individuals who gave to the Alumni Association over last year.
Speaking to the importance of One Tribe One Day, Maicoll Gomez '18, a biology and psychology double major, said, "This is a day when we give back to a university that has given us everything. I gave to the university's Center for Student Diversity because it is vital to William & Mary's environment."
Fueling the momentum all day were seven challenges that were sponsored by generous donors, in addition to two day-long challenges: The Parent & Family Challenge, which awarded $140,000 when 2,000 parents made a gift and the Gerdelman School & Unit Competition, which awarded $15,000 to departments or areas that had the most donors, the most new donors and the most improved from 2017. This year, Athletics, Arts & Sciences and William & Mary's Virginia Institute of Marine Science were the top performers respectively.
As hours passed and each challenge was met, challenge gifts were unlocked and a video featuring President Taylor Reveley played on social media. The popular video series this year allowed Reveley to star in Game of Tribes, Tribemanji and Stranger Tribe, among other William & Mary inspired titles.
"One Tribe One Day is one of my favorite new traditions at William & Mary. While OTOD 2018 was my last as president, I will always give back on this vital day to the place that has meant so much to me," said Reveley.
William & Mary is a national leader in giving days among all public and private higher education institutions. Few, if any, other universities have produced results similar to William & Mary's and this year's level of participation cements the university's position as one of the top in the country. Donors from all 50 states and 29 countries took part in the effort by making a gift to William & Mary last Tuesday.
"The more our family rallies together, the stronger our family grows. This couldn't have been more evident than on One Tribe One Day," said Matthew T. Lambert '99, vice president for university advancement. "Over the span of four years we have achieved a high level of success, which has only been possible because our Tribe community galvanized toward a common goal and purpose. It has truly been remarkable."
Here are some other numbers you should know: