William & Mary Celebrates For the Bold in Richmond
Illuminates Richmond in green and gold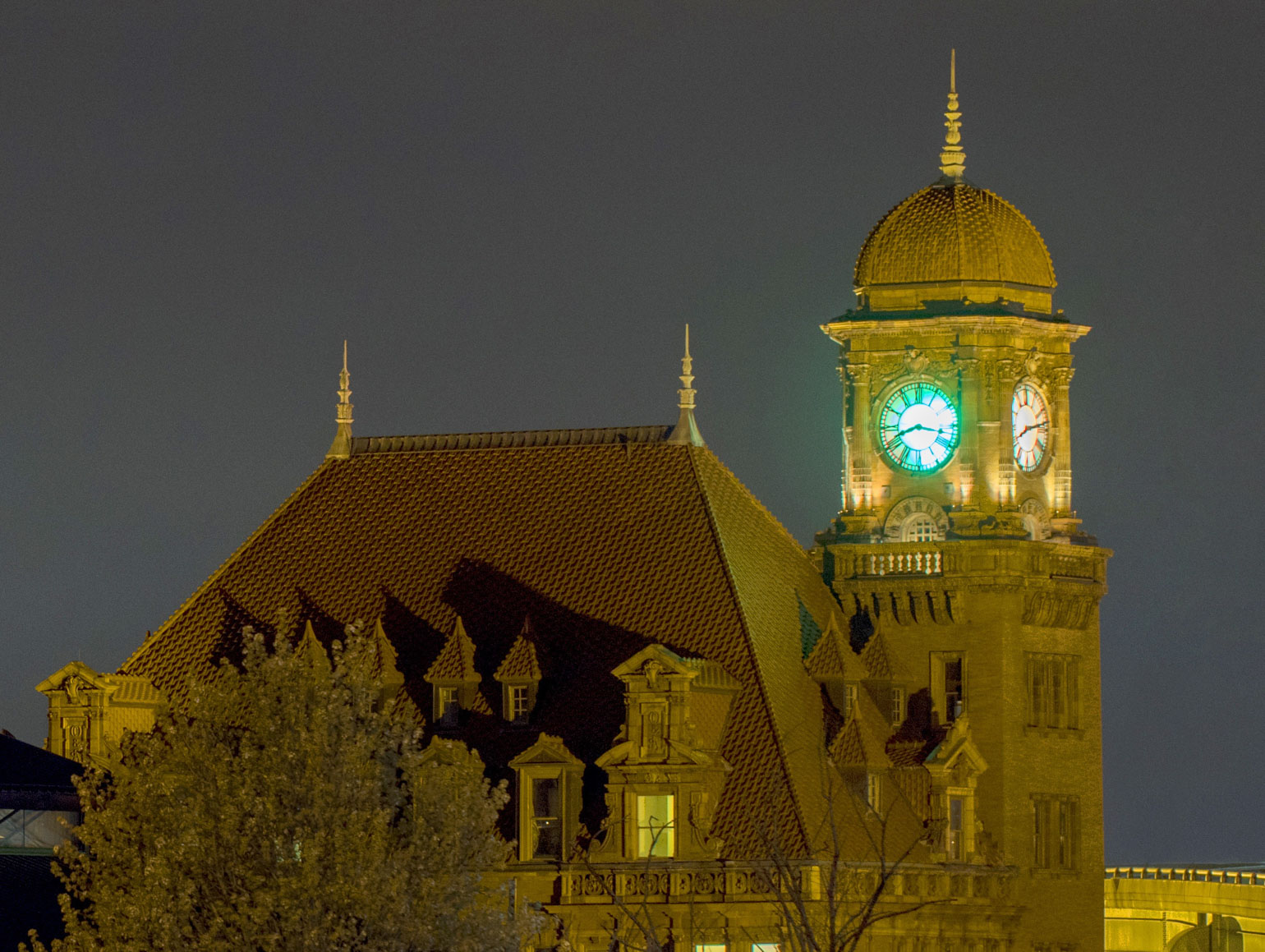 Home to nearly 23,000 alumni, parents and friends, greater Richmond was ignited with Tribe Pride last night as the William & Mary community gathered together at the Virginia Museum of Fine Arts to celebrate For the Bold. The Richmond Main Street Station also dazzled in green and gold and illuminated the night's sky while our most loyal family and friends were left inspired by the impact of the university's most ambitious campaign. 
Sue Hanna Gerdelman '76, chair of For the Bold, shared the news that in greater Richmond alone, more than $71 million has been raised toward the university's $1 billion campaign goal. She also boasted that the Richmond area last year had one of the highest alumni participation rates in the nation — at more than 32 percent and our alumni continue to be highly engaged with their alma mater both on and off campus.
Since the start of the campaign, the number of alumni engaging in new and expanded program offerings, including career networking opportunities and special affinity group events, has increased by 110 percent.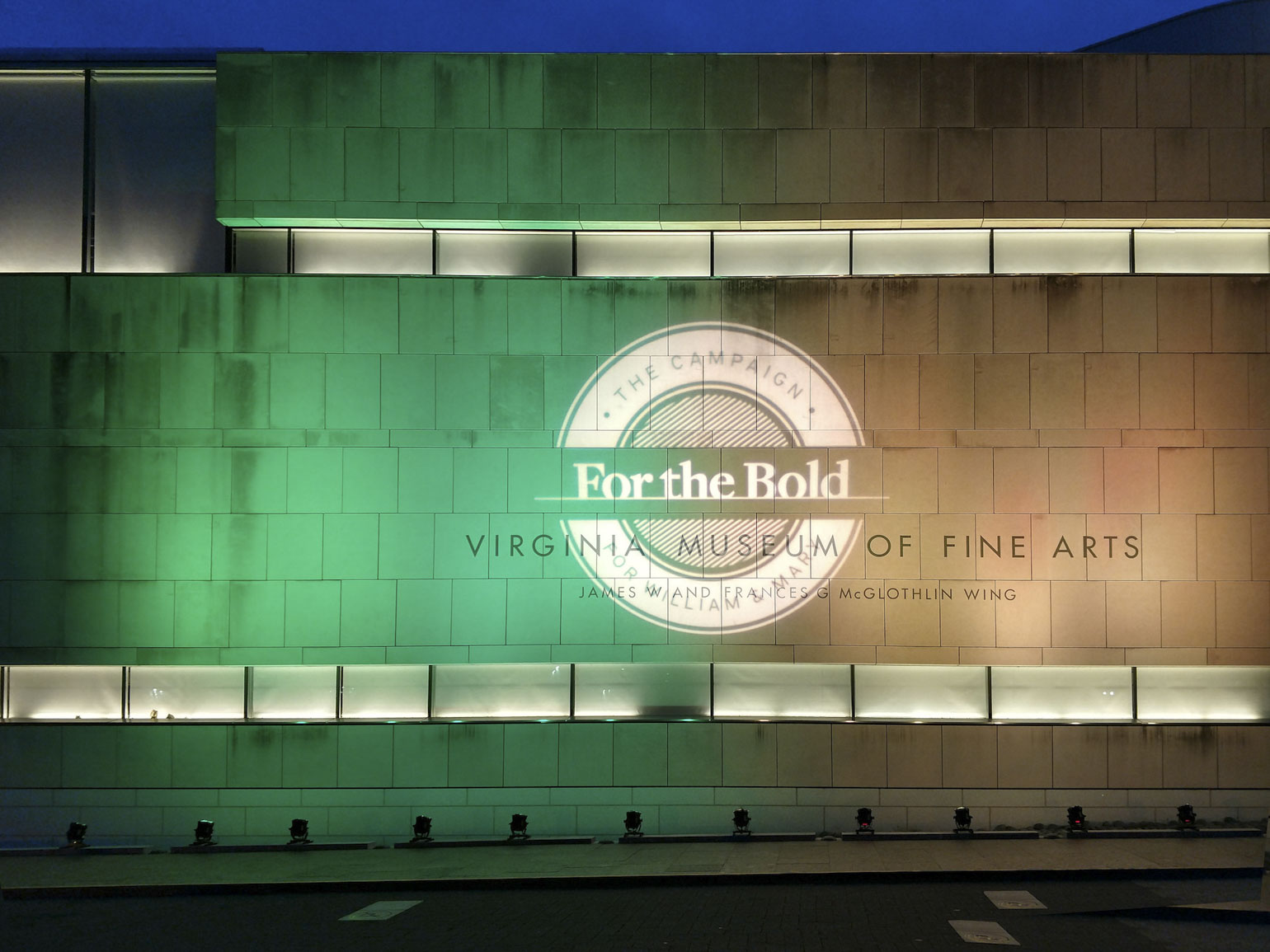 Jean Berger Estes '75 and Rob Estes '74, co-chairs of the Richmond regional campaign committee, stood before the crowd — which included more than 400 attendees — and stressed that although William & Mary has a solid financial foundation now, alumni, parents and friends of the university must remain vigilant.
"We must all continue to engage with William & Mary so that our campus can remain a vibrant community of exceptional minds and diverse perspectives. Scholarships are key to this effort," said Rob Estes. "Generations before us have passed the torch so that we can build on our legacy of achievement and advance another 325 years of excellence in the classroom and beyond. It is incumbent upon us to do so."
Terelle Robinson '17, who currently works for Richmond Mayor Levar Stoney, told the audience about the life-changing impact of the scholarship he received to attend William & Mary.
"I never would have thought in my wildest dreams that this abandoned child from Ashland, Va., reared by his grandmother, would be afforded so many opportunities. It is not that I did not think I was deserving, but I did not always see a clear path. My William & Mary experience fortified for me how valuable our community is and how we look out for and propel each other forward," Robinson said. 
He added, "The people of William & Mary are forever etched in my head and heart. I am already doing what I can to help other students achieve their dreams. I will be forever boldly involved in the life of William & Mary with my time, talent and treasure. It is just that important."  
Richmond is the hometown to so many in the William & Mary community, including President Taylor Reveley. In remarks at the celebration, Reveley said he was glad to be back in Richmond, the city where he and Helen raised their four children and where he practiced law for 28 years. While providing an update on the progress of For the Bold, he reiterated, "We are achieving greater preeminence by pushing toward what we seek to become, not simply what we want to maintain."
At the conclusion of the celebration, Gerdelman added, "­­Friends, it is the time for us all to be bold, to act boldly and to inspire the entire Richmond region and William & Mary community to show the world that our time is now and our future is today. This is our moment to make history together."
IMPACT.

The impact of our For the Bold campaign can be felt on campus and around the globe. Here are just a few examples:

Through the Estes Challenge, the business school has raised nearly $570,000 for its annual fund, which supports scholarships, faculty and vital programmatic efforts.
We have been able to fully fund the head coaching positions for both women's soccer and men's tennis.
The campaign is supporting the expansion of the Alumni House, construction of the new Shenkman Jewish Center and soon, the establishment of The Martha Wren Briggs Center for the Visual Arts, which will house the Muscarelle Museum of Art.
Students and faculty at AidData, an international research hub at William & Mary, will be able to improve data that is needed to better help refugee, displaced and trafficked children around the world.
Students from the School of Education are receiving the training and preparation they need to create an enriching and inspiring learning environment for the children they teach in Richmond Public Schools.
We have fully endowed a professorship at our Virginia Institute of Marine Science and providing program funding for rapid response work with industry in order to make the commonwealth the worldwide leader in sustainable shellfish aquaculture.
Students, faculty and staff are providing pro bono services for hundreds of our nation's veterans through the law school's Military Mondays program.
Most recently, we established a new scholarship named in honor of the late Carroll F.S. Hardy HON '12, a beloved leader and passionate advocate of diversity and inclusion efforts at William & Mary.