William & Mary breaks ground on Shenkman Jewish Center
"This facility will inspire us to be better, to be assets to this community in the broadest sense, but also inspire us to get into the details, to learn what we have to learn to be great citizens of this community, of William & Mary, this country and of the global Jewish community."
— President and CEO of Hillel International Eric Fingerhut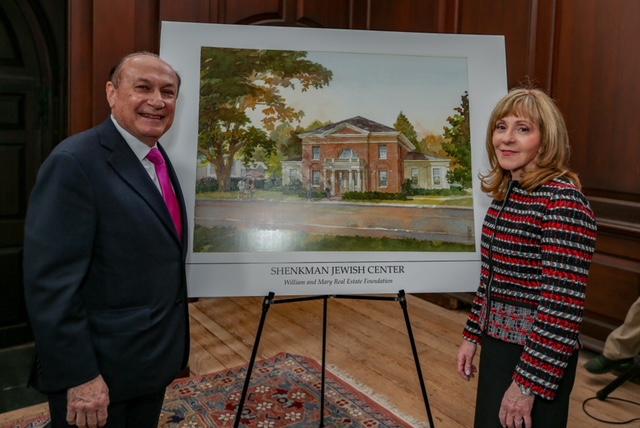 Since last year's announcement of the Shenkman Jewish Center, members of the William & Mary community have been waiting with eager anticipation for the project to begin. They need not wait any longer — on Wednesday, a large group gathered together to break ground on the more than 3,000 square foot center, which is slated to open in fall 2018.
Mark R. Shenkman HON '15, P '03 and Rosalind Shenkman P '03 — as well as their three sons — President Taylor Reveley, Williamsburg Mayor Paul Freiling '83, P '21, President and CEO of Hillel International Eric Fingerhut, Director of Hillel at William & Mary Rabbi Gershon Litt and other distinguished guests were on hand to celebrate the occasion.
For Mark and Rosalind — the generous benefactors of the center — the groundbreaking represents more than just the start of construction; it marks a new beginning for Jewish students to explore and strengthen their identity on campus as well as feel more connected with each other and the university.
"On behalf of the Shenkman family, we are proud and honored to provide a home for Jewish programming, studies, counseling and social activities at this beloved College," Mark Shenkman said at a ceremony before the groundbreaking.
"As I became more familiar with the needs of William & Mary, I heard stories that many Jewish students, particularly from Northern Virginia, may have overlooked the College due to a lack of Jewish programming and social activities," he added. "I learned firsthand how new facilities at several prestigious colleges really bolstered enrollment and social engagement, making a major difference in campus life for Jewish students."
From there, the idea to create the Shenkman Jewish Center was born. Mark, Rosalind and their sons Greg '03, Andrew and Justin all decided that the center would be vital to help meet these needs and would be a meaningful way to provide enriching opportunities for Jewish students at William & Mary.
The facility will serve as a central gathering place for Jewish students to participate in a variety of cultural, spiritual, social and educational activities and programming. It will house a large meeting room, study lounge, kosher kitchen and a Sukkah, among other amenities.
Litt said he hopes the new center sends the message that the university is serious about attracting new Jewish students and providing a needed space for current ones. The new center will be operated by Hillel at William & Mary under the leadership of Litt.
"Right now Jewish students don't have a home on campus," Litt said."Once the Shenkman Jewish Center is open, Jewish students will have a home away from home. When students go away from home they want to connect to their heritage and find others to share it with. We want to provide that place for them."
The center will be located across the street from campus on the corner of Jamestown Road and Cary Street.
"I am encouraged and proud that William & Mary will soon be able to offer the Shenkman Jewish Center for our Jewish students," Freiling said. "It is wonderful that students of the Jewish faith will have their own facility to address their spiritual needs, receive religious guidance and celebrate Jewish holidays."
Hillel at William & Mary Student President Alexina Haefner '19 said that having a dedicated place to gather will strengthen the Jewish student community at William & Mary.
"Shabbat will be a lot less hectic not having to worry about where we're having dinner, and how we'll get kosher food and everything else we need to that location," Haefner said. "The Shenkman Jewish Center sends a message to Jewish students that we don't need to feel like we're deprioritizing our Jewish identities by coming here, and that we'll be able to find community and develop that part of ourselves even more in college."
There are approximately 500 Jewish undergraduate students at the university, making up about 9 percent of the undergraduate student population. There are also nearly 100 Jewish graduate students, according to Hillel at William & Mary.
Reveley has been an enthusiastic supporter of having a Jewish center on campus for students. During the ceremony, Reveley recalled a freshman student visiting his office 10 years ago to tell him there was no place on campus for Jewish students to worship and prepare kosher food. He said he has never forgotten that student's visit.  
"The Shenkman Jewish Center is going to have a marvelous effect on Jewish life on our campus, for the whole university — indeed for the community," said Reveley. "I believe once the Shenkman Jewish Center is up and running that William & Mary as a school for Jewish students will become more appealing and more welcoming. We would love to have more Jewish students come to William & Mary or seriously consider it as a possibility. This is a major step forward for the Alma Mater of the Nation."
Barbara Ramsey '75, a member of Williamsburg City Council, said she's pleased to welcome the Shenkman Jewish Center to Williamsburg. She became aware of the need for the center during conversations with a young Jewish W&M alumnus who was her personal trainer at the Campus Rec Center. He often remarked about the uncertainty of where he would celebrate holidays, especially the Passover Seder.
"As a member of City Council and a neighboring resident, I am appreciative of the Shenkman family's investment in the city with their generous contribution for the center's construction," Ramsey said. "Not only will it be a purposeful building in the right location for William & Mary's Jewish students, but also aesthetically pleasing on a primary corridor into the city. I value all parties involved collaborating on the project, and was glad to join fellow Council members in unanimously approving the Special Use Permit."
"As an alumna, I'm proud of William & Mary for recognizing the need to provide a home for the campus Hillel organization and striving to find a solution," said Ramsey. I'm particularly grateful to Mark and Rosalind for the value the center will provide to students, the College and the city."
During the ceremony, Reveley thanked Mark and Rosalind and presented them with a watercolor painting of the future Shenkman Jewish Center.
In an emotional moment, Mark said, "We will be dedicating the Jewish center to my parents, Florence and George Shenkman, who passed away this past spring within 14 days of each other, after 76 years of marriage, at the age of 93 and 103, respectively. They had the wisdom to bring me to William & Mary 63 years ago. As I walked around the Sunken Garden, it left an indelible impression on my life."