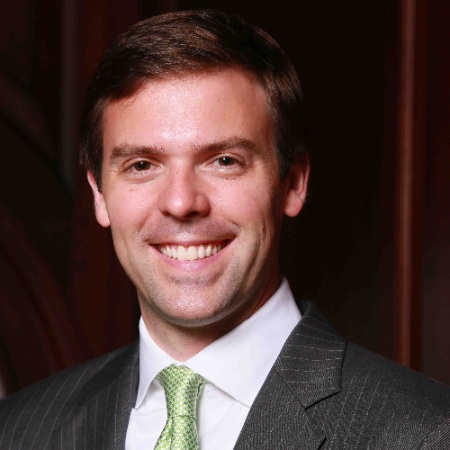 William & Mary matters. It mattered at the inception of our nation, and a heavy dose of American history infuses our brick pathways and hallowed halls. William & Mary has personally mattered a great deal to me and my family for generations. But for William & Mary, I would not have met some of my best friends in life, I would not have met my wife (which would have been a real issue for our children), and I would not have been exposed to endless opportunities. But for William & Mary, I would not have realized the American dream. So, because William & Mary matters to me, I have given back every single year since my senior year in 1999. Participation matters to William & Mary.
Receiving a scholarship at William & Mary set me on a path—a crusade, in some ways—to ensure that others could have the same opportunities this magnificent university afforded me. I was so grateful that others had helped me that I wanted to pay it forward. At first I wasn't able to give much (my first job after graduation, driving the Oscar Mayer Wienermobile, was not the most lucrative career option), but I knew that each and every gift mattered to the university, just as it had mattered to me. As Karen and I could give more, we did, always believing that our annual gifts, together with others, could collectively make a difference for students like us.
Today, I serve my alma mater as the vice president for university advancement alongside a talented team of professionals who have devised a fundraising campaign unlike any other in higher education. It is not solely focused on one dollar number. We imagined a campaign where we would celebrate the mega gifts—which are remarkable in their magnitude and impact—but also celebrate our alumni community and the multitude of gifts that are the connective tissue amongst the larger William & Mary family. The result is a campaign with three distinct goals—to increase engagement among our alumni, parents and friends; to reach 40 percent alumni participation; and to raise $1 billion.
While our $1 billion goal is audacious, achieving 40 percent alumni participation is the goal that is considered to be the most ambitious, forward-looking and groundbreaking in the history of university campaigns. As we have been for 325 years, William & Mary continues to be for the bold. Only three national universities—Princeton, Dartmouth, and Notre Dame—had achieved that measure when we launched our campaign and we sought to be the fourth. Bold indeed. The average public university today has a 7 percent participation rate while the average private is at 9 percent. Those percentages are also declining about 1 percent per year at both publics and privates. William & Mary is not average—we are bold and we lead.
This goal is critical for creating and sustaining a culture of philanthropy that will help to increase our national rankings and the value of our diplomas. It is a measure that is weighted heavily in the annual rankings of universities and is a barometer of future fundraising success. Alumni participation is also important to corporations and foundations, who see them as a measure of how those closest to the institution feel about and invest in it (if those closest to it don't see it worthy of investment, why should they?). Likewise, faculty and staff giving percentages are monitored by these entities as a similar measure of worthiness for investment.
Participation matters—every gift matters. The most common reason I hear from someone not making a gift is that they can't make a large gift and so don't think their gift will matter. This is absolutely and positively not true. A gift of $25 counts for participation just as a gift of $25 million counts for participation—annual giving is the most democratic form of giving because the alumni participation rate is a way of counting votes for alma mater. Those gifts add up, too, annually adding $2-3 million to the university's operating budget that directly impacts our students, faculty, staff and coaches. While some alumni may feel that their $25 gift won't do much, I can assure them that their collective gifts adding up to millions do a great deal. Participation matters because it impacts our people directly and they need us every single year.
I have the great privilege and honor of working every day with staff, volunteers, and donors who care about William & Mary and want to see it continue to thrive. We know firsthand the critical importance of engagement and philanthropy in the life of our university; we see students who otherwise could not join us, we see faculty who do their very best work thanks to philanthropy and alumni support; we see participation in almost everything and everywhere on campus.
It is always humbling for me to remember why participation matters so much to me. As a student on this campus in the 1990s, I was given the opportunity for a world-class education with faculty and staff who cared about me personally—not me as a number, but me as a person. They knew me by name, they helped me grow and learn, they helped me understand the gift I had been given in a world where an infinitesimally small fraction of humanity has the opportunity to achieve such an education. This university matters because the world today needs not just more educated citizens, it needs more William & Mary educated citizens. The world needs this extraordinary university to continue producing leaders of all types and it needs those who care about its future—alumni and parents in particular—to take charge of charting our own destiny.
William & Mary matters. Alumni and parent engagement matters. The next 325 years will be even brighter for the Alma Mater of the Nation because her people are more committed than ever to her future.