William & Mary celebrates For the Bold in Chicago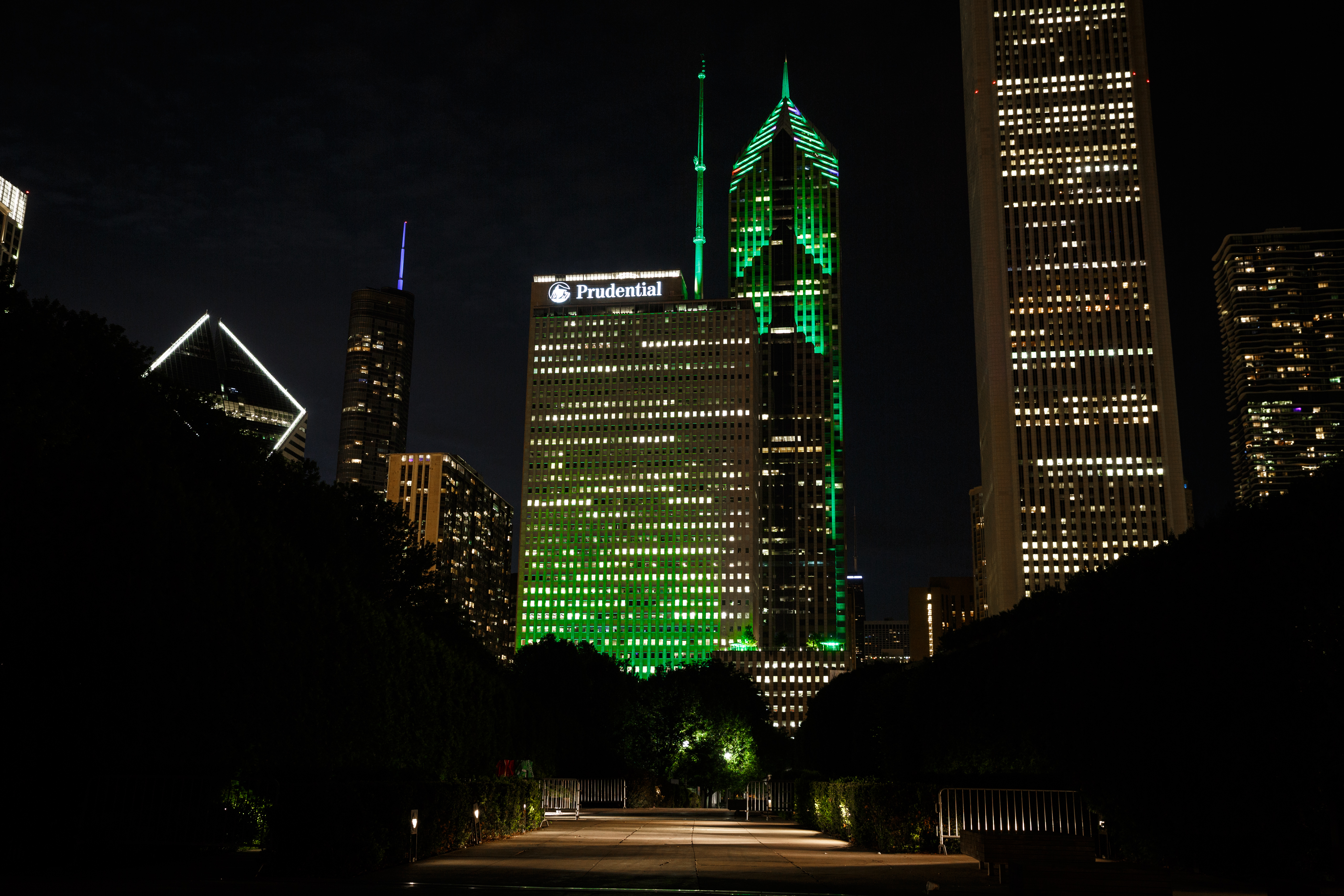 Chicago's skyline came alive last night during a For the Bold campaign celebration with William & Mary's colors illuminating several iconic landmarks in honor of the nearly 24,000 alumni, parents and friends in the Central region.  
"The light of our venerable university, now in its 325th year, has never shone more brilliantly," said President Taylor Reveley as the Navy Pier Centennial Wheel, the Shedd Aquarium and Prudential Plaza all lit up in green and gold. Since the campaign launched in 2015, the lightings have become a symbol of Tribe Pride across the nation and around the globe as For the Bold has been on the road.  
During the celebration, it was announced that under Reveley's leadership, more than $772 million has been raised through the For the Bold campaign to date, including more than $48 million in the Chicago area and greater Central region. William & Mary has also solidified its standing as the No. 1 nationally ranked public university for undergraduate alumni participation — a rare feat in today's higher education landscape in which alumni giving is declining across the board for both publics and privates. 
A crowd of more than 200 Tribe faithful gave Reveley a standing ovation after a series of stirring remarks, including those from the university's departing president. "It has been my rare privilege to lead William & Mary for the last decade. Together, we have done great deeds and I have steely confidence that the university will continue to move forward in the decades and centuries ahead," said Reveley.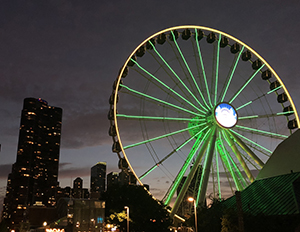 In a fitting tribute to the university's 27th president, Michael Foradas '78, co-chair, Central regional campaign committee and chair, William & Mary Foundation, spoke about the impact Reveley has had on the university and on the success of the campaign. 
"This event is one of Taylor's last official acts as president. Scholarships are one of his abiding passions. I can think of no better way to honor his legacy and his service to William & Mary than to contribute to a scholarship or to step up in some other way to ensure the success of For the Bold," Foradas said. 
Scholarships — the university's top campaign priority — and teaching excellence were the focus of the celebration. The university has secured nearly $250 million for scholarships and more than $344 million for teaching excellence and engaged learning since July 2011. 
Chicago resident Alexandra Granato '16 spoke about how her scholarship and the power of the William & Mary network afforded her a multitude of opportunities both during and after her time at the university.  
"I have William & Mary to thank for so many things: for leading me to this city, for leading me to a career that gives me joy and purpose, for giving me four deeply formative and beautiful years," said Granato. "But above all, I am grateful that it gave me a Tribe. Even now that I have left our alma mater, the people of William & Mary are with me still. They are here, doing their best to learn what needs fixing in the world and they keep standing up reminding me, 'we can do that.'"
Sue Hanna Gerdelman '76, chair, For the Bold, reinforced the need for everyone to engage with each other and alma mater often, to mentor students and to give back annually — all of which are vital to the future of William & Mary and our people.  
"As the university aims to reach 34 percent alumni participation by June 30, 2018, it would be remarkable if everyone could reach out to their own William & Mary network and ask fellow alumni to renew their support and to make a gift of any size. Imagine the impact that would have on our Tribe family," said Gerdelman. "Gifts of $250 and under collectively added up to more than $3 million last year — that makes a big difference." 
The campaign celebration kicks off the beginning of W&M Weekend in Chicago, one of the university's newer signature events designed to enhance alumni engagement – a key goal of the For the Bold campaign. Featuring 26 cultural, intellectual, professional and social events, the initiative is bringing the best of William & Mary to the Windy City.
To learn more about For the Bold and how you can make an impact, please visit our campaign website.