William & Mary announces Katherine Rowe as 28th president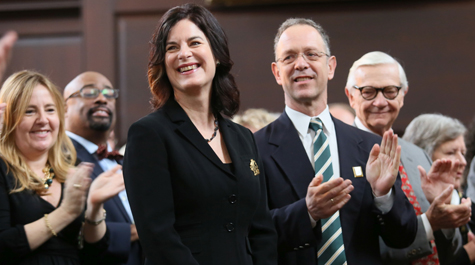 Photo by Stephen Salpukas
Liberal arts innovator to lead Alma Mater of the Nation
William & Mary's Board of Visitors today unanimously elected Katherine A. Rowe, currently provost of Smith College and a leader in digital innovation of the liberal arts, as the 28th president of the university. She will begin on July 1.
Rowe will succeed W. Taylor Reveley III, who is retiring June 30 after two decades with William & Mary, including 10 years as president. Rowe will be the first woman in William & Mary's 325-year history to hold the presidency.
"The Board is thrilled to make this announcement and welcome Katherine Rowe to the William & Mary family," said Rector Todd A. Stottlemyer '85.
"Katherine is a widely respected and recognized leader, teacher, researcher, scholar, innovator and entrepreneur, and she is a passionate and articulate advocate for the importance of the liberal arts and their critical intersections with technology and research."
He added, "We had a difficult mission: to find a leader to whom Taylor Reveley could pass the reins. In Katherine Rowe, we have found the ideal person to lead William & Mary at this point in the university's history."
Read more about W&M's president-elect.