Wellness center provides education, support from multiple angles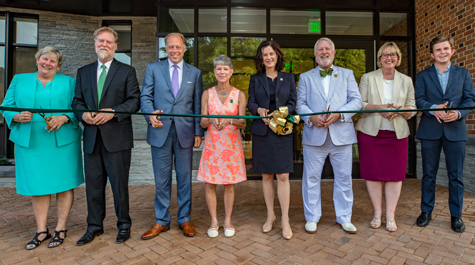 Photo by Skip Rowland
The McLeod Tyler Wellness Center looks like a different building from each of its four exterior corners — a design that was intentional.
"The multiple planes and the multiple perspectives are designed to connote the multidimensionality of wellness and to be able to see how wellness can change based on where we are and where we move and how dynamic we are," said Kelly Crace, associate vice president for health and wellness.
The new center, which was dedicated Tuesday, brings together William & Mary's Office of Health Promotion, Counseling Center, Health Center, and Campus Recreation's wellness programing under one roof along with the new Center for Mindfulness and Authentic Excellence. With all of those services centrally located, Crace hopes that it will foster closer collaboration between the offices and offer students a chance to learn about the multiple dimensions of wellness in one location.
"I want students to see this as a learning center, not a clinic," he said. "It's a place where they can learn what wellness looks like for them, whether they're sick or well or wanting to understand the harmony of wellness, they should be able to find and learn about that here."
Made possible through the support of namesake donors H. Elizabeth "Bee" McLeod '83, M.B.A. '91 and honorary alumnus J. Goodenow "Goody" Tyler III, ground was broken for the center in June 2017, and it began offering services to students last week.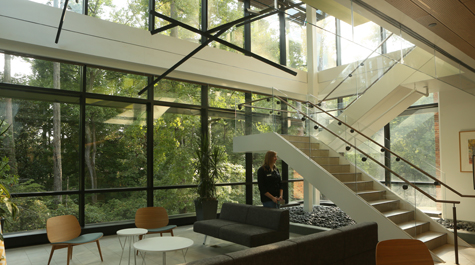 Photo by Stephen Salpukas
An invitational building
The building is located behind the Sadler Center, and its back windows look out into the university's wildlife flower refuge. The building's four outdoor features include a meditation labyrinth, life-size Zen garden and social wellness patio equipped with Adirondack chairs. Inspired by the university's role in the Charter for Compassionate Schools, a compassion garden with large rocks where students may sit and interact was installed in the front of the building.
"It's a place for students to reflect and meditate on compassion for others and self-compassion," said Crace. "And that's at the front of the building because we believe that compassion is the front and center of what we do."
In the lobby, a seating area is located across from a water wall and in front of large windows that were meant to bring nature into the facility, according to Crace.
"This building is a building that is invitational," he said. "It invites students to come in. Students are just learning that this is where I'm going to learn about my wellness, and that may be through the Health Center, the Counseling Center — whatever it is. But coming into that building is a positive step, a positive statement about you taking care of yourself, and that really gets at and pushes against the stigma that can often be associated with seeking help."
For more on this story visit W&M News.