W&M's annual Raft Debate to be held March 15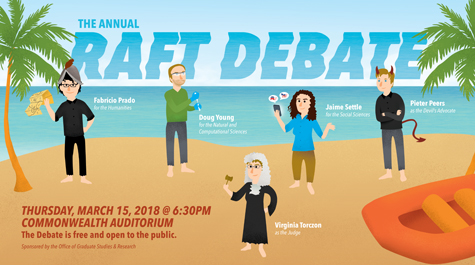 The Raft Debate, a much beloved William & Mary tradition, will be held at the Sadler Center's Commonwealth Auditorium on March 15 at 6:30 p.m.
Free and open to the public, the premise of the debate has been the same since it was first instituted in the 1960s. Three survivors of an imaginary shipwreck, a scientist, a social scientist and a humanist, debate the value of their respective discipline to the rest of humanity. Only one of these professors can return to civilization in the life raft. They attempt to make their case by balancing comedy and lecture, cajoling, pleading, pontificating and resorting shamelessly to props and costumes. A fourth faculty member, a Devil's Advocate, officiates and argues sarcastically that none of the academic disciplines are worth saving.
The winner is chosen by a judge, based on audience reaction.
This year's survivors, and their disciplines, are Associate History Professor Fabricio Prado (humanities), Assistant Professor of Government Jaime Settle (social sciences) and Associate Professor of Chemistry Doug Young(natural and computational sciences). The Devil's Advocate will be Associate Professor of Computer Science Pieter Peers.
The judge will be Virginia Torczon, Arts & Sciences dean of graduate studies and research.
Read more about the Raft Debate.