W&M alumnus Earl Granger receives prestigious diversity and inclusion award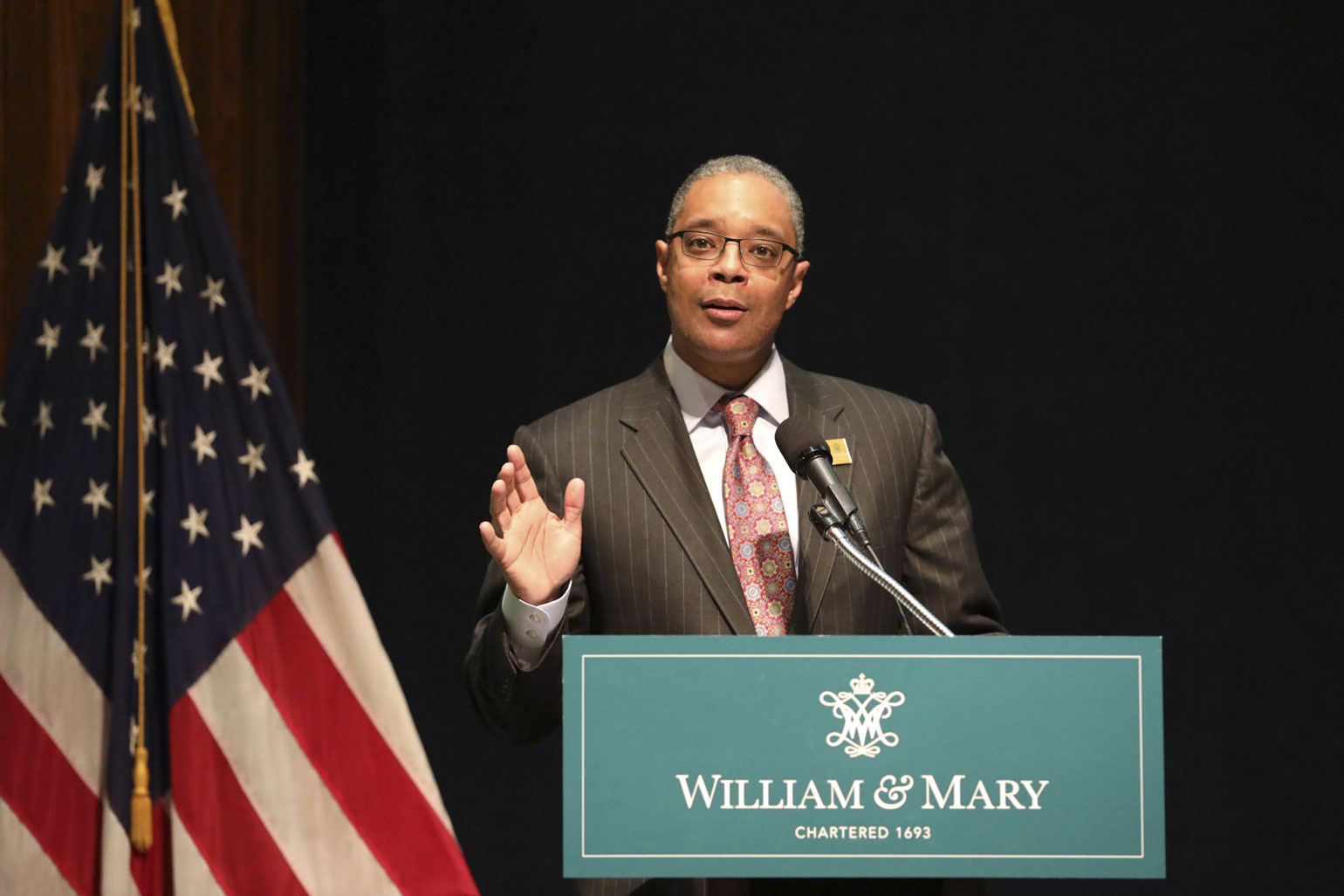 The Council for Advancement and Support of Education (CASE) honored Associate Vice President for Development Earl T. Granger III '92, M.Ed. '98 this week with a prestigious award for his commitment to diversity and inclusion at William & Mary.
Granger received the CASE District III Diversity and Inclusion Leadership Award on Tuesday at the annual conference in Atlanta. The award is given to professionals in the advancement field who display strong leadership in fostering a diverse environment on college campuses and within the workplace. CASE District III represents more than 1,100 higher education institutions across 11 southeastern states.
"Given the times of today we have a lot of opportunities before us, and I think it's very important for us as advancement professionals to be spheres of influence," Granger said during his acceptance speech. "It's important for us to engage in a critical dialogue and be very intentional in our work so that we can make the best of what we have to offer… diversity and inclusion is incorporated within excellence and that's how we need to guide the work that we are engaged in."
Granger has worked in higher education for more than 25 years. Before joining William & Mary's Office of University Advancement in 2010, Granger served as the associate provost for enrollment at the university for nearly five years. Under Granger's leadership, William & Mary greatly increased efforts to diversify its student body. In fact, the minority student population increased from under 10 percent to nearly 30 percent during his tenure as associate provost.
"He has been the moving force behind William & Mary's efforts to bring our black alumni back into the embrace of alma mater," President Taylor Reveley wrote in a letter recommending Granger for the award. "He has also been instrumental in the university's work to expand diversity of our student body and administrative staff and to increase the warmth of our welcome for all members of the William & Mary community … If the United States had a lot more Earl Grangers, we would be farther along in our progress toward diversity and inclusion. William & Mary is blessed to have him in our midst."
Granger's diversity efforts at W&M include being a pivotal member of the university's Task Force on Race and Race Relations, which was formed in 2015 to evaluate and improve race relations on campus. The task force, which was led by Chief Diversity Officer Fanchon "Chon" Glover M.Ed. '99, Ed.D. '06, included students, faculty, staff, alumni and the Board of Visitors. Granger is also on the task force's implementation team.
The task force's recommendations included recruiting a more diverse faculty and renaming two resident halls after two prominent African-Americans in the university's history: the late Carroll F.S. Hardy HON '12, who served as the associate dean of multicultural affairs and later as associate vice president for student affairs from 1980 to 1995 and a man named Lemon, who was once enslaved by the university. W&M just recently announced an endowed scholarship in honor of Hardy, which Granger helped establish.
Last year, Granger also played a central role in commemorating the 25th anniversary of the Hulon Willis Association (HWA), which is the black alumni organization at the university. Nearly 200 alumni attended the weekend-long celebration in Washington D.C.
"Earl worked with scores of alumni, parents and friends to raise funds for a scholarship to accompany the naming of the buildings and had to overcome great skepticism from alumni who wondered if the campus had truly improved," wrote Matthew T. Lambert '99, vice president for university advancement, in his award nomination letter for Granger. "Earl's constant encouragement was to acknowledge the past, but more importantly, look to the future where we could have a real impact on the lives of a new generation of students."
Granger's efforts are not only university-wide. He is also a constant proponent of diversity and inclusivity within university advancement — where he advocates for an inclusive work environment and the recruitment of a diverse applicant pool. Granger also helped create a task force for diversity and inclusion within advancement, which mirrors the focus of the university's race relations task force.
"Earl's commitment and stellar work toward W&M becoming a more diverse and inclusive place to work, study and learn has been invaluable," Glover wrote in her CASE recommendation letter. "Earl is a strong and effective leader and is respected and treasured by his colleagues, students and fellow alumni."