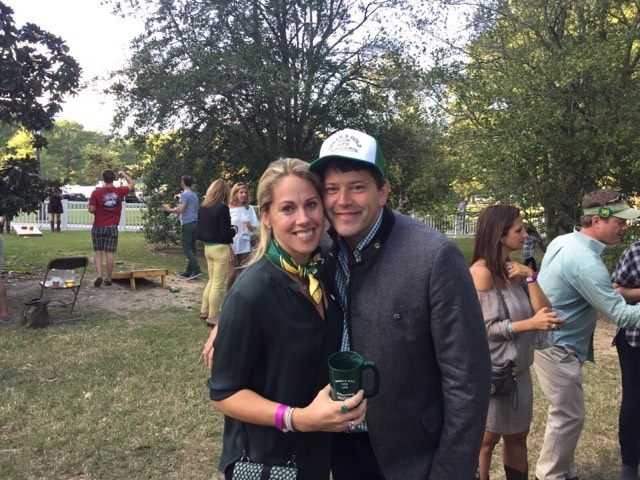 Tina Estes Novogratz '98 and John Struth Novogratz '96.
In celebration of Valentine's Day, we asked our alumni to share their stories of romance at William & Mary on Facebook and Twitter. Some alumni shared the moment they realized they had found their soul mate. Others told us about a new love blooming against the backdrop of the picturesque Sunken Garden. There is even a story of a wedding proposal on the legendary Crim Dell Bridge by a knight in shining armor accompanied by a white horse. Read our Tribe love stories below.
I was headed back to school for the summer session between my junior and senior year. I met my future husband back home at church. I only lived an hour from campus so I went home my first weekend back, and it was then we had our first date. Our second date was in the Sunken Garden eating sandwiches from The Cheese Shop. Time marched on and we visited each other often. To make a long story short, when I graduated in August 1993 we went back to the 'burg the following weekend and he proposed to me on the Crim Dell Bridge. Haven't thrown him in the water yet!
I was living in Chandler my senior year when things got serious. Our oldest first name? Chandler!
- Renee Dane Seaman '93
My parents met the first week of my mother's freshman year (my father was a year ahead) and were married in December of my mom's senior year, in the Wren Chapel. My aunt and uncle also met at W&M and were married in Bruton Parish shortly after graduation. I met my husband, Hayden Lee '01, our freshman year and we have been together ever since — it's been more than 20 years now and we have been married for over 12 years. Our family has a history of W&M couples — we wouldn't wish for it any other way!!
-Melissa Gillett Lee '01
I entered W&M as a freshman in the fall of 1974. My high school sweetheart, Bob, moved to Williamsburg in 1976 to be near me. Our relationship didn't last and I moved back home to N.Y. after graduation in '78, while he stayed in Va. But we reconnected in 2016 and are both headed to Williamsburg — together again! (Upon my retirement later this year).
-Angela C. Taormina '78
We met on move-in day, though we had been talking in the Facebook group for our freshman dorm (Jefferson basement), and on Convocation day, we were a couple. Next Convocation will mark 10 years together, and we just celebrated our 5-year wedding anniversary.
-Ameya Jammi '12
I am down in Williamsburg today. The campus is as beautiful as ever. I proposed to my now-wife on the campus 19 years ago this week. Read about it here.
-John Struth Novogratz '96
We met the first week of my freshman year in 1966. He was a sophomore. We dated for 4 years and married only weeks after my graduation in June of 1970. Our 48-year anniversary coming up. Still the smartest and funniest person I know … perfect combination!
-Virginia Matish '70, M.Ed. '78
I was a freshman, he was a senior. Met 9/9/01. Married at Wren and our son's middle name is Wren. He was born 9/9/11.
-Jacqueline Bryant Tuck '05
W&M's most romantic moment happened at Crim Dell bridge in 1987 when Keith Reagan asked Lisa Stone to marry him on the bridge in a suit of armor with a white horse standing by. Because their first kiss was on Crim Dell, Keith knew she would say yes. Because all undergraduates know, "if you kiss on Crim Dell bridge, you will get married."
-Keith Reagan '88