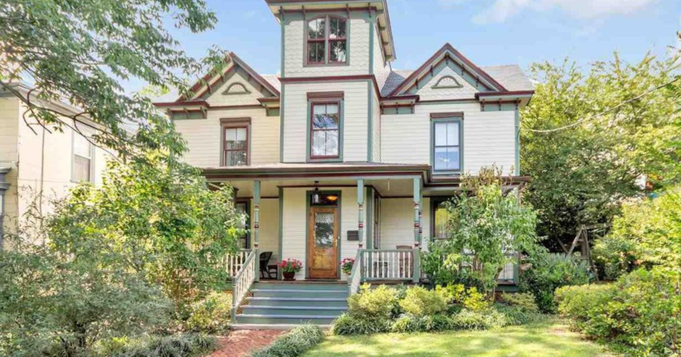 Dorothy Tompkins '62 met Georgia years ago, while Tompkins was working as an addictionologist in Georgia's community. A talented artist, Georgia was struggling with an alcohol addiction. Despite multiple arrests and other issues, she couldn't stop drinking.
One day, she was arrested for public drunkenness, and she committed suicide in jail.
Tompkins and her friends felt that if Georgia had been able to live in a supportive environment, she might have recovered from her addiction, so they began Georgia's Friends, a program helping local women struggling with substance abuse and mental health conditions. In 2016, they opened Georgia's Healing House, a home for women recovering from alcohol or drug dependency in the Charlottesville, Virginia, area.
The more she worked, the more she learned.
"I found out that 80-90 percent of women in the jail were there because of something that had to do with substance abuse," Tompkins said. "And they were getting no treatment, no education and the recidivism rate was about 80 percent."
There was more work to be done and Tompkins began teaching a gardening class with women at her local jail, which at first was difficult — they weren't allowed to use metal tools or go outside. But slowly, the rules loosened up, and the staff saw the benefits on morale.
"The change for some of these women has been remarkable. It's just been wonderful to see," Tompkins said. "They enjoy getting their hands in the dirt."
Tompkins said she enjoys helping the women she works with and watching them grow. For them, every trip outside to garden is a reminder that they want to stay there.
Roots
Tompkins grew up on a 350-acre 'dirt farm' in Louisa County, Virginia. Her family grew their own food and ground their own flour. From a young age, Tompkins' father introduced her to local birds and wildflowers. Even without a high school degree, he was one of the smartest people she ever met. Tompkins spent all her time outside.
She still remembers sitting outside on a summer afternoon, in the backyard treehouse her father built, watching a warbler perch just a few feet away. Even now, decades later, that's still one of her favorite memories.
Tompkins was the first in her area to apply for a college education, and she remembers being very naïve.
"I thought if you could get into one college you could get into any. So I decided I wanted to go to William & Mary, and that was the only college I applied to," she said
When Tompkins started her freshman year, she was 16. Williamsburg, a bigger and more urban city, was different than rural Louisa County, where she lived on a dirt road with only one house in view, a quarter-mile away.
"[At home] I didn't have anybody to talk to about what college was like. So it was very different, but I loved it, I really did," Tompkins said.
During her time at the university, she still found ways to enjoy the outdoors — both in her coursework and her free time. A biology major, she remembers a plant taxonomy course for which she spent almost all her time in the woods collecting specimens. Tompkins loved Crim Dell pond and Lake Matoaka. On the weekends, she biked to Yorktown with her friends or took morning walks to birdwatch with Mitchell Byrd, one of her mentors and professors.
In her four years at William & Mary, Tompkins was a member of Phi Beta Kappa honors fraternity, the biology club and W&M Theatre, and after graduation, she enrolled in medical school at the University of Virginia.
"William & Mary is still my favorite," she said.
Branching out
Tompkins met her husband of 54 years while in medical school, and soon she had a family. She was happy, but with kids and a 68-hour workweek, she had little time to herself. It stayed that way for a while, but she never lost interest in her favorite things: birds, wildlife and gardening.
Years passed. Tompkins worked as a physician and professor, and before she retired, Tompkins got her certification as a master gardener, master naturalist and a tree steward — state programs that require hours of training and volunteer work in the outdoors. She began tending a garden, and not a small one either. Tompkin's garden is a three-acre plot of land next to her house filled with all the native plants she loves so much.
"I spend [almost] all my time outside, making up for all those years when I couldn't get out," she said, laughing.
She still has more work to do, in her garden and her community. Two of the participants from Georgia's Healing House have returned as part-time employees, and Tompkins said they are not only vital to their program, but excellent examples of how to recover from addiction. Tompkins hopes that in the future, the home will be fully staffed by women who have come through it.
In August, Georgia's Healing House moved into a new location, still offering a supportive and structured environment for women recovering from addiction, trauma and other past issues.
"Working with the house has been an almost-full-time job," she said. "But it's been a very worthwhile endeavor."
Sitting in her office, talking about her time at William & Mary and her volunteer work, Tompkins looked at her birdfeeder through the window. There was a chipping sparrow on top, which she thought was just the "cutest little thing." Her favorite bird is always the one she's looking at right now, but these small ones rarely come out in the open, and it's a real treat.