A Decade of Leadership: Reflections on W&M's 27th president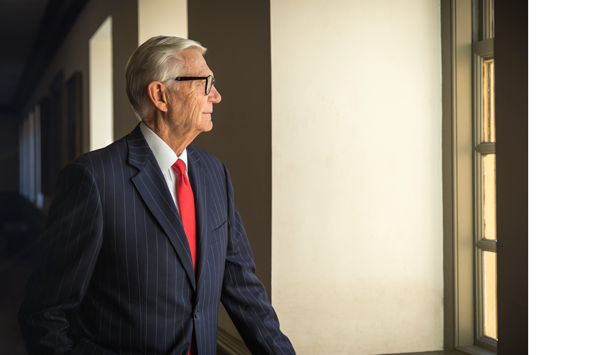 Photo by Keith Lanpher
Over the next six months, The Gale will feature a series of blog posts from distinguished alumni and friends reflecting on Taylor Reveley's leadership over the past decade. This week, Yohance Whitaker '16, former student body president, offers his own reflection on Taylor's legacy as William & Mary's 27th president.
In the vernacular of our royal charter, Taylor Reveley is a president "for all time coming" — a president before his time, a president in time and a president after time.
As a president before his time, Reveley committed himself to the task of transforming an ancient institution into a global powerhouse within the field of higher education. Through his vision for William & Mary, he inspired us to dream and act boldly.
President Reveley first introduced me to the term "BHAG" (Big Hairy Audacious Goals). He often used the acronym to describe his clear, measurable and frisky vision statements. Some of them include growing W&M's national and international presence, raising $1 billion and having the best undergraduate retention and graduation rates of any public university.
Even now, William & Mary students benefit from President Reveley's vision for our beloved alma mater. Over 50 percent of undergraduate students study abroad as our international prominence expands. Upon the completion of the For the Bold campaign, financial concerns need not prevent students from joining our family. Among public universities, William & Mary has the smallest gap between white and black students' graduation rates.
Reveley is also a president in time. As a former student assembly president and president's aide, I had the privilege to observe up close how President Reveley cared for the Alma Mater of the Nation. He often remarked that the safety and wellbeing of each community member was his top priority. The ongoing construction of the McLeod Tyler Wellness Center underscores his dedication to holistic wellbeing.
In 2015, President Reveley called me into his office to discuss the Confederate iconography on campus at the time. A memorial plaque in Wren listed the names of students and faculty who fought to uphold slavery. The College Mace, which I was to hold at ceremonial events, displayed the seal and flag of the Confederacy. Unfortunately, the sacrifices of enslaved persons and Union soldiers were missing from the narrative. He showed great sensitivity and civility in our conversation. Reveley, thereafter, directed the images to be removed and I could proudly carry the College Mace.
President Reveley understands that white supremacy and hatred have no place at William & Mary. Additionally, the Lemon Project continues the necessary work of uncovering the contributions of the enslaved. The record reflects that in his quiet and subtle way he pushed us forward toward making William & Mary "one family."
Finally, he is a president after time. President Reveley was willing to make a difference and invited all to share in a vision of a more robust William & Mary. In doing so, he touched the lives of many. I am a product of his mentorship (and the proud president of his unofficial fan club).
He liberally shared his time to encourage me and drew upon his vast experiences to offer wisdom. President Reveley challenged me to use my William & Mary education to work for the common good. At every opportunity he reminds me it has been an awfully long time since one of our own resided at 1600 Pennsylvania Avenue as the supreme political being of the nation. Others, too, have accounts of how President Reveley poured into them.
For years after his time, the seeds he cultivated in the future generations of W&M students will continue to bear fruit. We stand on the legacy of President Reveley and the work of perfecting William & Mary belongs to every family member.
President Reveley, on behalf of our entire family, thank you for 20 years of service to William & Mary.