W&M alumna becomes first woman to direct National Air and Space Museum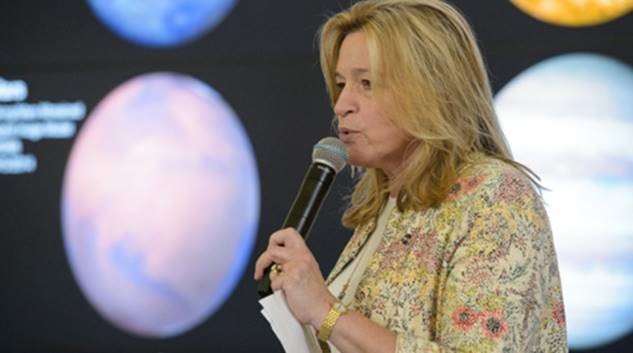 Photo by NASA/Joel Kowsky
Ellen Stofan '83, D.Sc. '16 has been named director of the Smithsonian's Air and Space Museum in Washington, D.C. The appointment will be effective April 30. A Smithsonian press release noted that Stofan will be the first woman to hold this position.
"Ellen's scientific background, leadership skills, communication acumen and strategic thinking have positioned her superbly to lead the National Air and Space Museum," said Smithsonian Secretary David Skorton in that release. "Her passion for science coupled with her love of education will ensure that the museum will continue to be a global treasure and world leader through its extensive programming, exhibitions and scholarship."
At William & Mary Stofan majored in geology. She has remained connected with the university since her graduation. She currently serves on the For the Bold Campaign Steering Committee and she served for 10 years on the William & Mary Foundation Board including time as chair. Stofan also served as the university's Charter Day speaker in 2016 and was a featured speaker at the Reves Center for International Studies' 25th anniversary celebration in 2014. She received the university's highest recognition for alumni - the Alumni Medallion - in February.
The William & Mary connections are a family affair. Her husband, Timothy Dunn '83, also an alumnus as are their two children, Ryan '10 and Emily '14. Dunn served on the W&M Board of Visitors from 2008 to 2012. In 2016 the couple made a $6.3 million commitment to William & Mary's For the Bold campaign to support faculty and student-initiated research in international studies. 
Stofan also holds master's and doctoral degrees at Brown University, both in geological sciences. According to the press release her research has focused over the years on the geology of Venus, Mars, Saturn's moon Titan and the Earth.
"It's important to have women in leadership positions not just for their different perspectives and skill-sets, but for the inspiration," Stofan told the Washington Post in an April 5 article. "I'm looking at the 8-year-old girl who may see herself (in me) … So many jobs of the future are tied to technology. It's not just important, it's a necessity to attract women to the field."
For more on this story visit W&M News.