Shark Tank takes a bite out of Homecoming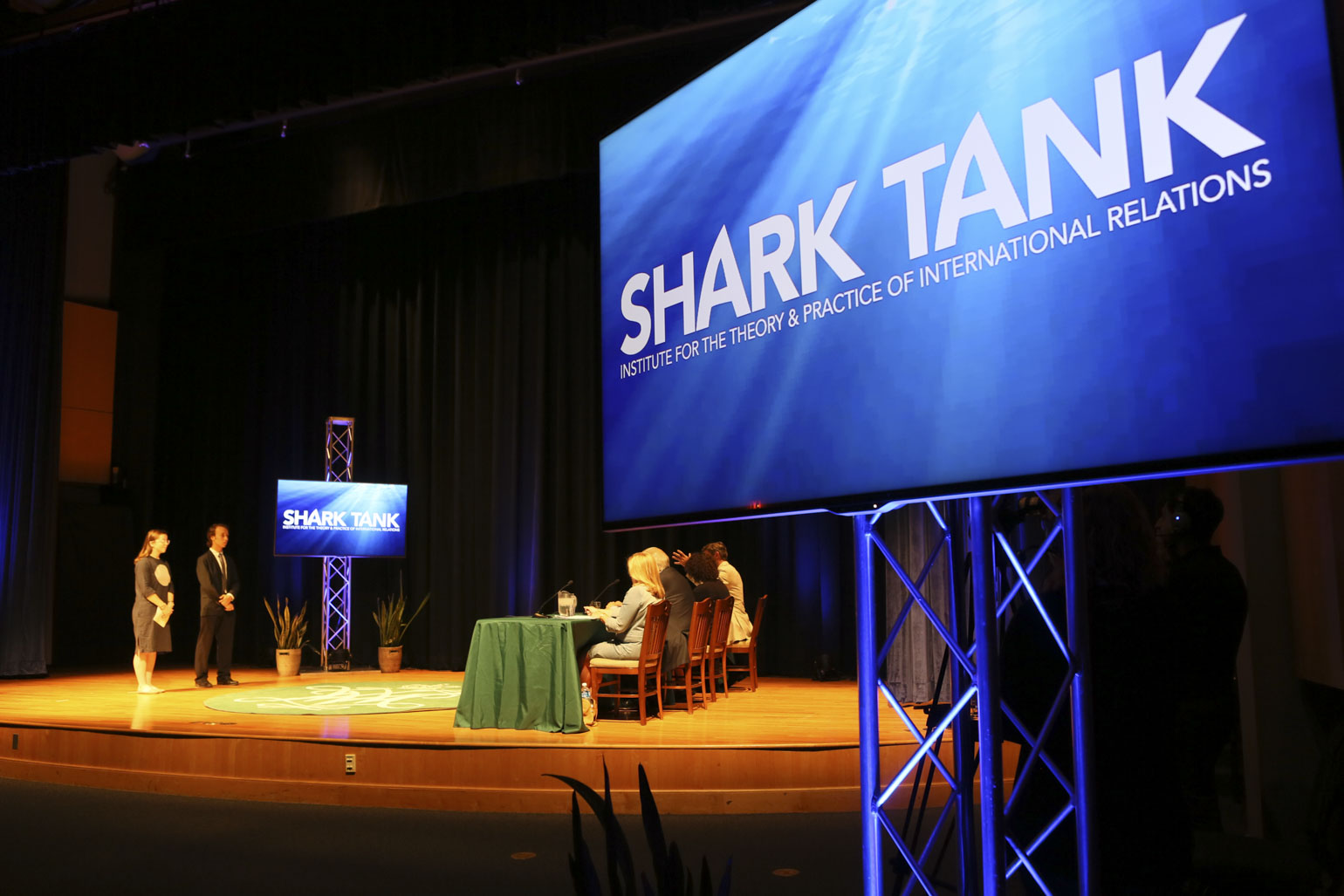 On Oct. 19, the sharks are coming to William & Mary. For the first time ever, W&M's Global Research Institute (formerly known as the Institute for the Theory and Practice of International Relations) will host its annual Shark Tank competition during Homecoming & Reunion Weekend.
Shark Tank is a research competition where students pitch international policy-relevant concepts to a panel of judges, or "sharks," with the goal of winning up to $20,000 in research funds. Students partner with professors to find innovative solutions to international challenges, which include everything from microfinance to food insecurity and network analysis. Last year's Shark Tank competition yielded three winning projects, two of which were fully funded.
"We created the Shark Tank policy research competition because it is consistent with our origins—the first two research projects housed at ITPIR were the result of student ideas," said Professor Michael Tierney, Hylton professor of government and international relations and co-director of ITPIR. "We believe that the next big idea can come from anyone, from a gray-haired professor to an 18-year-old freshman."
Indeed, some truly world-changing efforts have stemmed from William & Mary's Shark Tank contestants. Aili Espigh '17 competed in the inaugural competition back in 2015, when she won for her project with Bella Kron '17 and Caleb Ebert '16. The project," Reducing Data Gaps in Response to Humanitarian Crises: A Case Study of Project-Level Aid to Respond to Ebola," tracked aid given day-to-day, with an eye toward helping donors make better decisions on where to send financial and humanitarian resources to mitigate the impact of a crisis.
"We ended up with more data than I had ever hoped, and we were able to prove that the estimated financing to the Ebola crisis was wildly incorrect," said Espigh, who now works for a private Washington, D.C., defense firm. "We were able to hand this research over to the AidData team, who kept the project going. Sid Ghose continued the research and brought it to the United States Agency for International Development (USAID), where the project was given additional funding."
This year's competition boasts a quartet of talented sharks, who will weigh in on which students will follow in Espigh's footsteps. They include:
Katie Sell Garcia '99, acting director of the Office of Market and Partnership Innovations, Bureau of Food Security at USAID;
Peter Atwater '83, president of Financial Insyghts LLC;
Caitlin Moorman '07, head of insights and analytics at Indiegogo;
Theresa Whelan '87, principal deputy assistant secretary of defense for homeland defense and global security, Department of Defense
The competition, which will take place in the Sadler Center's Commonwealth auditorium, is open to the public on a first come, first served basis. Learn more.