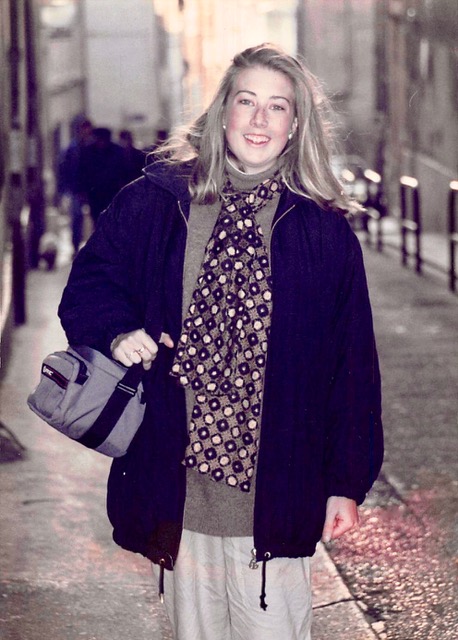 Six months before her death Sara Nance told her parents she dreamt of having a career as a writer. At 26, Sara had already taken steps toward her goal by taking a creative writing course at New York University.
She was molding a future of her choice, despite a childhood illness that had always pulled at her young life.
Nance, who passed away July 4, 1998 from cystic fibrosis, never got the chance to fulfill her dream — but her parents, Judy P. Nance '69 and Peter Nance '66, are making that dream possible for others by funding the Sara E. Nance Professorship of English in her memory.
"This endowment has a multiplicative effect," Peter said. "It not only leverages the skills of a particular well-qualified teacher, the impact is multiplied through their students and to the outside world as they express themselves going forward. It is also an opportunity to make an impact that goes well beyond just giving money to a professor. It empowers that professor to teach with more depth and with more energy."
Sara graduated cum laude from Vanderbilt University and double majored in English and French. She was a world traveler, accomplished skier, played the violin and was fluent in French.
She had diverse interests that spanned from traveling to to writing children's stories.
"She was a very good writer," Judy said. "She was taking a course in creative writing. I don't know where that would have led, but that was her life's wish — to be a writer."
A dream fulfilled
Professor Deborah Denenholz Morse is the first recipient of the professorship. Morse presented her lecture, entitled "Resistance, Art, and Animals in Anne Bronte," during Homecoming & Reunion Weekend. Bronte and her sisters Charlotte and Emily were 19th century proponents of human and animal rights.
Morse, a 2013 Plumeri Award recipient, has taught at William & Mary for 30 years. She earned a bachelor's degree from Stanford University and a master's and Ph.D. from Northwestern University.
Morse said she feels honored to receive the professorship and wants to honor Sara's memory through her lecture.
"I wanted the lecture to be something that would have made Sara proud to be linked to me and that also honors the Bronte sisters, who were also young women," Morse said. "The Brontë sisters, who were abolitionist, were critical of efforts to try to take away the rights of the enslaved, women and animals. They were very courageous and it sounds like Sara was too. Maybe there will be somebody who will do some of the things that Sara might have done, if she had lived."
Legacy
The Nances commitment is an extension of their generous support of scholarships for study abroad programs at William & Mary. This gift was also a tribute to Sara, who spent a semester abroad in France.
The Nances recently attended one of Morse's classes and recall watching her motivate students through teaching as an "extraordinary experience."
"We want this gift to afford each recipient the opportunity to study in the area of their particular interest," Peter said. "This really allows them to add an extra level of expertise to their teaching and enriches their ability to communicate with students."
One of Morse's students may someday be the same type of writer that Sara dreamt she would become, thanks to her parents' gift.
Read more about Sara's life.