A Decade of Leadership: Reflections on W&M's 27th president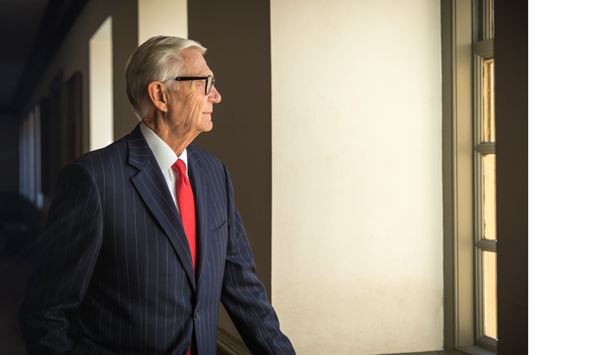 Photo by Keith Lanpher
The Gale is featuring a series of blog posts from distinguished alumni and friends reflecting on Taylor Reveley's leadership over the past decade. This week, Jim Golden, senior counselor to the president and former vice president for strategic initiatives at William & Mary, offers his own reflection on Taylor's legacy as William & Mary's 27th president.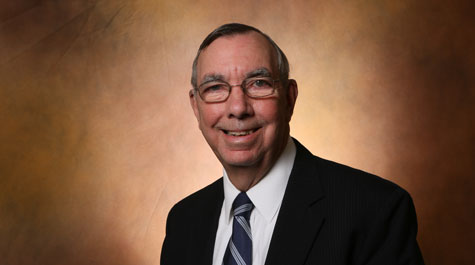 Photo by Stephen Salpukas 
Taylor Reveley and I had been friends since I arrived at William & Mary in 1999. Soon after he became interim president in February 2008, he decided to reconfigure the Public Affairs Department into a new organization designed to lead strategic planning and communications called Strategic Initiatives, and we agreed that with the approval of William & Mary's Board of Visitors, I would take over as vice president there. We anticipated that he would serve as interim president for a year or two and that I would likely retire when the new president was appointed. Until then, we would try to approve a strong strategic plan, integrate the plan into a refined strategic management process tied to the budget and realign the communications organization to support the strategy.
Our plan was soon revised, and Taylor's performance was so impressive that the Board of Visitors removed the interim title in September 2008. My retirement was delayed, and I continued to serve as vice president under Taylor for six years. After I eventually retired in 2014, I agreed to stay on as his volunteer senior counselor to help with projects as needed. So in the summer of 2018, he and I will complete 10 years working together.
I agreed to stay on primarily because there were so many important things to do and I had the sense that we were making transformative progress. Taylor built excellent rapport with the board, assembled a strong team, provided vision, trusted leaders in their areas of expertise, spotted things that needed to be done, set priorities and celebrated success. The big changes included realignment of the undergraduate curriculum to demonstrate interdisciplinary perspectives among the liberal arts, and increased emphasis on global connections across the university.
Taylor led the realignment of the financial model to provide more funds for strategic initiatives and greater support for in-state students with demonstrated financial need, and he launched a sustained effort to reduce costs and streamline operations. He achieved a merger of development and alumni engagement into a new university advancement organization and launched the ambitious $1 billion dollar For the Bold campaign. He implemented a series of initiatives and organizational adjustments to increase diversity and make the university even more welcoming to all. He oversaw new construction and renewal that transformed 40 percent of the building space on campus.
Taylor envisioned all of those steps as part of a broad effort to increase pride in the Alma Mater of the Nation, extend the excellence long characteristic of the undergraduate program to all aspects of the university, and continue to expand W&M's national prominence and international stature.
So the work was important. It was also great fun. Taylor has a wry, understated sense of humor. My almost daily email exchanges with him were – in a word he might use – "succulent." His unique use of language is legendary. Students in particular love it. He gets right to the point, avoids the normal euphemisms and is refreshingly direct. In his words fundraising becomes, "trolling for dollars." He wants to make things "crystal clear" even "blindingly clear," and some things are "flatly unacceptable." He seeks your "sage counsel," his writing is guided by his "muse," and he urges you to read something in context "for full body and flavor." Someone making great progress is in "full cry." If he needs something right away he wants it, "pretty much right this red hot moment."
Taylor is a leader. He would tell you "nothing out of the ordinary happens unless someone, a live human, seizes the opportunity and leads." Taylor seized the opportunity and has led brilliantly.