Dalton Bennett '10 wins Pulitzer Prize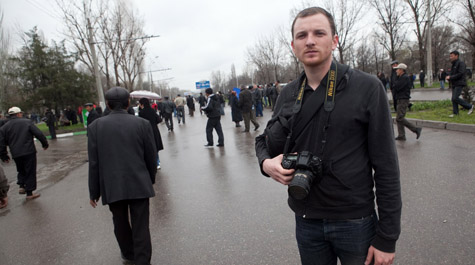 Photo courtesy of Dalton Bennett '10.
When each bright dawn faded into pale morning light, a pint-sized boy rushed down his parents' driveway, even the days where frost clings to windshields, to retrieve their copy of The Washington Post. 
"The first thing I'd rip out was the funnies. I still remember the smell of the paper," he laughs.
That boy grew up to win a Pulitzer Prize.
 On April 16, the Pulitzer Prize Board announced the most recent class of recipients. Since 1917, the awards have honored outstanding examples of American journalism, letters, drama, and music. Dalton Bennett '10 and 10 Washington Post staff members joined these ranks for their investigative reporting on sexual allegations against Roy Moore during the 2017 Alabama race for the U.S. Senate.
The staff at the Post produced a series of print and video content that uncovered allegations against Moore and sifted through false accusations attempting to discredit the paper's integrity.
The day after Thanksgiving, the team with which Bennett worked was called into the office.
"Jamie Phillips had contacted the Post with a pretty fantastic story regarding the Moore assaults. With further due diligence, research that we do with every source we find, things didn't add up."
The team discovered that Phillips was working for Project Veritas, a nonprofit that exposes corruption in the media. Phillips had gone undercover and pitched a tale to the Post in attempt to derail the Post's investigation on Moore. Bennett confronted Phillips outside Project Veritas' office in New York City and compiled a video that accompanied the story, exposing Phillips' false claim. This story hit on Cyber Monday.
During a special election on December 12, Moore's opponent, Doug Jones, won the Senate seat.
"It feels great to be honored with a Pulitzer, and it's wonderful to be honored alongside colleagues that you look up to and work with day-to-day," Bennett said, but earning a Pulitzer for work at The Washington Post is especially significant. "My family is from the D.C. area. It means a lot to be at the paper, the only paper I really knew as a kid. It's great to be a part of the Post now with inspiring colleagues who are doing important work."
Although Bennett leafed through the The Washington Post as a child, he never imagined a career as a reporter. When he graduated with a government degree in 2010, the Great Recession had reached its zenith. Bennett knew that, despite having a diploma from the Alma Mater of the Nation, he would struggle to find employment, so he eschewed the traditional job search to pursue independent projects. 
Bennett spent nine months exploring the streets of Beijing and Shanghai during his undergraduate study abroad, so he booked a one-way ticket back to China after graduation. He planned to spend two years on the Chinese-Central Asia border exploring issues in minority populations and potentially create a documentary film. His plans failed shortly after his arrival when riots closed the area to foreigners. Bennett retreated to Kyrgyzstan.
Riots seemed to follow Bennett in his early career, and the melee that precipitated the Arab Spring unfolded before his eyes. In April of 2010, he stood outside imposing gates surrounding the stark, Stalinist-empire-style White House in Bishkek, Kyrgyzstan. Another man on the street eyed Bennett as he snapped photos for freelance work on a small publication. The stranger approached Bennett and asked him about his photography.
"He happened to be an Associated Press reporter, and the rest is history."
Bennett stayed with the AP for five years before he accepted his current position as a video editor for The Washington Post.
"As time passed, I discovered that I really enjoyed reporting. It was an opportunity to be anywhere at any time in those intimate and private personal moments in people's lives. I'm incredibly lucky and blessed to be able to bear witness to history. To see it with your own eyes and be caught up in the thick of things is truly fascinating," he said.
Since joining The Washington Post staff, Bennett has worked on a wide array of investigative projects, including video coverage of Trump's campaign in 2016. His stories focused on understanding Trump's electorate and the phenomena driving his successful campaign.
Ron Rapoport, the government department's John Marshall professor specializing in American politics, keeps in touch with Bennett, even eight years after his graduation. After the election, Rapoport asked Bennett to visit campus and share his experiences from the campaign trail with students and community members. Bennett readily agreed.
"The opportunity to share information about the nuts-and-bolts of reporting, versus the impressions that the public may have about reporting, is important. It's great that we have that chance to be transparent with how reporting and journalism works."
Although William & Mary doesn't have a journalism department, it mints curious minds, nourishing the thirst for knowledge that begins when small children lug rolls of newsprint from the curb to their doors.
"The most important thing you need for reporting is experience understanding the world. A liberal arts education offers that — an ability to step back and look at things critically, but at the same time, remaining open to new things. The rigor of the school, the hard work that it instills in students is rare and different from other college experiences. That is really what prepared me for this career."
...with a Pulitzer Prize to show for it.