Henry Hart has a new title: Poet laureate of Virginia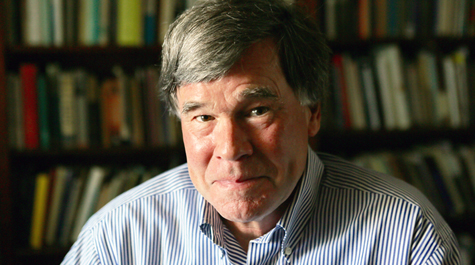 Photo by Stephen Salpukas
For the first time since the creation of the position 70 years ago, the poet laureate of Virginia will reside at William & Mary.
Henry Hart, the Mildred and J.B. Hickman Professor of English and Humanities, will officially become the commonwealth's 17th poet laureate on July 2 at a swearing-in ceremony in Richmond. Although the Poetry Society of Virginia, which ultimately submits nominations for Poet Laureate to the governor's office, was founded at W&M's Wren Chapel in 1923, the only other laureate associated with W&M was Thomas Lomax Hunter '48.
"I have worked closely with the Poetry Society for about the last 15 years," Hart said, "and I think in some way I was rewarded for the work I've done with the poet laureateship. I don't know if I set it as a goal, but it definitely represents a culmination."
Hart, who was described as "The Biographical Poet" by Coastal Virginia Magazine, has been a prodigious author. Included among his many works are The Poetry of Geoffrey Hill, Seamus Heaney: Poetry of Contrary Progressions, Robert Lowell and the Sublime, James Dickey: The World as a Lie and Robert Frost: A Biography. His works of original poetry include The Ghost Ship, The Rooster Mask, Background Radiation and Familiar Ghosts. His resume contains dozens of articles, reviews and presentations.
For more on this story visit W&M News.