Studying religion and hip-hop sent student back to school for Ph.D.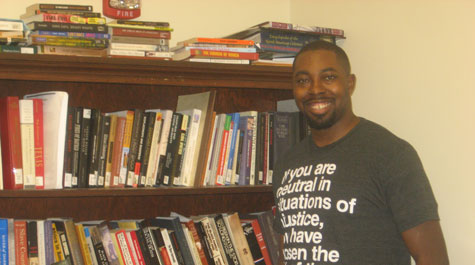 Travis Harris knows the exact moment he decided to return to a university.
Never mind that he had sworn off further schooling, had a job and was on a path to become an Army chaplain. All of that changed when worlds seemingly collided.
"I was like, what? Studying hip-hop and theology?" Harris said. "I can do that?"
These days Harris is a Ph.D. candidate in American studies at William & Mary and associate editor for The Journal of Hip Hop Studies. He researches in Africana studies at the intersection of religion and hip-hop and is doing doctoral research on the predominantly African-American neighborhood of Magruder in York County that was displaced in the 1940s when the Navy built Camp Peary.
Harris earned his undergraduate degree in religious studies at the University of Virginia in three-and-a-half years, while serving in the Army Reserve and missing a semester for training. He struggled at UVA and said he wanted nothing to do with more school.
Working at a nonprofit in Washington, D.C., Harris joined the Army's chaplain candidacy program, which had a requirement that he attend seminary. While grudgingly earning his M.Div. at Virginia Union University, he had what can only be called an epiphany.
While taking a course called systematic theology, which is a comprehensive understanding of God primarily in the Christian context, Harris heard hip-hop artists Trip Lee and Tedashii rapping about the theological term homousia.
He brought it up with his classmates, one of whom suggested studying it.
"I didn't even know that was possible," Harris said. "I didn't even know that world existed."
For more on this story visit W&M News.