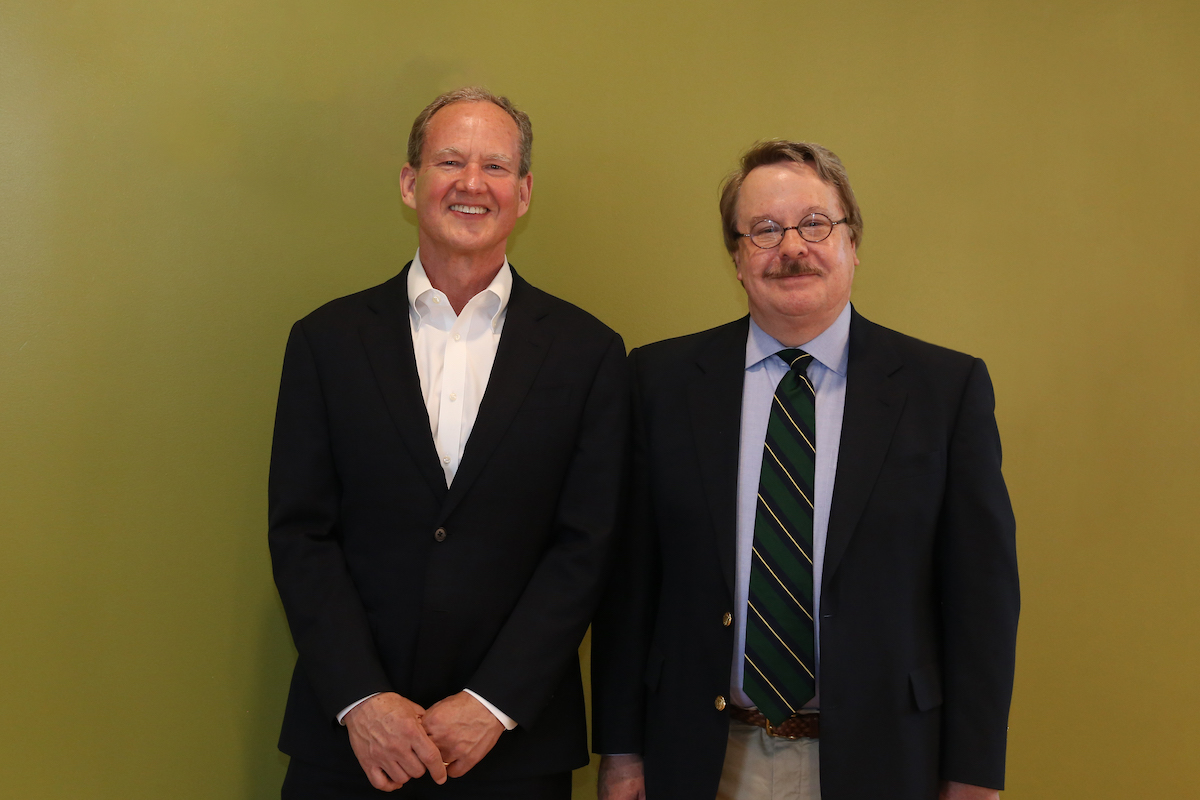 Jim Penney (left), Jim Penny (right)
So you arrive at law school and discover another student with nearly the exact same name. That's what happened when Jim Penny J.D. '83 and Jim Penney J.D. '83 became 1Ls in August 1980.
The confusion — and a great, lifelong friendship — began almost immediately. Jim Penney laughs as he remembers the various ways people differentiated between the two students.
"'With mustache, without mustache' may have been the most frequently used," he says. "'Dark hair and lighter hair' was the other one." (For the record, Penney was the one without the mustache and dark hair.)
Not all solutions were workable, however. Jim Penny recalls that Professor Fred Schauer's suggestion that one of them should become "John Smith" for the next three years was a non-starter.
Regardless of the confusion, both Jims immediately discovered something special at the Law School.
"We were in the same small study group and are still very good friends with everyone in that group," Penny says. "We've managed to get together almost every year since law school."
Indeed, the Class of 1983 is well known for its camaraderie, which both Jims attribute to its being the first large class and the first to spend all three years in the new building on South Henry Street. Serving the class came naturally to both men.
"When it came time for our 15th reunion, Jim was asked to do the honors as chair," Penney says. "At his suggestion, we teamed up and made the calls together to encourage other classmates. That was always fun."
No strangers to answering the call themselves, both Jims and their wives recently made $1 million dollar gifts to the For the Bold campaign in support of the Law School.
In recognition of Jim and Pam Penny's commitment, the atrium space in the new Hixon Center for Experiential Learning and Leadership was named the James D. and Pamela J. Penny Commons in February 2017. Just upstairs, the new moot courtroom was named the James A. Penney and LauraLeigh Young Courtroom during Alumni Weekend 2018.
Both Jims are happy that their support is making a difference for the Law School, and that confusion over their names is still a thing after 38 years. "Visitors will be downstairs and notice Jim and his wife gave some money there, and then they'll go upstairs and say, 'Hah, he gave money with a different wife up here'," Jim Penney says.
"We look forward to creating additional confusion 'til eternity," Jim Penny adds without missing a beat.