Couple gives $1 million scholarships gift to encourage the great legal minds of tomorrow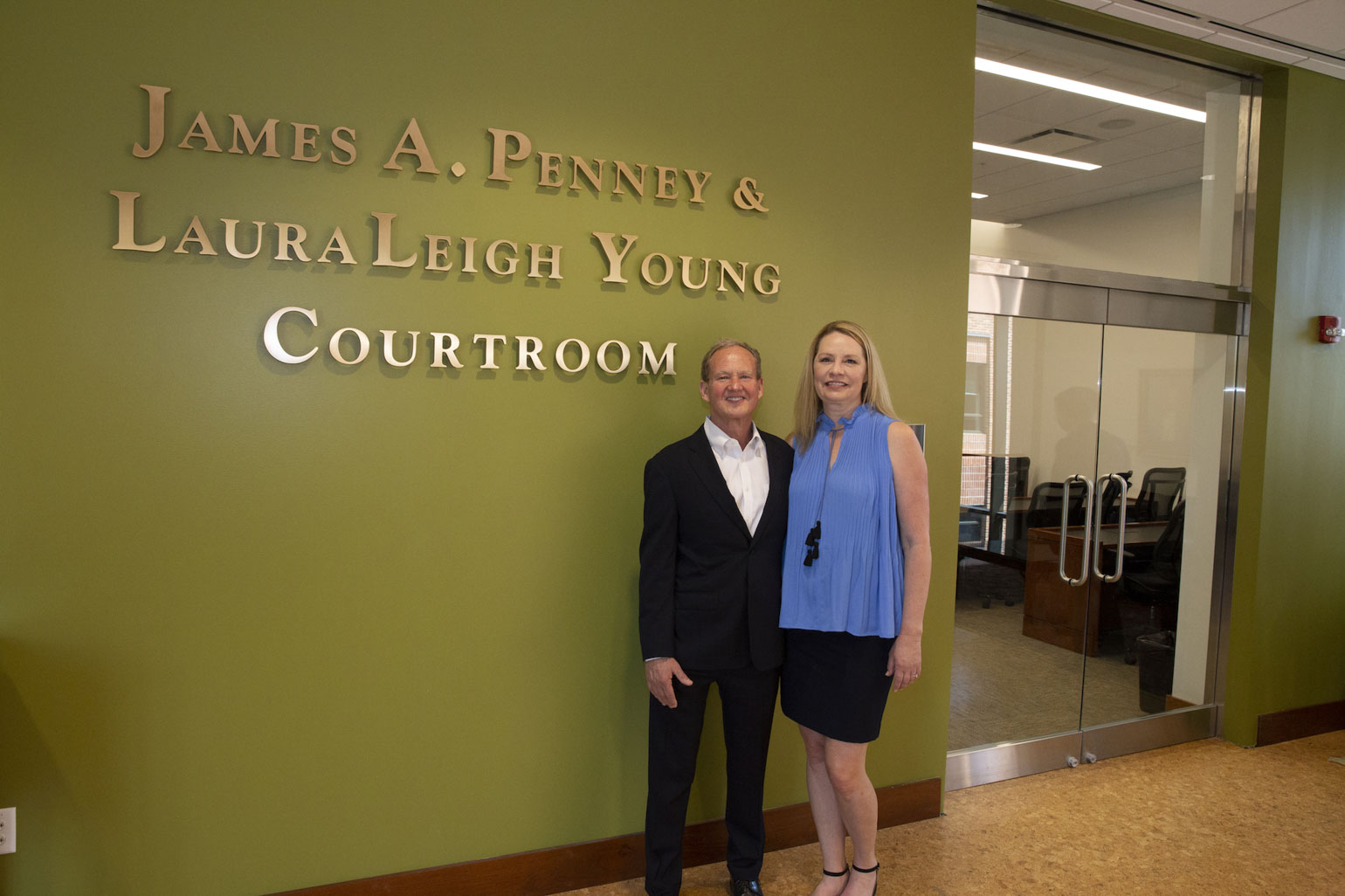 Photo by David Morrill
When Jim Penney J.D. '83 attended William & Mary Law School, he needed to take out loans to pay for his degree and to make ends meet. Thirty-five years later, Penney and his wife LauraLeigh Young have chosen to help reduce the financial burden for future William & Mary law students with a $1 million gift toward scholarships, the top priority of the university's For the Bold campaign.
"There was no other way I would have made it through law school — loans were a necessity," Penney said. "We decided to contribute to scholarships with the goal of either reducing or eliminating the amount that future law students might have to borrow for tuition."
The couple's generous gift will support the newly created James A. Penney and LauraLeigh Young Scholarship in Law Endowment and the Class of 1983 William B. Spong Jr. Scholarship in Law Endowment. The gift will provide tuition support for generations of law students.
"Jim and LauraLeigh's support of the law school is an extraordinary example of the impact private support plays in training the next generation of citizen lawyers," said Davison M. Douglas, dean of William & Mary Law School. "We are grateful for their continued support of the first law school in the United States." 
In recognition of the couple's commitment, the courtroom in the Hixon Center for Experiential Learning and Leadership will be named the James A. Penney and LauraLeigh Young Courtroom.
The couple, who live in Seattle, have remained engaged with the law school over the span of several decades. Penney is currently a co-chair of his class's 35-year law reunion and has served on his class's reunion leadership team for 20 years. Both Penney and Young have participated in other programs, including Dean's Council Dinners and law school events hosted in Seattle.
"I've remained a big fan of the law school since graduating, so I wanted to convey my enthusiasm to my classmates with the hope they also would choose to contribute financially to support the law school's mission and to enhance its presence in the academic community," Penney said.
Penney is currently the executive vice president and general counsel of Wave Broadband, a cable, internet and phone provider in Washington, California and Oregon. From 2000 to 2006, Penney was a partner at the Seattle law firm Cairncross & Hempelmann, where he practiced corporate finance and technology transactions law and represented clients including Microsoft Corporation, Starwood Corporation and Sealaska Corporation. In 2012, Penney was inducted as a member of the Cable Pioneers, an honor reserved for industry veterans that have made significant leadership contributions.
After a career as a corporate writer followed by 12 years as a full-time parent to the couple's three children, Young worked at a public middle school in Seattle providing students with academic and social support services. When the couple's older daughter was diagnosed with Pediatric Autoimmune Neuropsychiatric Disorder Associated with Strep (PANDAS) in 2014, Young became involved in advocacy work and education about the disorder.
Penney and Young's investment advances For the Bold's $350 million scholarships fundraising effort, which affords exceptional students the opportunity to attend William & Mary.